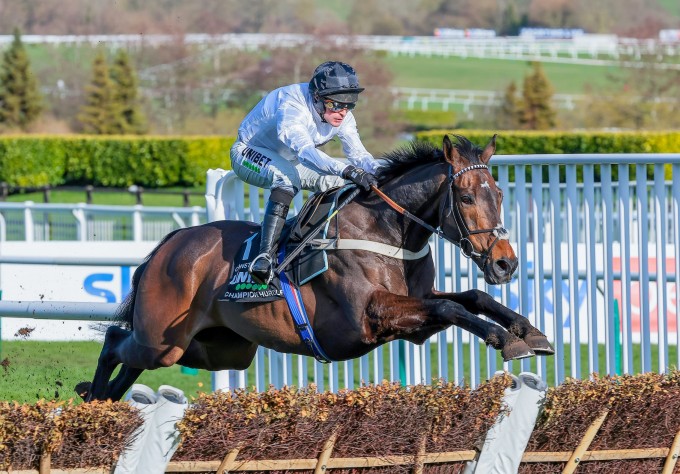 Constitution Hill: clears the last on the way to Aintree
1st

1Constitution Hill

FAV2/15

2nd

4Sharjah

20/1

3rd

5Zanahiyr

14/1
Being extraordinarily good can have its drawbacks. Ask Lionel Messi, or Usain Bolt, or Stephen Hendry.
Such is the bar you have set with your previous excellence, winning alone may not be enough. If you do not score a hat-trick, or break the world record, or shoot a 147, there is a danger that simply doing your thing and brushing away mere mortals can almost be underwhelming.
Which is why it was great to see the Liverpool public thronging the winner's enclosure to give Constitution Hill the reception he deserved even though he had "only" won the William Hill Aintree Hurdle by three lengths.
This, remember, was a Champion Hurdle winner who had won his previous six races by a combined total of 86 lengths and was sent off 2-15 favourite here.
Although the final margin of success was not what he is accustomed to, the six-year-old was never in danger of defeat at any stage whatsoever. Michael Buckley's star made all, saw out the longer 2m4f trip easily and was not asked anything like a serious question by Nico de Boi
The jockey ended up more worried about the weather than the opposition and said: "It's a long way to go when you're running two and a half [miles] in front here and the headwind along the side at the cross fence is really strong and right in your face.
"It just sort of pushes you back a bit, but I've only been doodling round and he jumps so well when he's going his own speed. I didn't feel as though I was that far clear, but I knew I had enough under me to burn everyone off in the closing stages if I had to. 
"I don't think we learned anything too much except that he's such an easy horse to ride, you can ride him any way and he's so relaxed doing that. I felt I had plenty left passing the line. I think if something came and helped me along I could have picked up again."
Nicky Henderson was more than happy with Constitution Hill, who gave him a record sixth success in a race he first took only 12 years ago, and said: "He jumps so beautifully, doesn't he? He was enjoying himself.
"When you're travelling like that, in a slightly slower gear over two and a half miles, it makes it even easier for him and his jumping is just so deadly accurate."
The question now is whether that jumping will be deployed over hurdles or fences next season. And the answer is some way off yet.
"There is every chance we might well school him over a fence before we put him to bed, just to get a clue, then we know what we're talking about," Henderson said.
"We've got a long summer to enjoy it, look back on it and talk about what's going to happen. We've got all sorts of options. He could go Fighting Fifth, Christmas Hurdle and International Hurdle and Champion Hurdle then come here. That's one way. They might say that's boring but we won't find it boring!"
Sharjah earned nearly £53,000 for finishing second and joint-owner Rich Ricci said: "It was a fantastic run. He's been unbelievable and has made us a lot of money. He's run into Honeysuckle and now Constitution Hill, it's just been his hard luck. 
"He stayed the trip well and I don't think it was a particularly hard race, so we might go to Punchestown. We might pop him over a fence next season and try to do a Faugheen with him."
But Ricci was as impressed as anyone by the peerless winner and said: "He was very good. I haven't had my invitation to the King's coronation yet, so I came here today for this coronation. 
"He's a special horse. It's great for the game and hopefully we've got a superstar on our hands – but hopefully I can steer clear of him!"
---
Read more . . .
'The King George is the obvious race for him' – Shishkin shows his class to reel in Ahoy Senor in the Aintree Bowl   
'I went a mile too soon' – injury-hit Mark Walsh impressed with Zenta after narrow win in Grade 1 thriller   
Get set for Aintree! Subscribe to Members' Club Ultimate Monthly now with 50% off for three months  
font: RacingPost