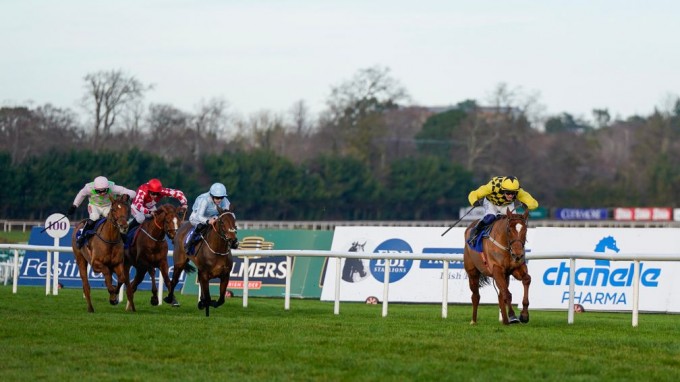 Honeysuckle (light blue) can't live with State Man, who runs away with the Irish Champion Hurdle under Paul TownendCredit: Alan Crowhurst
1st

2 State Man, FAV6/5

2nd

6 Honeysuckle, 11/8

3rd

4 Vauban, 9/2
We'll soon find out just how final Honeysuckle's second successive defeat will prove, but her Irish Champion Hurdle conqueror State Man confirmed his arrival in the big time with an utterly emphatic defeat of the reigning champion.
Dismissing such a superb two-mile hurdler with what was a dominant front-running performance goes a long way to validating the Willie Mullins-trained winner's claim to the throne. Last year's County Hurdle victor has emerged as a serious rival to Constitution Hill and putting away Honeysuckle to the tune of nearly five lengths left no further doubt that we are witnessing a changing of the guard.
It is almost certain now that there will be a new name on the Champion Hurdle roll of honour come March. What is less clear is what the future holds for the outgoing title-holder. She is nine years of age and whether she is regressing or the opposition has been upgraded, her life has suddenly become a lot more difficult.
Henry de Bromhead wasn't in a hurry to commit to anything for Honeysuckle, but there was no escaping the sense that this was the end of an era. Should her final appearance at Leopardstown also constitute her last racecourse appearance was not something he was willing to speculate on.
"I'm not sure," he said when asked about the next step for Kenny Alexander's brilliant mare. "I can't answer that. The plan was to finish out this season and we'll see. It's not for me to say.
"If it was up to me I wouldn't be running her in the Champion Hurdle, if we were to run again I'd run her in the Mares' Hurdle. I wouldn't like to force it. She's still in mighty form and she ran really well."
mighty form and she ran really well."
De Bromhead was magnanimous, but there was no disguising his dejection. In 18 starts across nearly five years, his luminous stable star and her peerless rider Rachael Blackmore have lit up the dullest of times with 16 wins, including 12 Grade 1s and three Cheltenham Festival successes. Together they have broken down barriers and lifted the spirits, and done so with a degree of understated class. They have been a revelation, and they made the young gun work for it here.
Blackmore made an early move to ensure Paul Townend wasn't allowed an uncontested lead on State Man and they survived a bad stumble three out to keep him honest to the next. From there, though, it quickly became clear Honeysuckle couldn't live with the youth in State Man's legs.
There would be no fourth Irish Champion Hurdle for her, but she left it all out there to repel Vauban for the runner-up berth. She went down swinging.
As Blackmore mounted in the parade ring, a chorus of approval rose up around her from the sizeable crowd of 16,831. It was another glorious demonstration of how the racing public have taken them to their hearts, and it was there again when they returned, same as it was after her Hatton's Grace reversal. If this is to be the end, it would be a wonderful goodbye.
"It was incredible, brilliant," De Bromhead said of the reaction from the Leopardstown faithful. "She has massive fans, but that's National Hunt racing for you."
Blackmore was inconsolable afterwards, for all that she commended an equine ally aboard whom she has gone places no woman has ever gone before.
"She ran a great race," she said of Honeysuckle. "It's disappointing but she has been such a fantastic mare and she has run a great race again."
'He jumped like a Champion Hurdle horse'
As State Man passed the line to secure a seventh triumph for Mullins in the Chanelle Pharma-sponsored €200,000 showpiece, there was an eerie silence. It might be the first time a short-priced favourite was met with such a sombre response.
As the press converged on De Bromhead and Alexander, Mullins found himself largely ignored, a new departure for him after a Grade 1 win. Still, to the victor the spoils.
"Paul surprised me when he came into the parade ring and said he was going to make it. I said, 'right, okay'. It worked out," said Mullins when finally approached. "After what happened with Lossiemouth yesterday he wanted to control the race from the front himself. That's what he did."
Townend had a mixed bag of a weekend, but he bossed the big race for a second day in a row, and his partner's increasingly fluid hurdling here was a big help.
"He jumped like a Champion Hurdle horse. Paul asked him some big questions and he came up every time," Mullins said. "I was very happy."
Asked to describe the winner's display, Townend had a succinct answer. "Class."
State Man was duly trimmed to around 3-1 from a general 4-1 for the Champion Hurdle. Of where this puts the six-year-old now, Mullins had a word for the vanquished and a playful eye on what's to come. "Honeysuckle ran a great race, but he has gone past her now so we'll have to see what awaits us across the way," he said.
"Michael Buckley and Nicky Henderson have one there, I believe. May the best man win. Michael throws a good party so we're coming if he beats us anyhow!"
---
Read these next:
Can State Man beat Constitution Hill in the Champion Hurdle? Our experts have their say 
'He'll have to ride him like a racehorse in future' – Mullins miffed at Facile flop 
Make the most of the jumps with 50% off Members' Club for the rest of the season 
by RacingPost