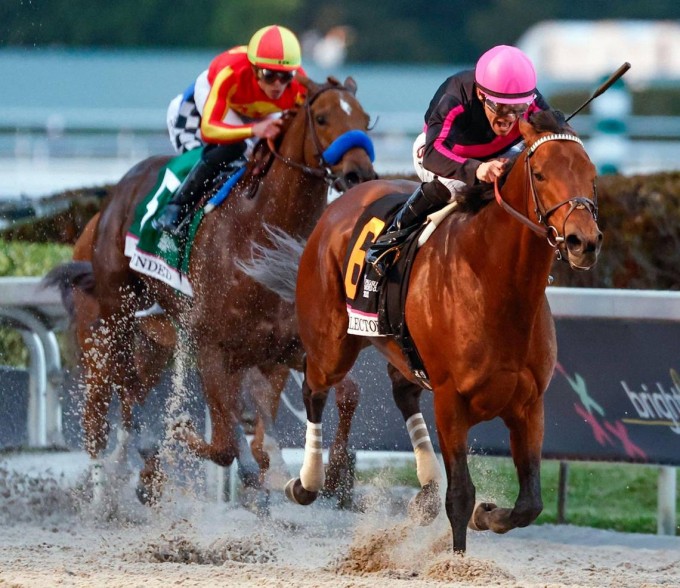 Art Collector 'Happy' Following Pegasus Victory
Hall of Fame trainer Bill Mott was extremely pleased Jan. 29 with the manner in which Bruce Lunsford's Art Collector  exited his 15-1 upset victory in the $3 million Pegasus World Cup Invitational (G1) at Gulfstream Park the day before.
            
"He's happy. He was bright and alert and seemed to be feeling pretty good about himself," Mott said.
            
Art Collector, who had established himself as a solid graded-stakes performer while earning more than $2.3 million in his 20 previous starts, turned in a career-best performance in the 1 1/8-mile Pegasus World Cup.
"It's strange. I knew he was doing well going into the race. I felt like he was training well, but you can't really predict the outcome in a race like that," Mott said. "There's some nice horses in there and you don't know much about the rest of them. I knew our horse was doing well. Did he exceed expectations? I wouldn't say that because I didn't know what to expect."
Art Collector, who won the 2021 Woodward Stakes (G1) and back-to-back Charles Town Classics (G2) while setting the pace, rated kindly off a contested early pace in the Pegasus before making a three-wide sweep to the lead under Junior Alvarado on his way to a 4 1/2-length victory. 
"We made a conscious decision yesterday to not run him off his feet and see if he could do it that way, and it worked out well. He's had a good year already," Mott said.
by Bloodhorse.com
———————————————————————————————— 
Gun Runner Filly a 'Rising Star' at Gulfstream
Breaking like a shot in this compact field, Bandita (3, f, Gun Runner–Tricky One, by Unbridled's Song) went straight to the front, carving out initial splits of :23.47 and :46.98. With the even-money choice moving… [To read this entire TDN News Story, click here.]
Havnameltdown Wires the San Vicente
Mike Pegram, Karl Watson and Paul Weitman's Havnameltdown (c, 3, Uncaptured–Ashley's Babe, by Put it Back) set all the fractions and held stablemate and co-favorite Faustin (Curlin) at bay to the wire to win the… [To read this entire TDN News Story, click here.]
by TDN
In TDN America:.
The Week in Review: Despite swirling controversy, trainer Bob Baffert is stronger than ever
Chuck Fipke's Lady Speightspeare may have finished off the board at Gulfstream, but the owner/breeder is just happy to be alive.
Havnameltdown (Uncaptured) went wire-to-wire in the GII San Vicente S.
In TDN Europe:
Emma Berry was on hand for the Irish Thoroughbred Breeders' Association's National Breeding and Racing Awards over the weekend augmented by a trip to a pair of Ireland's preeminent stallion operations.
Dual Hong Kong Horse of the Year Golden Sixty (Aus) (Medaglia d'Oro) showed there is plenty of talent left in his 7-year-old limbs as he defeated a pair of up-and-comers in Sunday's G1 Stewards' Cup.
The Thoroughbred Daily News is the world's largest and most widely read Thoroughbred eNewspaper, reaching 2.5 million unique users per year. Each day's TDN offers horse racing news, results, analysis, horse racing entries. And more. Over 21,900 breeders, owners and industry professionals subscribe to the daily paper, while others find us online or use our TDN app. Originally founded in the mid-1980s as a three-to-five page daily fax with 120 subscribers, the TDN now encompasses a website with breaking news, the daily paper, a mobile magazine (TDN Look), a podcast, and video features. Products are geolocated to serve the intended audience with their local news and race results. The TDN is published in Red Bank, New Jersey in the Jersey Shore region. Call us at (732) 747-8060.
To read all the top stories, or download the TDN from the website,