Sunday, Dec. 25 is the date for the 67th running of the Grade 1 Arima Kinen (The Grand Prix). Staged at Nakayama Racecourse, the Arima Kinen boasts Japan's top purse, which ties the Japan Cup with its first-place bounty of JPY400 million.
Like the Takarazuka Kinen, the Arima Kinen solicits fans to vote for the horses they most want to see run. This year, the 16 nominees boast six runners from the fans' top choices, including Titleholder, Efforia and Equinox. Those three, along with the Queen Elizabeth II Cup winner Geraldina, are expected to also be the most popular in the lineup. It is a highly competitive field, as the Arima Kinen always is.
Post time will be 15:25 local time, earlier than usual for a Grade 1 event. The Arima Kinen is the 11th race on the Sunday, Dec. 25 card of 12 at Nakayama.
Horses aged 4-year-old & up will carry 57kg, while 3-year-olds carry 55kg. Fillies and mares are given a 2-kg allowance.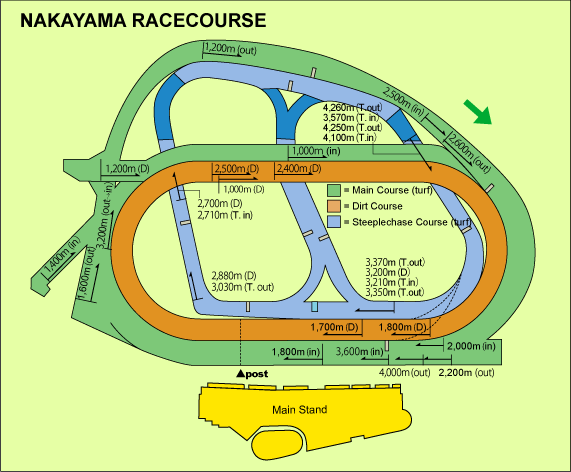 Here is a look at the expected top picks:
Titleholder: Though the No. 1 pick of the fans for the Arima Kinen lineup, Titleholder has made only three appearances at home this year. He aced them all, starting with the Grade 2 Nikkei Sho over the Nakayama 2,500 meters. He followed that up with a win in the Grade 1 Tenno Sho (Spring) over 3,200 meters at Hanshin and, at the end of June, he aced the 2,200-meter Grade 1 Takarazuka Kinen. Titleholder then went overseas to take on the Prix de l'Arc de Triomphe. Wearing himself out with a forward attack over grueling heavy going, he finished 11th of 20. Back on familiar turf, good things are expected of the son of Duramente. Regular rider Kazuo Yokoyama is expected to have the ride.
Equinox: The son of 2017 Arima Kinen winner Kitasan Black, Equinox heads into the Arima Kinen with a stupendous record of three wins and two seconds from his five career starts. Unlike his seven-time Grade 1 winning sire, Equinox has traveled a somewhat different path to the Arima Kinen. He was a close second in both the Satsuki Sho (Japanese 2000 Guineas) and the Tokyo Yushun (Japanese Derby), despite having drawn the far outside gate in both races. He then passed on the Kikuka Sho (Japanese St. Leger) and went straight to the Tenno Sho (Autumn), where he notched his first Grade 1 win with only four starts behind him. If Equinox can win on Sunday, he will upstage his sire once again.
Vela Azul: The 5-year-old Eishin Flash-sired Vela Azul is fresh off a victory in the Japan Cup. An incredible and outstanding feat, it would have not have been imaginable less than a year ago, when Vela Azul already had 16 starts in his career and still seeking his third win. When the trainer Kunihiko Watanabe switched him from dirt to turf, however, Vela Azul was as if transformed. He made the Top 3 in his next five starts (including three wins) before taking on his first Grade 1 and bagging a JPY400 million. The Japan Cup was ridden by Ryan Moore, but jockey Kohei Matsuyama is expected to be in the saddle for the Arima Kinen. Matsuyama was first paired with Vela Azul in the Grade 2 Kyoto Daishoten, which he won. Vela Azul finished third over the Nakayama 2,500 meters in April on his second start after switching to turf. If he can win, he will become the first horse since Deep Impact in 2006 to win the Japan Cup and the Arima Kinen in the same year.
Geraldina: Being a blue-blooded daughter of six-time Grade 1 winner Maurice and a seven-time Grade 1 champion mare Gentildonna, Geraldina began to shine later in her career. After finishing seventh in the 2020 Hanshin Juvenile Fillies, she remained in the lower levels until late 2021, when three wins in a row took her to her first graded stakes test. She started to show her talent when she ran second in the Grade 3 Naruo Kinen over 2,000 meters at Chukyo this year. In late September, she finally captured the Grade 2 Sankei Sho All Comers over 2,200 meters at Nakayama, which was her first win in a graded race. Then she triumphed the Grade 1 Queen Elizabeth II Cup over 2,200 meters at Hanshin riding on the momentum, where she easily caught and passed the rivals, Daring Tact, Stunning Rose, Namur, and Win Marilyn who went on to win the Hong Kong Vase. Her partner in the Queen Elizabeth II Cup was Cristian Demuro, and is expected up on this Sunday as well.
Efforia: Efforia won the Satsuki Sho over 2,000 meters at Nakayama last year and extended his winning streak to four, as he topped Titleholder by three lengths. He relinquished the Japanese Derby to Shahryar by a nose, but then topped 2020 Triple Crown champion Contrail in the 2021 Tenno Sho (Autumn) by a length. With one amazing performance after the other, just two months later he cruised to victory in the Arima Kinen, catching and topping Deep Bond by 3/4 length. Though The Epiphaneia-sired Efforia seemed invincible, this year not only the winner's circle but also the top spots have eluded him. This year he has had only two starts and disappointed with lackluster results – a ninth in the Osaka Hai 0.7 seconds off the winner and a sixth in the Takarazuka Kinen 0.9 seconds back. He is going to the Arima Kinen unprepped, for his first race in six months. If he can come through with a return to his favorite venue, he'll become only the fifth horse in the race's history to notch back-to-back wins. Regular rider Takeshi Yokoyama is expected to have the ride.
Deep Bond: Also returning from the Arc is last year's runnerup Deep Bond, a 5-year-old by Kizuna. Though he has run in nine Grade 1s, he has yet to win one, but the experienced stayer still has ample chance. Last year, he went from a 14th in the Arc to a second in the Arima Kinen. This year he finished 18th in the Arc's field of 20. Second in this year's of the Tenno Sho (Spring), and fourth in the Takarazuka Kinen, Deep Bond is not one to overlook, especially as Japan's current leading jockey Yuga Kawada will be partnered with him again.
Boldog Hos: A name that hasn't been heard much is Boldog Hos. The son of 2008 Japan Cup winner Screen Hero, the 3-year-old colt lost the Kikuka Sho by a nose in his first Grade 1 bid. It was an impressive run, even more so given the race was clinched in record time. He has yet to win a graded stakes race, but Boldog Hos has come close, with two thirds at the Grade 2 level. A consistent runner who has raced solely over 10 furlongs and up, he has only missed the Top 3 in two of his nine outings. Slow at the break, he races from the rear, but can unleash an excellent late kick. Though it's not a racing style particularly conducive to winning at Nakayama, Boldog Hos is looking to prove a popular darkhorse. Expected in the saddle is Yuichi Fukunaga, who has just passed his trainer's test and announced his retirement. Fukunaga, who just hit the 100-win mark for the year, and has captured 17 of JRA's Grade 1 races, many of them numerous times, has yet to win the Arima Kinen.
Others to watch:
2021 Hopeful Stakes runnerup Justin Palace was unable to come close in the first two races of the Triple Crown this year, but managed a third in the Kikuka Sho last out. The Deep Impact colt will be up against older horses for his first time, but will enjoy the weight allowance allowed him in the Arima Kinen, 2kg less than he carried in the Kikuka Sho. The 4-year-old Breakup captured his first graded stakes race in the Grade 2 Copa Republica Argentina over 2,500 meters at Tokyo in early November. Two starts earlier, he had finished second to Japan Cup winner Vela Azul in the June Stakes, a 3-win-class race over 2,400 meters at Tokyo. His second in the Sunshine Stakes over the Nakayama 2,500 meters in late January also is a mark in his favor. Jockey Keita Tosaki will have the ride on Sunday.
by Horse Racing in Japan // japanracing.jp