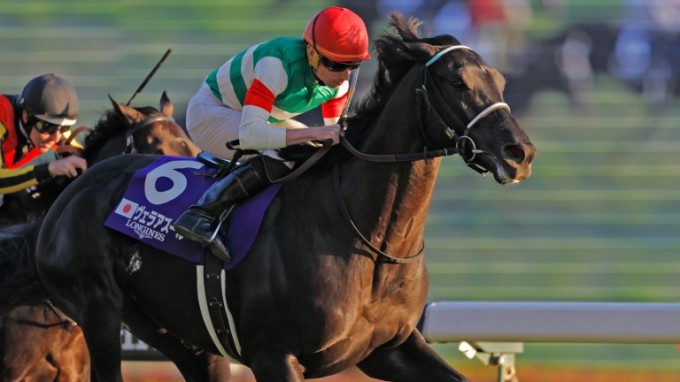 Ryan Moore and Vela Azul burst clear of Cristian Demuro and Shahryar to land the 42nd Japan Cup - Masakazu Takahashi – By Scott Burton in Tokyo
Sunday: Tokyo
Ryan Moore showed immense grace under pressure in weaving his way through the Tokyo traffic aboard Vela Azul to score an improbable success in the 42nd Japan Cup.
Improbable in the sense of where this horse was six months ago, though at 7-2 third favourite he was well found by local punters.
Moore finally burst clear from Shahryar and Cristian Demuro after his mount combined the agility of a polo pony and the acceleration of a Ferrari.
In a race with a surprisingly sedate early pace, there were a host of chances turning in, with sixth-placed Grand Glory and Onesto, who finished one slot back, both suffering interrupted runs in a messy climax to Japan's richest race.
Moore was one of any number still full of running but had to dive inside the weakening T O Royal before then going back the other way to avoid Heart's Histoire.
"There was no way of getting out and I was just praying he would find some space," said Moore, who also landed the Japan Cup on Gentildonna in 2013.
"He's won that very comfortably. It was just a messy race, [which is] unusual for a Japan Cup, usually they get a bit more sorted out. The pace was just a steady one really and it never got going until the straight."
Vela Azul has one of the more unusual profiles among Japan Cup winners, having looked ordinary at best in 16 starts on dirt before rapidly scaling the heights when switched to turf by his trainer, first-time top-level winner Kunihiko Watanabe.
"Winning a Grade 1 is always a dream for a trainer and I'm so happy to achieve it, especially on a stage as big as the Japan Cup," said Watanabe.
Moore said of Vela Azul's transformation: "He didn't look like [a world-beater], he just stayed on well in his races, but today he really quickened and he won like a really good horse.
"He won that showing a good turn of foot and he did well to get me out of trouble and win."
Shahryrar looked the most likely winner a furlong out, though once past Danon Beluga he hampered that rival in a manoeuvre that cost Demuro a nine-day suspension.
Demuro said: "We were close to winning but we found one horse that was stronger than us. I talked with Ryan beforehand and the performance of Vela Azul last time was wonderful. If you watch his last race he won very easily and he's shown today he's a strong horse."
Demuro reported that Shahryar is likely to be aimed at a repeat victory in the Dubai Sheema Classic, but there will be no more chances for Grand Glory, who will head into retirement here in Japan after what was her final racecourse appearance.
Emotional trainer Gianluca Bietolini said: "How much bad luck can you suffer? She was blocked repeatedly and Cristian's horse bumped her in the home straight. It's a shame because I think she would have been in a line with the four that fought out the finish.
"She was the only one who was able to finish like that, having been stopped in her tracks, pulled out wide and then sent on again. I really expected them to go faster than that and it's such a shame because it's the last race of her career and she deserved more luck.
"Against that, she has never once disappointed us and she is a sweetheart of a horse."
Fabrice Chappet was also cursing his luck after Onesto was unable to capitalise on what looked a perfect position.
"He wasn't very lucky halfway up the straight and it's a shame because he travelled well," said Chappet. "There wasn't a lot of space when the race got going in earnest and I think he deserved to finish closer."
German raider Tunnes finished ninth, while the other French-trained challenger Simca Mille was 15th of the 18 runners.
font : RacingPost