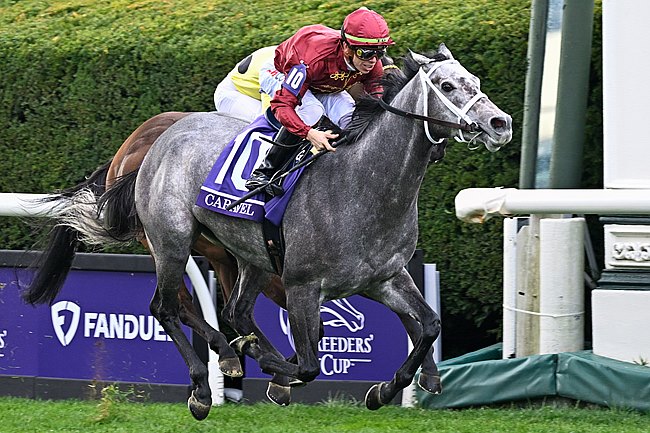 Caravel Tops Males in Breeders' Cup Turf Sprint Shocker
Race complexion changed when two-time Breeders' Cup winner Golden Pal broke last.
In race that saw its complexion completely change at the start when two-time Breeders' Cup winner and favorite Golden Pal   broke last, front-running Caravel  upset the Breeders' Cup Turf Sprint (G1T) Nov. 5 at Keeneland.
Caravel, a 5-year-old daughter of Mizzen Mast , defeated males in completing the 5 1/2 furlongs on firm turf in 1:01.79. Campaigned by Qatar Racing, Marc Detampel, and Madaket Stables, and trained by Brad Cox, Caravel secured the first grade 1 win of her career. She was guided to victory by Tyler Gaffalione.
Caravel, gr/ro, 5/m
Mizzen Mast — Zeezee Zoomzoom, by Congrats
Owner: Qatar Racing (David Redvers), Marc Detampel and Madaket Stables, LLC (Sol Kumin)
Breeder: Elizabeth M. Merryman (PA)
Trainer: Brad H. Cox
Jockey: Tyler Gaffalione
Information provided by Equibase at time of entry.
Pedigree Notes
Mizzen Mast stood at Juddmonte Farms for $7,500 (2021).
Sale History
FTKNOV2021 • $500,000 • Consignor: ELiTE • Buyer: Fergus Galvin, agent.
WANOCT2020 • ($330,000 RNA) • Consignor: Elizabeth Merryman.



Violence colt got in the clear turning for home, surged to a 1 1/2-length score.




The 4-year-old Ghostzapper filly won the Ballerina (G1) in the summer at Saratoga.




The Uncle Mo colt was a $2.3 million purchase at auction earlier this year.
by Bloodhorse.com