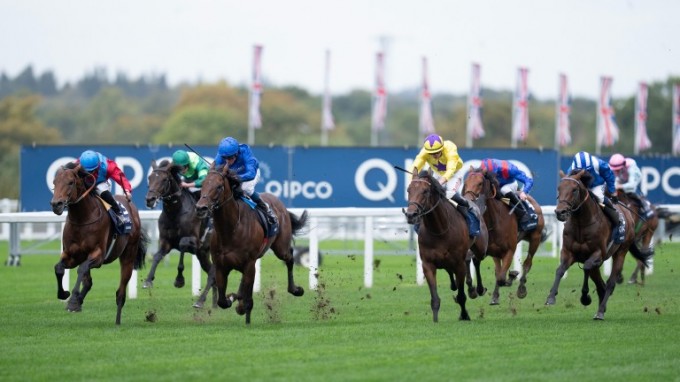 Baaeed (far right) only manages fourth as Bay Bridge (left) wins for Sir Michael Stoute and Richard Kingscote - Edward Whitaker – By Stuart Riley
Saturday: Qipco Champion Stakes, Ascot
The final step proved one too many for Baaeed as his unbeaten record and sheen of greatness were undone at odds of 1-4 as Bay Bridge put forward his own claim to excellence in winning the Qipco Champion Stakes. 
This farewell leg of Baaeed's tour as Frankel's greatest tribute act was hoped to be the biggest, parting, compliment to the great horse, whose path he has followed exactly since this meeting last year.
From the QEII at the end of their respective three-year-old campaigns, via the Lockinge, Queen Anne, Sussex Stakes and International, all the way to their swansong in the Champion Stakes, Baaeed has trodden the road of a colossus. No horse has got close to hitting each note the way Baaeed has. 
That such a wondrously talented horse failed here at the 11th time of asking, finishing a length and three-quarters behind the relatively unheralded winner, only emphasised the magnitude of Frankel's achievement in going through an entire racing career unbeaten.
It was a defeat that sucked the atmosphere right out of the place and the guts right out of his trainer William Haggas. "He got beat in a horserace, but that doesn't take away from the fact that he is a high-class horse," he said.
"It shows that people come racing to see the good ones and I think a lot of people wanted to see him win. A lot of people will be very disappointed, nobody more so than us, but that's the way it is."
The applause which greeted Baaeed on his return to the parade ring touched those feeling the hurt the most, and Angus Gold, speaking on owner Sheikha Hissa's behalf, blamed defeat firmly on the ground.
"Jim said he couldn't quicken. When he pulled him out he hoped he'd do what he's done before on faster ground, but he simply couldn't quicken on that ground," he said.
"Perhaps it's not the greatest surprise. In my experience, it's rare a horse who acts as well on fast ground as he does also acts as well on soft ground. He tried his best, but he couldn't pick up."
On the mood in the camp, he added: "You can't be despondent when a horse gives you everything like he does. I'm sad for him he hasn't gone out unbeaten, but he's still given us some fantastic days and is as good a horse as he always was – it just didn't work for us today.
"I wouldn't take anything away from the winner, he's a fantastic horse, as is the runner-up [Adayar]. The only thing I feel sorry for is his record isn't unbeaten, but he's no lesser horse for that."
Ah yes, the winner. For all this will be remembered by racing fans as the Champion Stakes in which Baaeed got beaten, it is Bay Bridge's name that will forever be etched on the trophy. The Baaeed camp's pain was matched by the Bay Bridge camp's joy.
Sir Michael Stoute of course has been here before. For Richard Kingscote this season has been something of a coming-out party. He started it with two Group 1 wins to his name, both in Ireland. He finishes it having doubled a life's work in five months. And they are not just any Group 1s. In taking the Derby on Desert Crown and the Champion Stakes on Bay Bridge he has claimed two of Britain's most prestigious races.
"It's very nice and I'm very grateful to everyone for having me. Two lovely horses have made for a spectacular year," said the winning jockey.
"He gave me a lovely ride, he jumped in a nice pitch, travelled enthusiastically and picked up very well. We rode our own race; in the prelims we said we'd ride our own race rather than mess him around and we've seen a nice horse on the day."
Kingscote was more than happy to be cast in the role as the pantomime villain by bursting Baaeed's bubble, and added: "That's why we race horses, to see what they can do. You can't be afraid of one horse, all it takes is an off day.
"Baaeed's such a great horse, but my lad turned up and showed his true colours today."
It is perhaps a measure of what Kingscote has achieved this season that Stoute, who has won six Derbys and now three Champion Stakes, described himself as "delighted" to have won both races in the same year.
Stoute as a trainer is not known for heaping undue praise on his horses, so it carried extra weight when he said: "It was a very brave performance.
"The staff have done a great job with this horse. He came back from Sandown with a knock and we had to back off him, but he was in very good form coming here.
"I thought the favourite was unbeatable, but I thought we had a great chance of being second. He's in terrific shape. He's got a great mind and is an easy horse to train."
---
Read more from Ascot:
'I pressed the button and it wasn't there' – Jim Crowley on Baaeed's defeat
Where did it go wrong for Baaeed as his sublime career ends in defeat?
'It's a funny old game' – 33-1 Bayside Boy strikes as Inspiral blows the start
'We'll try and win the Arc' – dreams revived as Emily Upjohn gets her Group 1
Ascot erupts as Frankie Dettori and Kinross cruise home in Champions Sprint
'It was a proper battle' – Trueshan holds on to complete Champions Day hat-trick
by RacingPost