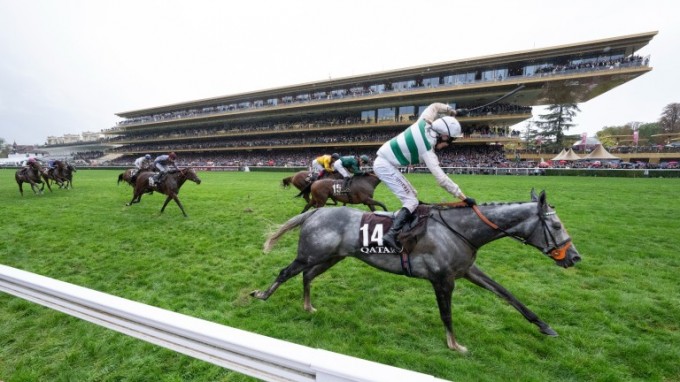 Luke Morris celebrates as Alpinista triumphs in the Arc - Edward Whitaker (racingpost.com/photos) – By David Carr
Sunday: Qatar Prix de l'Arc de Triomphe, Longchamp
Wonder mare Alpinista passed her stiffest test with flying colours to win the Prix de l'Arc de Triomphe for Sir Mark Prescott and Luke Morris.
It was an eighth success in a row for the five-year-old, who is unbeaten in the last two seasons.
She was always travelling strongly in the rain-softened ground, led around a furlong and a half from home and held on bravely from Vadeni and last year's winner Torquator Tasso.
"I'm lucky to get a good one at this stage of my career!" the winning trainer joked afterwards.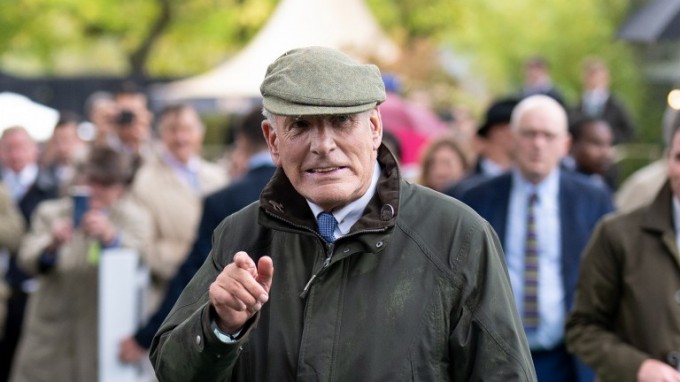 Sir Mark Prescott points to the camera after Alpinista's magnificent Arc triumph - Edward Whitaker (racingpost.com/photos)
Alpinista, owned and bred by Kirsten Rausing, was backed down to favouritism as the rain fell and was winning her sixth straight Group 1.
"Luke's ridden for me for 11 years, Miss Rausing's had horses with me for 36 so I'm very lucky, aren't I?" Prescott added. "It's hard to think of a better day."
Reflecting on the closing stages, he said: "You felt she was always going to win but it was just an enormous relief when she got there."
The outcome was better news for backers than layers as Paddy Power spokesman Paul Binfield said: "A 7-2 favourite grey mare winning the Arc might have been a fairytale result for punters but it was a poor result for us with backers not being able to get enough of her all the way to the off."
Prescott, 74, is in his 52nd year as a trainer, having sent out his first winner when Belle Royale scored at Teesside Park in 1971.
Alpinista is only the second five-year-old mare to win the Arc, following Corrida in 1937.
She passed the post half a length clear under Morris, who has twice won the Prix de l'Abbaye on this card but was riding the biggest winner of his career.
Morris said: "I think this is the pinnacle of my career. It's an unbelievably special day. There are not many times I get teary-eyed but I was having to hold back tears today.
"Things went to plan. It was very nice and smooth. I was concerned after we got all that rain whether she'd be quite as effective but she's a remarkable mare. She's so versatile and so tough.
"I couldn't believe how well she was going, coming into the straight. I was just trying to conserve her for as long as I could. When I needed her, she dug in very deep."
Ante-post favourite Luxembourg, trained by Aidan O'Brien, could finish only seventh, a place ahead of stablemate Broome. Main Japanese hope Titleholder came home 11th having forced the pace from the off.
---
Read this next:
2022 Prix de l'Arc de Triomphe: where your horse finished and who won
by RacingPost
Qatar Arc de Triomphe : Le plus haut sommet d'Alpinista
Dimanche 2 octobre 2022, Hippodrome ParisLongchamp (Paris). – La 101ème édition du Qatar Prix de l'Arc de Triomphe (Gr1) s'est déroulée dans des conditions particulières dans la mesure où une forte averse a démarré au rond pour se terminer au passage du poteau. Sur une piste assouplie, la jument de 5 ans Alpinista (Frankel), favorite au betting, a dominé pour la sixième fois consécutive au niveau Groupe 1, malgré la remarquable fin de course du champion des 3ans français, qui l'a menacée jusqu'au bout après avoir progressé au sein du peloton, et longtemps galopé en neuvième position. Il concède finalement la victoire à une demi-longueur, une encolure devant le tenant du titre, l'allemand Torquator Tasso (Adlerflug), un courageux Al Hakeem (Siyouni) et la jument Grand Glory (Olympic Glory), venue de loin à la cinquième place.
La course a été menée à vive allure par le japonais Titleholder (Duramente), suivi de Broome (Australia) et Deep Bond (Kizuna), avec Al Hakeem (Siyouni) dans leur sillage. Alpinista venait en quatrième position et à l'entrée de la dernière ligne droiute, son jockey Luke Morris a pu se rapprocher de la ligne de front sans effort, et il a attendu encore, même alors que Vadeni, venue du milieu du peloton, se lançait à l'attaque. La jument grise a semblé contrôler la course jusqu'au bout, Vadeni ne lâchant rien pour autant. Torquator Tasso, rapprochée assez tôt en dehors, a maintenu son effort jusqu'au bout, comme l'année dernière, et il a terminé finalement bon troisième. Al Hakeem s'est montré très courageux à deux longueurs, une longueur et demie devant Grand Glory. Les autres terminent à trois longueurs et plus à l'issue d'une course décidément très sélective.
Gagnante précédemment du Grand Prix de Saint-Cloud (Gr1), Alpinista avait déjà couru trois fois en France, à 2 et 3 ans, puisqu'elle avait terminé quatrième dans le Prix d'Aumale (Gr3) de Savarin en 2019, puis quatrième pour sa rentrée à 3 ans, déjà en juillet dans le Prix Madame Jean Couturié (L) à Vichy en juillet 2020. Deuxième plus tard des Yorkshire Oaks (Gr1) de Love, elle est désormais invaincue depuis sa rentrée en 2021, lorsqu'elle a gagné dès avril une Listed à Goodwood. Depuis, elle a remporté les Lancashire Oaks (Gr2), le Grand Prix de Berlin (Gr1), Le Prix d'Europe (Gr1) à Cologne, le Grand Prix de Bavière (Gr1) à Münich et le Grand Prix de Saint-Cloud.
Élevée en Grande-Bretagne par sa propriétaire Kirsten Rausing, Alpinista est issue d'Alwilda (Hernando), gagnante de Listed en Allemagne, sœur d'Algometer (Archipenko), notamment placé du Prix Maurice de Nieuil (Gr2). Ils sont issus d'Albanova (Alzao), triple gagnante de Groupe 1 en Allemagne, propre sœur d'Alborada (Alzao), gagnante des Champion Stakes (Gr1).
Cliquer ici pour télécharger le communiqué officiel.
font : france galop