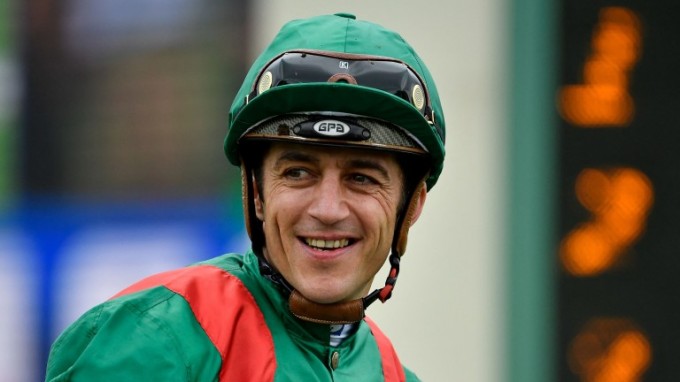 Christophe Soumillon: French racing's highest-profile jockey stunned the sport on Friday when elbowing Rossa Ryan out of the saddle during a race at Saint-Cloud
Julien de Rosa (AFP Getty Images) – By Lee Mottershead
The owners of a horse Christophe Soumillon is due to partner in a Longchamp Group 1 race on Sunday have said the under-fire star should not take his Arc weekend mounts – either voluntarily or through the intervention of France Galop.
French racing's highest-profile jockey stunned the sport on Friday when elbowing Rossa Ryan out of the saddle during a race at Saint-Cloud.
Soumillon was quick to apologise for an offence that earned him a 60-day suspension but he insisted his actions had not been intentional and committed himself to staying focused on the cusp of what he described as "the most important weekend of the year".
The Aga Khan's retained rider is due to partner the owner's Prix du Jockey Club and Eclipse winner Vadeni in Sunday's Qatar Prix de l'Arc de Triomphe (3.05) but before then he has chances in all five of Longchamp's Saturday Group contests, in the first of which he is set to join forces with Dermot Weld aboard hot favourite Duke De Sessa (12.23).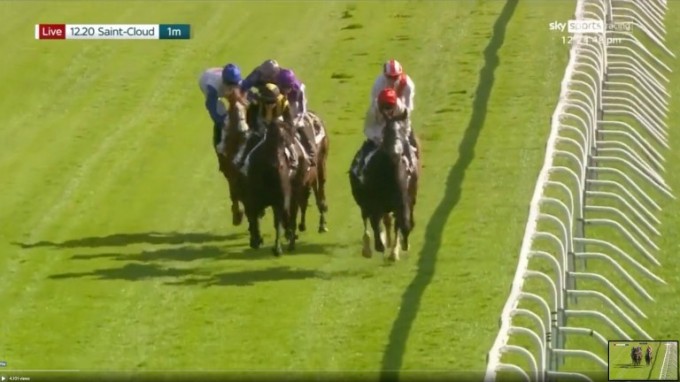 Christophe Soumillon moves to elbow Rossa Ryan (left) out of the saddle at Saint-Cloud
Soumillon – whose ban begins on October 14 – is also poised to continue his association in Sunday's Prix de la Foret with Malavath, whose trainer, Francis Graffard, he was riding for in the Prix Thomas Bryon. During that Group 3 event Soumillon's elbow made contact with Ryan who, as a result, was unseated from the Ralph Beckett-trained Captain Wierzba. Ryan was unhurt and subsequently described the episode as "one of those things that happens".
Malavath is owned by a group that includes senior British racing figure David Redvers, who does not want Soumillon to compete at Longchamp. However, he believes Malavath's owners would not be allowed to replace Soumillon themselves if France's ten-time champion jockey is deemed fit to ride by stewards.
Redvers told the Racing Post: "I am extremely concerned for Christophe, who is a wonderful jockey and has ridden our filly beautifully in the past.
"For the safety of those taking part in races, it appears to me that any jockey who could make a move that has the potential to endanger the life of another jockey should be carefully assessed before being permitted to ride again.
"It is enormously regrettable that if Christophe rides at Longchamp, the principal focus of a wonderful meeting will be on him, therefore placing him under increased pressure.
"Having discussed this with my partners in Malavath, we therefore feel the best course of action would be for Christophe to voluntarily stand himself down in order that he can properly consider his actions or for him to be stood down for his own good and for the good of the sport."
Speaking at Saint-Cloud on Friday, Soumillon said: "It was a terrible thing that happened. I was riding my race as always and two of us wanted the same spot. I thought I was just easing Rossa over so I could stay behind Ryan [Moore]. Unfortunately on the very soft ground he became unbalanced and came off.
"That was the first surprise because I wondered what had happened. When I watched back the pictures, I could see clearly what had happened – that I had gone elbow to elbow with him, which unfortunately I should never have done.
"I made a mistake and I am upset for my owner and trainer as well as for his, because it has resulted in them both losing out. The worst of it is that when a jockey falls like that it could have been a lot worse for him."
He added: "I have to accept things and I made an error. I should never have used my elbow to try to keep my position.
"That manoeuvre was a mistake and I regret it. I apologise to everybody, especially the connections of those two horses and anyone who was shocked by what they saw."
---
Read these next:
Christophe Soumillon banned for two months after elbowing Rossa Ryan
'It's his to lose' – why this horse can win the 2022 Prix de l'Arc de Triomphe
by RacingPost