Darley Morny : Blackbeard, signé O'Brien
Dimanche 21 août 2022, Hippodrome de Deauville-La Touques (Calvados). – Vainqueur du Darley Prix Robert Papin, Blackbeard (No Nay Never) permet à l'Irlande de renouer avec le succès dans le Darley Prix Morny – Finale des Darley Series (Gr1), quatorze ans après Bushranger (Danetime), entraîné par David Wachman. Cette fois, c'est une victoire signé Aidan O'Brien, dont le dernier succès remontait à 2001, grâce à Johannesburg (Hennessy). Le dernier doublé Papin-Morny remontait à 2017 avec Unfortunately (Society Rock).
Après avoir d'abord attendu, Blackbeard est lance à 350 mètres du poteau, puis, aux prises avec Persian Force (Mehmas), le défenseur des intérêts Coolmore se montre le plus fort, une demi-longueur sanctionnant sa supériorité. Malgré ses efforts, Lanfranco Dettori se contenter de la deuxième place face à Ryan Moore qui remporte pour la première fois ce temps fort du meeting deauvillais.
Récent vainqueur du Darley Prix de Cabourg (Gr3), The Antarctic (Dark Angel) se comporte bien et s'assure la troisième place.
Au Tracking, ces poulains de 2 ans ont accéléré fort, avec un temps de 10"75 pour les deux premiers des 400 aux 200 mètres. Dans la dernière portion, le vainqueur a fait parler sa dureté réalisant le meilleur chrono en 11"43.
Blackbeard a été acheté 270 000 £ foal aux ventes d'élevage de Tattersalls. Il est le premier produit de Muirin (Born to Sea), gagnante de sa première course et quatrième immédiatement après des Moyglare Stud Stakes (Gr1) au Curragh. Élevée par Sunderland, elle avait elle-même été vendue 210 000 € en fin d'année de 3 ans à Broadhurst Agency (Laurent Benoît).
Font : France Galop
He has a lot of speed' – Prix Morny glory for Aidan O'Brien's Blackbeard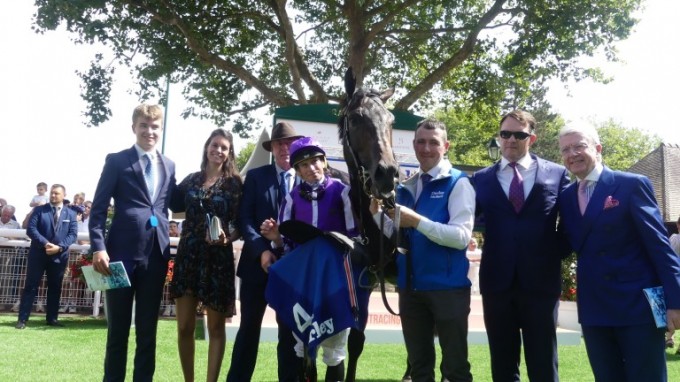 Blackbeard: won the Darley Prix Morny at Deauville on Sunday - Racing Post / Scott Burton – By Charlie Huggins
Sunday: Darley Prix Morny, Deauville
Blackbeard followed up last month's Darley Prix Robert Papin win to make it back-to-back French Group wins in the Darley Prix Morny at Deauville on Sunday.
The Aidan O'Brien-trained son of No Nay Never drifted in the betting just before the off after sweating at the start, but fended off the challenge of the Frankie Dettori-ridden 6-5 favourite Persian Force to land the €350,000 Group 1.
Blackbeard had been due to tackle Group 1 company for the first time in the Phoenix Stakes earlier this month, but was taken out on the morning of the Curragh contest. His stablemate Little Big Bear won the race, eclipsing Persian Force. 
The Amo Racing-owned July Stakes winner would again have to settle for second to a Ballydoyle juvenile with Blackbeard scoring by half a length under Ryan Moore.
O'Brien, who was winning the Prix Morny for the first time since Johannesburg struck in 2001, also had the third home with The Antarctic.
Norfolk winner The Ridler, representing last year's winning combination of Richard Fahey and Christophe Soumillon, finished last of the five runners with the only filly in the line-up, Manhattan Jungle, in fourth.
Blackbeard had more than two lengths to find with Persian Force on their Royal Ascot meeting in the Coventry Stakes, but O'Brien's colt is clearly improving with the winning trainer impressed with his charge's maturity.
"We're very happy with him," said O'Brien. "He always feels like he has a little bit more but he was delighted with him. He's a proper fast, early, mature two-year-old, he jumps and takes loads of racing."
Blackbeard was trimmed to 3-1 from 11-2 by Betfair for the Middle Park Stakes at Newmarket on September 24, with another run in France also raised as the next potential engagement by O'Brien.
He said: "Blackbeard's obviously very speed orientated, he might get further but he has a lot of speed. Obviously he would have the option to come back for the 7f Group 1 [Lagardere] or the Middle Park so I think all those races are options for him."
font : RacingPost