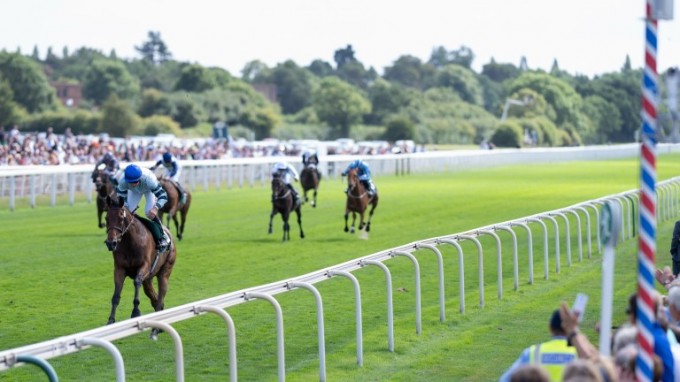 Quickthorn made all for a dominant victory in the Lonsdale Cup - Edward Whitaker (racingpost.com/photos) – By Peter Scargill
In the absence of star stayers Stradivarius and Trueshan, Quickthorn stunned his remaining five rivals with a dominant all-the-way victory in the Group 2 Lonsdale Cup with nearest challenger Coltrane trailing in 14 lengths behind.
While there was significant focus on the rides given to Quickthorn's rivals, jockey Tom Marquand was keen to emphasise how good his horse had been.
"I wouldn't say I'm brilliant for that, I'd say he's really coming to the fore now as a top stayer," he said. "He goes around in that highly exuberant fashion and when we came back from France I felt he had two more gears up his sleeve. After a little bit of time you're thinking 'did I really? am I kidding myself?'.
The race was shorn of much of its star power when Stradivarius was declared a non-runner early on Friday morning after bruising his foot, and he was followed out by Trueshan after Alan King decided the ground was too quick for his two-time Group 1 winner.
Both would have had a job on their hands catching the impressive winner, and Marquand added: "He's got the most enormous engine and he's learning how to use it now. Fair play to Hughie [Morrison] for getting him to channel it in the right direction.
"I know we didn't have the champions in there and that's a shame because I think he'd have given them a real race today. He's going to be giving them a good race in the future when they do meet."
ITV Racing pundits Jason Weaver and Adele Mulrennan agreed the race was won in the early stages of the contest, while Andrew Balding had expressed concerns as to whether Coltrane would be able to run as well as expected after a busy season.
Mulrennan said: "It's always difficult at the time to know whether he's going too quick. He jumped out and hit the brakes to give the indication he was going to go steady but then from the first bend he got him into a perfect rhythm and they couldn't go with him."
Weaver added: "He's very quick, this horse. The damage was done early and they couldn't go with him."
How the race unfolded
It didn't take long for Tom Marquand and Quickthorn to build up an easy lead, with their rivals happy to let the par go
Quickthorn's advantage was only growing larger midway through the Group 2 contest
As they turned for home, Marquand's fellow jockeys were busy at work on their charges but there was nothing they could do to eat into Quickthorn's huge lead
Quickthorn and Marquand cross the line in splendid isolation, 14 lengths clear of the field
---
Read these next:
Alan King 'sorry for everyone' after ruling Trueshan out of Lonsdale Cup
'He's never missed a dance' – Stradivarius ruled out of Lonsdale Cup
fonte : RacingPost