'We can dream about Paris now' – leading Arc hope Alpinista wins fifth Group 1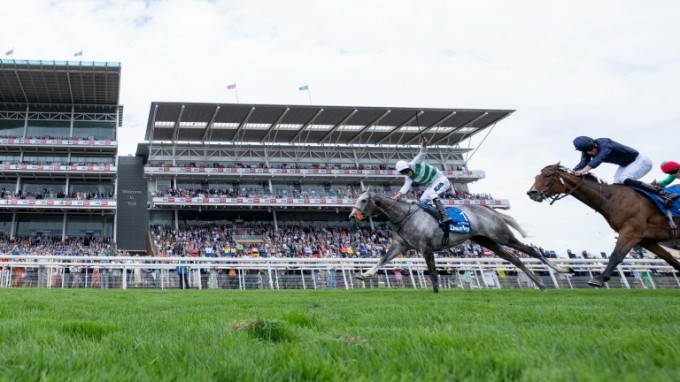 Alpinista holds off Tuesday and La Petite Coco to win the Yorkshire Oaks for Luke Morris - Edward Whitaker (racingpost.com/photos) – By David Carr
Thursday: Darley Yorkshire Oaks, York
There is more than one way to skin a Group 1. Horses of the decade are all very well but there is a lot to be said for a race that is an actual, well, race.
A day after the York cognoscenti broke into polite applause at the sight of Baaeed cruising home in a hugely one-sided Juddmonte International, the packed stands were treated to the visceral thrill of a proper battle in the second top-level event of the week.
They got to see heart and class combined in one astonishing half tonne of female horseflesh as Alpinista simply would not be denied a first British Group 1 triumph.
Sent on two furlongs out by Luke Morris in the Darley Yorkshire Oaks, Kirsten Rausing's mare kept finding extra under pressure and was always doing enough to hold off Oaks winner Tuesday by a length.
And whereas Baaeed's success has been followed by indecision over running plans, there is no doubt where this winner goes: Alpinista, who beat subsequent Prix de l'Arc de Triomphe winner Torquator Tasso in Germany last year, will take him on again on the first Sunday of October in Paris – where she is a best-priced 8-1 to complete a Group 1 six-timer.
"The Arc has always been the aim," trainer Sir Mark Prescott said of a five-year-old who had been slow to come to hand early in the season and returned from an eight-month break to win at Saint-Cloud in July.
"The original intention was to go Coronation Cup and then King George, but it then became Saint-Cloud and here or the Vermeille. Miss Rausing was very keen to come here because Alpinista had not won a Group 1 in England.
"She won't go for the Vermeille, I think she'll go straight to the Arc. She's just good enough to go close. You've got a chance, therefore you must go. This was as good as Saint-Cloud, whether it will be good enough for Paris is another thing."
Alpinista's record is one of near continuous progress and Prescott said: "She's improved every race and I think her success is because she's straightforward, she goes on more or less any ground, you can hold her up and make the running. It's like people, if they're very straightforward it's amazing what you can do.
"I've had three very good ones for Miss Rausing over this distance who were all related, Albanova, Alborada and her. How lucky can you be to have three fillies like that? And the family is well run – you wouldn't get fat on the mistakes Miss Rausing makes!"
Alpinista will be a first "serious" Arc contender for Prescott, who had Foreign Affairs finish tenth in 2001 but admitted: "We supplemented him for a jolly.
"He won the Magnet Cup and was second in the Ebor, they played up their money and we had a fantastic time. Sakhee beat us pretty convincingly."
'She's a superstar'
Morris, who has twice won the Prix de l'Abbaye on the supporting card, is looking forward to his first crack at the main feature.
"We can dream about Paris now," the jockey said. "It looks an open race this year and she goes on any ground."
Morris has been beaten just once in nine rides on Alpinista and never felt defeat was on the cards here.
"I could feel Tuesday coming and I felt that when Alpinista sensed her coming she dug deep," he said. "She's very tough and honest. Since she's been on better ground this year she's looked like a filly with more class. 
"I thought today's race had a lot of depth and she had to give 9lb to the second, it was a great performance. She's a superstar – I'm so privileged to ride her."
---
Watch Alpinista tough it out to win the Yorkshire Oaks
---
Now read this:
William Haggas reveals the Arc and Irish Champion will be considered for Baaeed
by Racing Post
Report: Chad Brown Arrested in Saratoga
According to WRBG television, trainer Chad Brown was arrested Wednesday in Saratoga Springs and charged with criminal obstruction of breathing, a misdemeanor. According to the report, Brown is scheduled to face a judge Thursday morning. Criminal… [To read this entire TDN News Story, click here.]
Showcasing's Swingalong Surprises In The Lowther
That Karl Burke collected in Thursday's G2 Sky Bet Lowther S. at York was a surprise to nobody, but the fact that it was with the 25-1 stable second-string Swingalong (Ire) (Showcasing {GB}) as Dramatised… [To read this entire TDN News Story, click here.]
by TDN