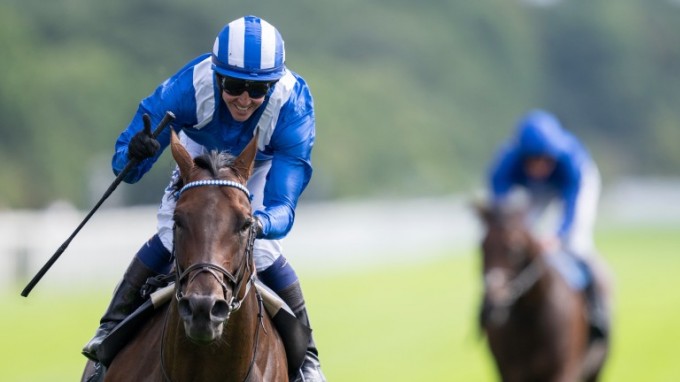 Jim Crowley's face says it all after Baaeed maintained his unbeaten run in the Juddmonte – Edward Whitaker (racingpost.com/photos) – By David Carr
Wednesday: Juddmonte International, York
The race was the easy bit, for both Baaeed and William Haggas. And the truly spectacular outcome made the issues that came before rather fade into the background.
When you train the best horse in the world, the pressure can get to you and at 1.30am on the day of the most important race of his life, Haggas found himself dreaming about his superstar losing his tack at the start.
Things got little better when the Yorkshireman found himself stuck in traffic on the way to his home track, where he was desperate for his colt to show the locals what he was made of in the £1 million Juddmonte International.
And a less relaxed man might have wondered if this was going to be one of those days when he was fined £140 by the stewards who said Baaeed "appeared to be showing signs of a skin condition and the trainer did not have a certificate of non-contagiousness".
But Haggas has always had supreme confidence in the four-year-old and was not fazed by the events of the day or his colt's first try beyond a mile. And, like those punters who availed themselves of odds of 2-5 about the favourite, the trainer never had a moment's worry.
Jim Crowley was always cruising on a colt he was to label "the perfect racehorse" and although he turned for home with only one behind him, it was only a matter of when he pressed the button. Baaeed made his ground with staggering ease, was still virtually on the bridle when he hit the front over a furlong out and scored by six and a half lengths from Mishriff, who had won the race by six himself last year.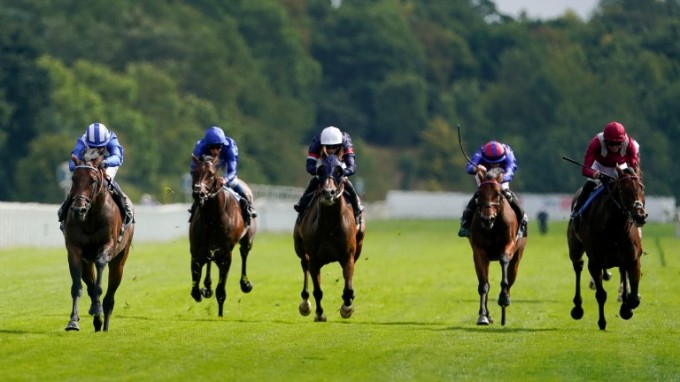 Baaeed (blue and white) left his five Juddmonte International rivals floundering in behind - Alan Crowhurst (Getty Images)
"I had one or two anxious moments through the day but not in the race, that was the easy bit," Haggas said. "Being sat in traffic coming in was a nightmare. I should have known better, it's the same on the first day at Ascot, the traffic's awful.
"And apparently the vet saw some spots on his neck which he thought were ringworm. I can assure he didn't leave the yard with any spots anywhere and when I went to saddle him I couldn't find them. It was very unnecessary and I hope they don't think that we don't know what we're doing."
Reflecting on the way Baaeed made it a perfect ten from ten, Haggas added: "It's a relief more than anything. He's such a good horse and he proved it and showed everyone today and that's what was so satisfying.
"That was pretty spectacular. Aren't we just so lucky? I said to Jim before the Sussex, 'We've got to enjoy this horse, because this time next year when we're watching something else win the Juddmonte we'll be dreaming'.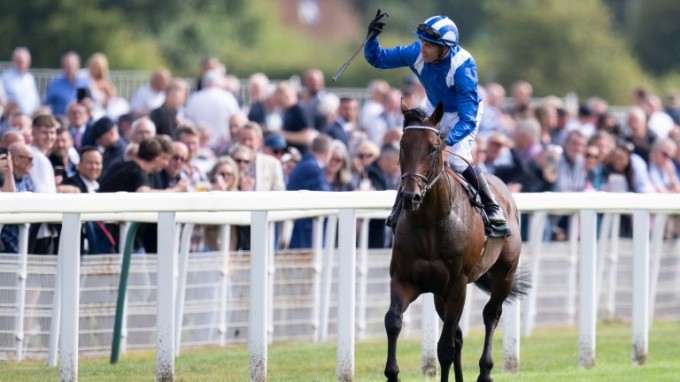 Jim Crowley salutes the crowd on Baaeed after their Juddmonte demolition job at York - Edward Whitaker (racingpost.com/photos)
"It's rarely you see in a high-class race a horse appear on the bridle with two to run looking like he could go at any time. He's just good, isn't he? It was a spectacular performance and I'm glad now that everyone will believe in him. We think he's fantastic and we have thought so for some time.
"Sure I've been slow to get him up in trip but he's been so dominant at a mile. This was the perfect opportunity, he clearly stays it well, he's just got a fabulous engine and a fabulous temperament.
"As I've said a few times, finding another one is going to be the tricky bit."
'I never had any desire to run in the Arc'
Baaeed will retire after the Qipco Champion Stakes at Ascot in October, rather than step up to a mile and a half in the Qatar Prix de l'Arc de Triomphe.
"He can't do both, it's too close, and we wanted our finale in the Champion Stakes, that's always been the plan," Haggas said.
"I never had any desire to run in the Arc and unless Sheikha Hissa and Angus Gold decide that we're going to do that and miss Ascot, as far as I'm concerned he'll be going for the Champion Stakes."
Nor is there any likelihood of retirement being put on hold, as Haggas added: "He mustn't race on, he needs to go and earn some money and enjoy a fruitful career."
Like Haggas, Crowley was confident throughout the race and said: "That was unbelievable, everything went perfectly. I suppose you could say there was a lot of pressure coming here to get the job done but I never really felt it, I knew how good he was. I was never worried about the trip.  
"He's special, I've known from day one. The first time I rode him William said, 'How good do you think he is?', and I said, 'He's the best you've got, he might be the best you've ever had'. He's the perfect racehorse."
---
Read more on Baaeed:
Baaeed skin condition leads to William Haggas being fined by BHA
'Wow!' – Baaeed hailed after 'murdering' Juddmonte International field
Where should Baaeed run next: Champion Stakes or Prix de l'Arc de Triomphe?

Baaeed Brilliant In The International
Putting all stamina and wellbeing doubts to bed in spectacular fashion on Wednesday, Shadwell's Baaeed (GB) (Sea The Stars {Ire}) made light work of York's G1 Juddmonte International to bring a large measure of delight… [To read this entire TDN News Story, click here.]
by Racing Post
Sea The Stars's Deauville Legend On Top At York
Trainer James Ferguson is on the move, not only set to occupy the Kremlin Cottage base recently vacated by Hugo Palmer, but also bound for Australia after Boniface Ho Ka Kui's 3-year-old gelding Deauville Legend… [To read this entire TDN News Story, click here.]
by TDN