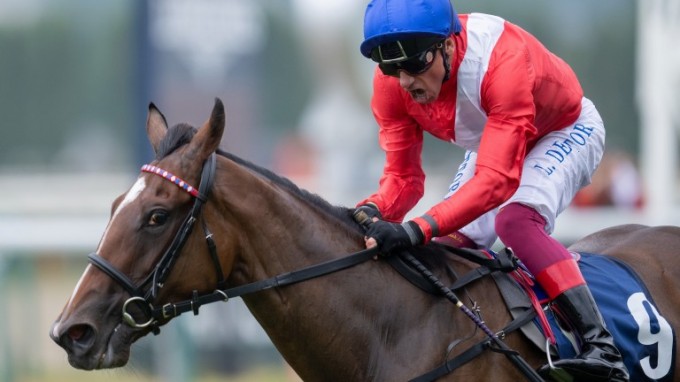 Inspiral and Frankie Dettori took the Group 1 honours in France on Sunday - Edward Whitaker – By Scott Burton
Sunday, Prix du Haras de Fresnay-le-Buffard Jacques le Marois, Deauville
Inspiral dispelled the memory of a puzzling display at Newmarket to put away a dazzling array of Europe's best milers and ensure a third straight Jacques le Marois for both John and Thady Gosden and Frankie Dettori. 
Much has been written about their reunion following a difficult week at Royal Ascot.
Inspiral had been the one bright spot among a series of misfortunes but following the Falmouth Stakes at Newmarket, it was rider and filly that needed to get back on the same page.
"We were scratching our heads after Newmarket but her last work was great, it went just like I wanted it to," said Dettori, who was winning the €1 million showpiece of the Deauville summer for a record-extending seventh time.
"She's a true champion. She's probably champion three-year-old because today that was an amazing performance against the older horses, Guineas winners."
Cheveley Park's Richard Thompson was moved to say that Inspiral was now the best filly to carry the red, white and blue colours on the Flat and Dettori added: "I can't disagree too much with Richard, she's a champion."
Bathrat Leon towed along the field in brisk fractions on a track that is already speedier than any other Group 1 mile layout in Europe and it is testament to Inspiral's cruising speed that she was able to pick up the baton just inside the two-furlong marker, surging clear before repelling the late thrusts of first Erevann and then Light Infantry. 
A time of 1min 34.07sec was the third fastest in the history of the race and John Gosden was left in no doubt that the way the daughter of Frankel settled in comparison to the Falmouth was what enabled her to kick in the turbo when required.
"Frankie said they went very hard, very strong up front and he wound up getting to the front sooner than he planned," said Gosden. "I thought it would be Coroebus but in the end it was the French horse that came at us.
"The great thing is she relaxed today, which didn't happen at Newmarket. She overraced with daylight all the way and paid the price. But she did it right today."
Asked how satisfying it was to resume what had previously been an unbeaten thread with Inspiral, Gosden added: "If you can't take the knocks in this game, don't be in it. As someone once said, it's a bed of roses with plenty of thorns in it."
Paddy Power cut Inspiral to 7-2 (from 5) for the Qipco Queen Elizabeth II Stakes at Ascot and that will be her main end of season target, with thoughts of the Breeders' Cup on hold for a potential four-year-old career.
Reflecting on Cheveley Park, the Thompson family and its late founder, Gosden said: "David is not here but we've got Mrs Pat Thompson and all the grandchildren; Richard, her son as well so it's a proper turnout.
"They flew over and we flew the filly over so thank goodness she won with that cost."
Richard Thompson has grown up surrounded by the breeding and racing passion of his parents and was in as good a position as any to put Inspiral's performance into context with the operation's great champions of the last 30 years.
"This is one of the most prestigious mile races in Europe, a top, top race," said Thompson. "It's a shame she couldn't win one of the Guineas but this makes up for it. 
"The Coronation Stakes and now this, the double of those is very special. We've never had a filly on this level, to be champion two-year-old filly and then win the Jacques le Marois and the Coronation double, and being a homebred, this is special."
When you consider a list that includes Russian Rhythm, Nannina and Virtual, Inspiral has eclipsed some notable performers on the Cheveley Park roll of honour.
Jamie Spencer came out on the wrong end of France's strict penalties for breaking the whip rules when handed a 12 day ban for his ride on second-placed Light Infantry.
Spencer was found to have used his whip eight times – three over the permitted limit – and had his suspension increased because the infraction came in a Group 1.
---
Read these next:
Simcock eyes Aussie prize for Light Infantry as Appleby reflects on Coroebus run
Improving Rebel's Romance claims German Group 1 for Appleby and Doyle
by RacingPost