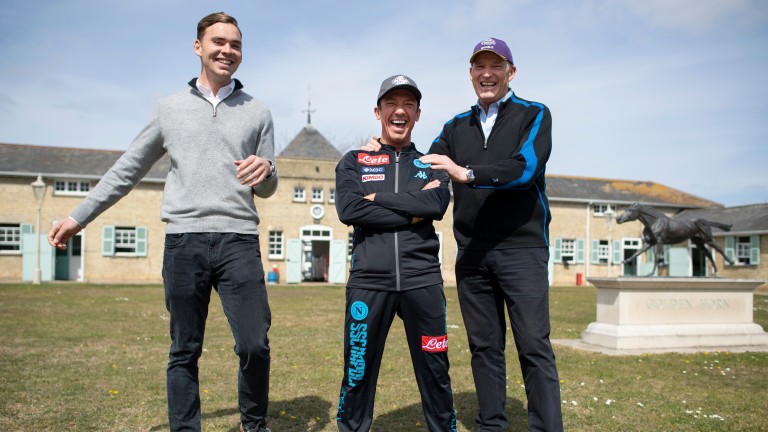 Frankie Dettori is currently on a sabbatical from the John and Thady Gosden yard – Edward Whitaker – By Lewis Porteous
John Gosden has left the door open for a reunion with former stable jockey Frankie Dettori once the pair's current 'sabbatical' ends.
Speaking at Sandown on Saturday, the champion trainer praised his estranged rider for his response to their parting of the ways, saying: "I'm absolutely over the moon with what he's doing."
Dettori has had only one ride in Britain since Royal Ascot, winning aboard Lezoo at Newmarket on June 25 for Ralph Beckett, and this weekend is in Germany where he is on board So Moonstruck in the German Derby.
Gosden said: "Sabbatical was not a lightly chosen word. I'm absolutely over the moon with what he's doing. He's getting out there in Germany and he's going to ride a lot for Mark Johnston next week at Newmarket, because Joe Fanning has hurt his arm, and then he's off to Belmont and riding there.
"It's exactly what I wanted to see and I'm very happy with it."
Gosden has suggested Dettori was not riding enough for his liking and allowing other distractions to get in the way but the rider will likely take heart from the champion trainer's comments.
"He and I will be back together quite sensibly when we pass through this," Gosden added.
"He knows as well as I do you've got to be riding and doing those things, not have any distractions, and I'm really pleased with the programme he's got.
"He and I have spoken again and we're very close friends. Things are absolutely fine between us."
Royal Ascot winner Inspiral, usually ridden by Dettori, is due to reappear in the Falmouth Stakes at Newmarket on Friday.
Gosden said: "I'm not going to say who is going to ride [Inspiral], I'll do what I think is right."
Dettori is set to spend next weekend in the US, riding Nations Pride and With The Moonlight in the Belmont Derby and Oaks for Charlie Appleby.
Reflecting on the logistics involved, Gosden said: "He [Dettori] has got to get to Belmont and if you think about that, if you turn up at Heathrow on Saturday morning to ride Saturday afternoon at Belmont, he might not be getting on an aeroplane after they cancel 30 flights, so all in good time." 
---
Read these next . . .
Christophe Soumillon delivers Coral-Eclipse success on Vadeni for France
Arc hero Torquator Tasso slashed for King George after impressive Hamburg win
Kieren Fallon felt 'physically sick' watching son Cieren's Royal Ascot nightmare
fonte : racing post