Kyprios lands action-packed Gold Cup as Stradivarius goes down fighting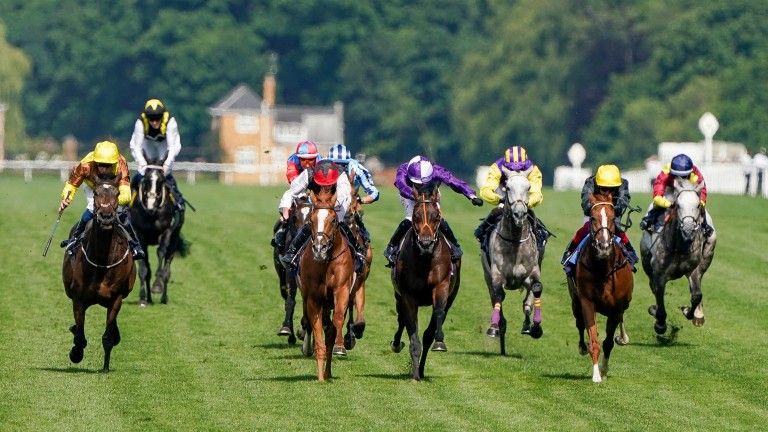 Kyprios (black, white and red) stays on best of all to win a dramatic Gold Cup at Ascot – Alan Crowhurst (Getty Images) – By Peter Scargill
Thursday: Gold Cup, Royal Ascot
Favourite Kyprios captured Thursday's Gold Cup at Royal Ascot as Stradivarius endured a far from smooth passage for the second year running as he finished third in his attempt to win the race for a fourth time.
Earlofthecotswolds made the running but only at a steady gallop, leaving Frankie Dettori, who slotted on to the rail on Stradivarius, assessing his options to get out for much of the race.
Ryan Moore, meanwhile, had Kyprios to the outside of the three-time Gold Cup winner, and moved to create more space before the turn for home, with the pace set to lift suddenly at that point.
As Kyprios and Mojo Star, also on the outside, went full blast up the Ascot straight, Stradivarius had nowhere to go, leading Dettori to switch and switch again, eventually ending up widest of all and having less than two furlongs to earn his place in history.
Mojo Star, running for the first time this season, led the field narrowly with a furlong to go, but Kyprios nudged back up on his inside to lead, with Stradivarius trying valiantly to run the pair down, but to no avail.
"It wasn't a nice race to ride," Moore said. "He stepped slow, which is unusual for him and I didn't like the spot we were in as we were going slow. They were getting an easy time up front and I had to move him to the outside – I don't like doing that.
"We got going and he's got there and Mojo Star has come to us and that's when he's clicked in, it was comfortable at the line. It wasn't a true test today but I'm glad he's come over here and won. There will be lots of good days with him. He was much the best."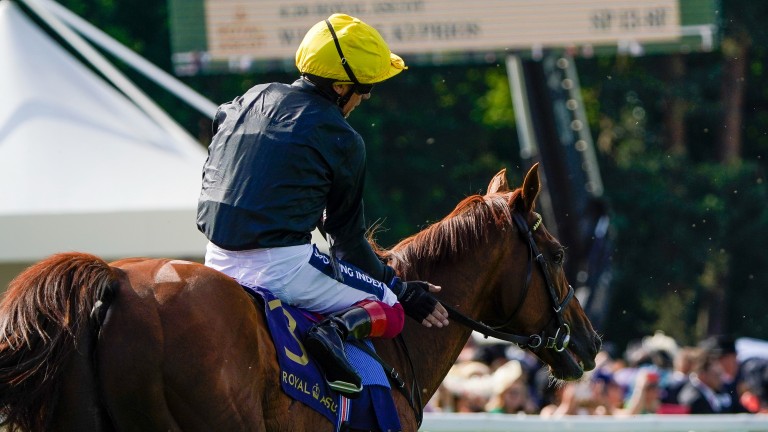 Frankie Dettori and three-time Gold Cup hero Stradivarius after finishing third this year – Alan Crowhurst (Getty Images)
Dettori did not feel coming wide cost him the race, and said: "He ran good. I had an inside draw so I had to be careful what I was doing.
"I tracked the winner and the pace wasn't that strong and in the end there was nowhere to go for the horse, so I had to take him to the outside. It cost me a little bit but I don't think it cost him. He had plenty of time to get there and the younger horses had fresher legs.
"I didn't make too much headway when I pulled him out – maybe half a length – and as I hit the line they were going stronger than me.
"It's been a good era and he owes nothing to racing – he's been a magnificent horse. He went out fighting."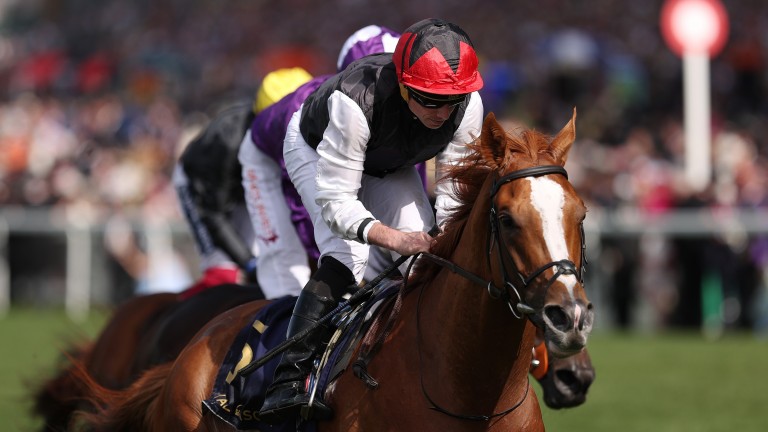 Kyprios: provided trainer Aidan O'Brien with an eighth win in the Gold Cup – Ryan Pierse (Getty Images)
Kyprios, who was withdrawn after getting upset in the stalls before the Queen's Vase at last year's royal meeting, provided trainer Aidan O'Brien with an eighth win in the race.
O'Brien, who trains the winner for Eva Maria Bucher Haefner, Sue Magnier, Michael Tabor, Derrick Smith and Georg von Opel, said: "Ryan gave him a brilliant ride – he held him and saved him, I thought. I'm delighted for everyone. He's a very brave horse. He's going to come forward more."
The race continued a frustrating run for Kia Joorabchian's Amo Racing with Mojo Star finishing second, the same place occupied by Persian Force in the Coventry and by Walbank in the Norfolk Stakes.
Kia Joorabchian and Amo team fuming as two runners 'wiped out' by wayward winner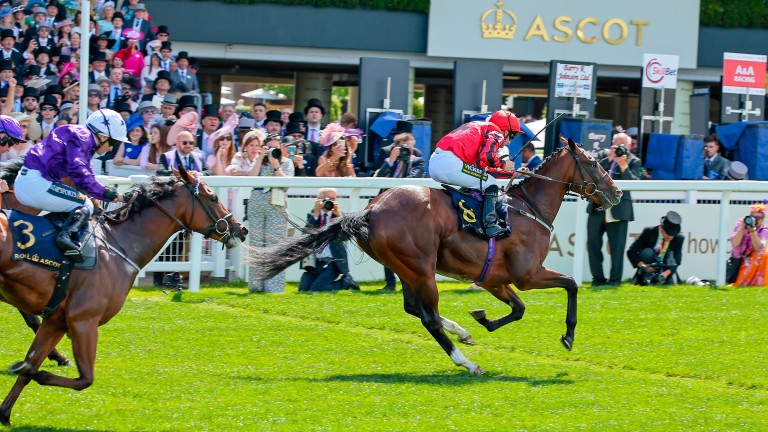 Crispy Cat (left) was badly hampered by 50-1 shot The Ridler in a dramatic Norfolk Stakes – Mark Cranham (racingpost.com/photos) – By Lewis Porteous
The winner's enclosure at Ascot is synonymous with scenes of jubilation but there was not much celebrating going down after the conclusion to the Norfolk Stakes, with connections of third-placed finisher Crispy Cat adamant their horse would have won had he not suffered interference by wayward winner The Ridler.
The stewards reviewed the incident but ultimately deemed the placings had not been impacted by The Ridler, ridden by Paul Hanagan, veering severely to his left but owner, rider and trainer of Crispy Cat took a very different view.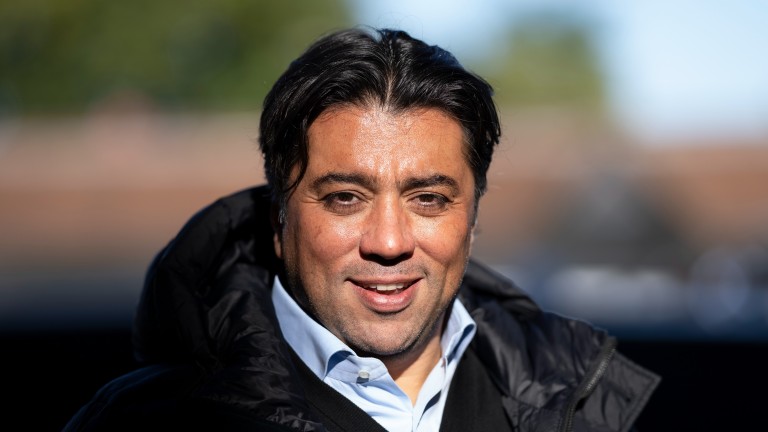 Amo Racing's Kia Joorabchian: "For an experienced jockey to wipe out four horses in the field, I don't even know what to say to that" – Edward Whitaker (racingpost.com/photos)
"Both our horses got wiped out," said Kia Joorabchian, not only the owner of Crispy Cat but also of runner-up and hot favourite Walbank.
"Crispy Cat got completely wiped out. If that's not a mistake we may as well give up. If you lose fair and square that's fine but for an experienced jockey to wipe out four horses in the field, I don't even know what to say to that.
"[Without the interference] Crispy Cat wins and wins by a margin. I doubt they will change the result but that's not the point. The result is not the issue, the issue is an experienced jockey wiped out four horses."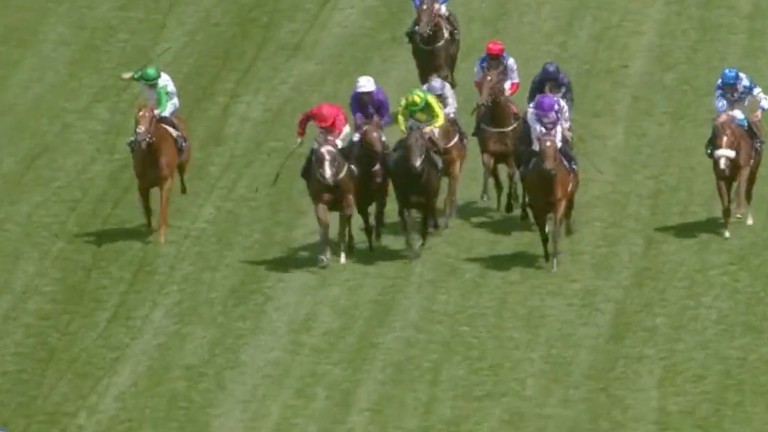 Silvestre de Sousa is forced to snatch up on the Michael O'Callaghan-trained Crispy Cat – Sky Sports Racing
Crispy Cat's trainer Michael O'Callaghan was very much on the same page as his owner but even before the result was confirmed, he was resigned to the fact they had no chance of getting the race in the stewards' room.
"He should have won – plain and simple," said O'Callaghan. "Silvestre de Sousa said he would have won. He never had a clear run through the race and then he got wiped out. He should have won.
"He never got a clear run from the middle of the race and then he got wiped out by the winner when he did get out. He got wiped out and then ran on again, so he should have won."
He added: "In America they can do it but the stewards' here can't put the third first because Walbank has finished second and done nothing wrong. Without interference he [Crispy Cat] would have won."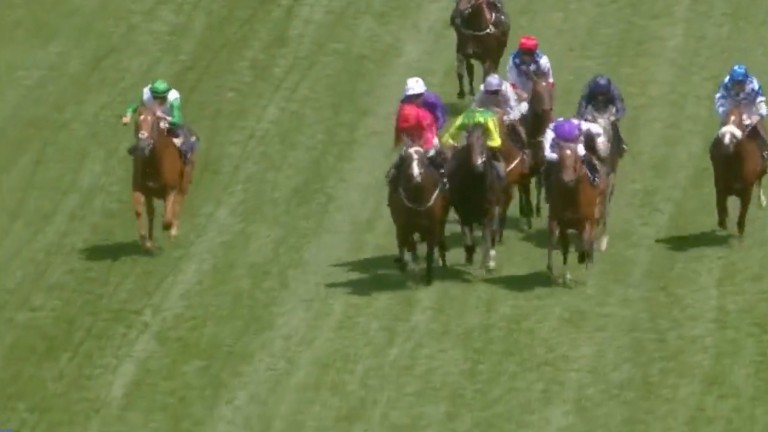 The Ridler (red silks) continues to hang to his left and starts to come across Brave Nation – Sky Sports Racing
De Sousa, rider of Crispy Cat, cut a dejected figure walking in and was unequivocal that interference had cost his mount the win.
The rider said: "I thought he should have won the race. I got completely wiped out from the winner and without that I win."
It was another painful result for Walbank's trainer David Loughnane, who finished second with Go Bears Go in the same race for the same owners last year and found himself in the number two position once more, although stopped short of saying the interference had cost his horse the win.
"It's deja vu," he said. "The horse has done very well and ran his race. I don't think he could have done anything different. I'd be lying if I said I wasn't heartbroken but that's racing.
"We were out in front and probably got a little bit lonely. The winner has come down the outside and come a long way across the track I'd say."
'He did take us out'
Brave Nation was another to be impeded by The Ridler and both trainer Michael Bell and rider James Doyle felt it cost them third place.
Bell said: "We definitely got hampered but the winner probably won fair and square, but he did take us out of the race. Without a doubt we'd have been a couple of lengths closer. It definitely cost us third but it didn't cost us the race."
Doyle added: "I'd have been third but we got badly hampered and it's hard to recover in a five-furlong race. He ran with a lot of credit but I'd have definitely been third without interference."
font : Racing Post