RACE REPORTS KING'S STAND STAKES: 'I'd put this in my top five' – Waller hails Nature Strip after electric display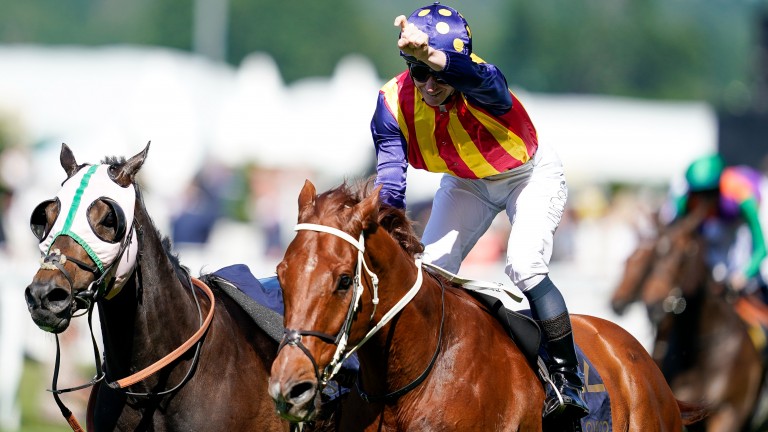 James McDonald celebrates Nature Strip's awesome victory in Tuesday's King's Stand – Alan Crowhurst (Getty Images) -  By Peter Scargill
Tuesday: King's Stand Stakes, Royal Ascot
James McDonald's heart nearly sank when somehow someone had managed to live with the sheer brilliance of Nature Strip and was challenging him in the King's Stand Stakes with only yards to go before the line.
A quick glance confirmed what the jockey ultimately knew had to be true, that no rival could compete on equal terms with the outstanding Australian sprinter and only the riderless Khaadem was able to come anywhere close to giving him a run for his money.
"I got a bit of a scare at the 50 when the horse came to me," McDonald said. "I didn't think any horse could cope with him so when a horse did come to him I was so surprised. It was a relief there was no jockey on!"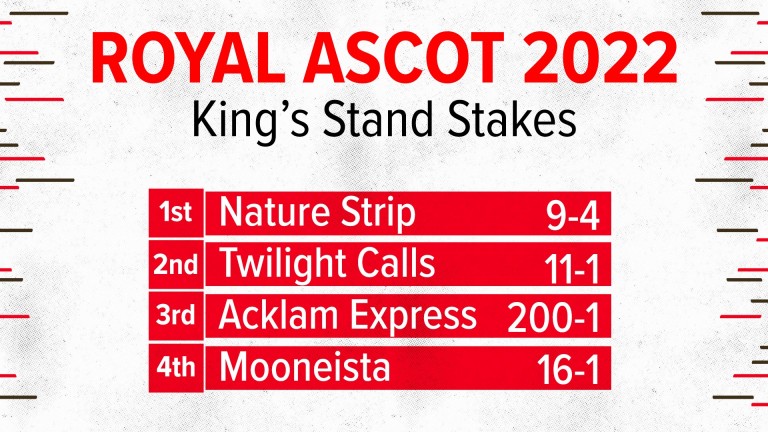 It was the climax to what had been billed as a clash of continents between the Chris Waller-trained Nature Strip, the second-highest rated horse in the world, and Golden Pal, the American star who trainer Wesley Ward had spoken about being the best he had ever handled.
Golden Pal's race was over only moments after it had begun, the front-runner fluffing his line at the stalls, leaving the way clear for Nature Strip to showcase precisely what has catapulted him to the highest echelons of international racing and over £10 million in prize-money won. 
The big seven-year-old near enough sauntered into the race, with McDonald appearing to have all the time in the world as the horses blasted along at more than 40mph. He sat into the machine underneath him, waited and ignited the fire just when he wanted to.
In half a furlong he was gone, clear and away from a field of Group 1 sprinters – apart from Khaadem that is, prompting McDonald's momentary jolt of shock and horror.
"The way he quickened on the rise and executed his gallop was unbelievable – the feeling coming up that rise was something else," said the rider, who was recording his second Royal Ascot win.
"He's a brilliant horse. We've had an unbelievable year and this is the icing on a very big cake. I don't think Chris could have him better for this race as he was in such unbelievable form before he even left Australia. Chris knows him like the back of his hand and he just made sure he was so right for the day.
"It's been a big build up to get here – Ascot's been talked about for a few years now – so for him to come here and do that is just unbelievable."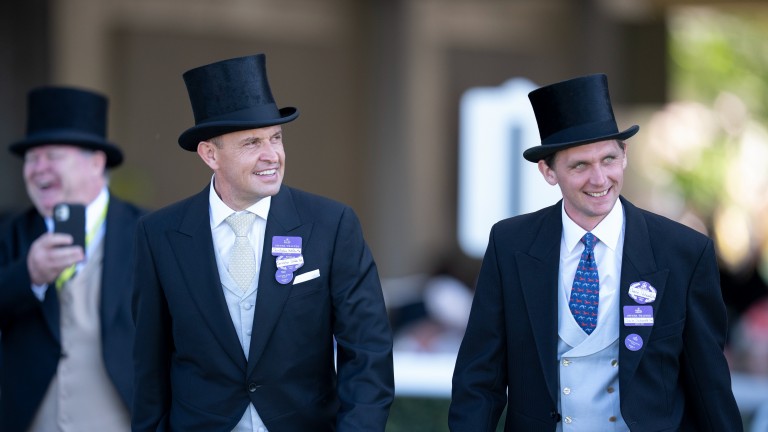 Chris Waller (left) and Charlie Duckworth after Nature Strip's brilliant Royal Ascot display – Edward Whitaker (racingpost.com/photos)
For Waller, who, along with Ward, was fined £1,000 for sending his horse into the paddock late, the victory was the culmination of that long-held plan for Nature Strip to not only test himself far outside his comfort zone but to also provide his ownership group and Australian racing the chance to bask in the spotlight and the glory.
"To win, it means a lot – I'd put this in my top five [winners]," Waller said. "We don't get the chance to come up here and take on these horses too often, so that's pretty special. It was breathtaking. It was a good display and he's a good horse – and he has been for a long time.
"It's a very important victory. Australia's got a huge breeding and racing industry and we want to show the world our breeding and racing industries are important. We like to remind everybody of the power of Australia."
Nature Strip could potentially bid to emulate the Australian great Choisir, and more recently Blue Point, by winning the now Platinum Jubilee Stakes on Saturday, provided connections are happy with him. Waller is also set to saddle Home Affairs in the same contest.
RACE REPORTS ST JAMES'S PALACE STAKES - 

Baaeed clash looms large but Appleby delighted after Coroebus toughs it out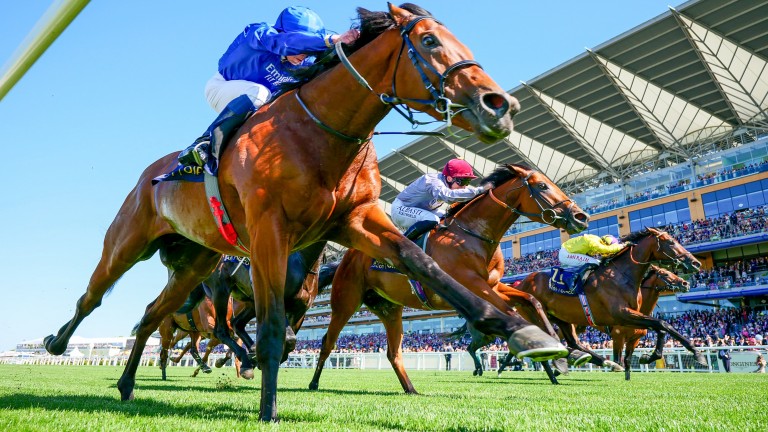 Coroebus just gets up to deny Lusail (centre) in a tight finish to the St James's Palace – Mark Cranham (racingpost.com/photos) – By Scott Burton
Tuesday: St James's Palace Stakes, Royal Ascot
After the power of Baaeed in the Queen Anne there was a real yearning around Ascot to see a miler from the Classic generation throw down the gauntlet.
Coroebus was always the most likely and while a finish of heads, short heads and necks would suggest there were no fireworks, the son of Dubawi found a different way to win after being trapped in a pocket until halfway up the Ascot straight.
He will have learned more about being a racehorse in a shade under 100 seconds of the St James's Palace than in any of his four previous career starts.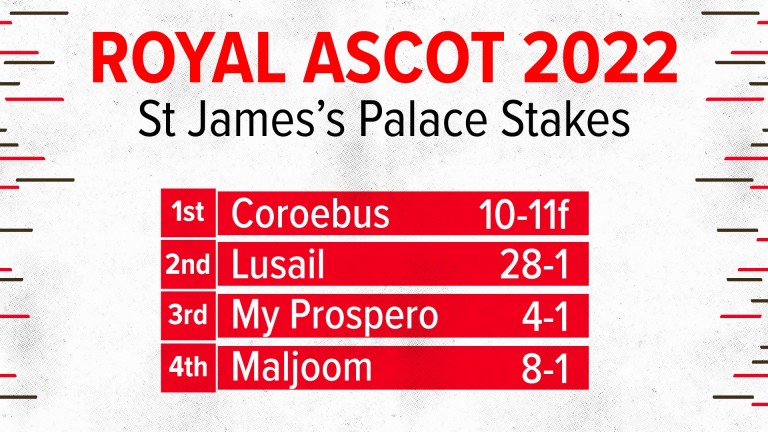 William Buick thumped his chest and pointed to the crowd a couple of strides after edging out the gutsy Lusail, the first sign of the pressure that had been ratcheting up inside him as Coroebus searched for a clean seam, one which eventually opened up the inside rail.
"You have to enjoy these good horses and I'm very privileged to be able to get on them, but at the same time it's a case of getting the job done, and it was one of those races where it was tricky," said Buick, here reunited with Coroebus having chased him home aboard Native Trail in the 2,000 Guineas.
Buick briefly looked to switch right in the straight but with daylight to be had, he sat tight and, sure enough, Aikhal cracked on his inner and the escape hatch opened.
"A good draw can turn into a bad draw very quickly," said Buick. "He travels extremely strongly and you just want him to drop his head. In the straight I had no option to go until there was enough room, and then he picked it up and went through. He's got everything you could ask for in a racehorse."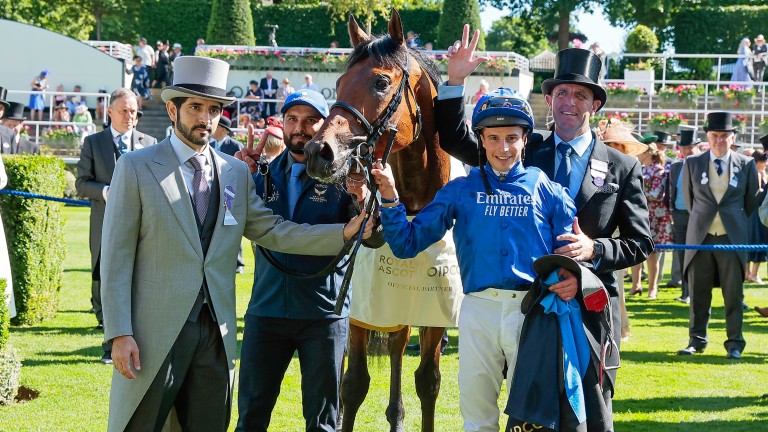 Coroebus booked a meeting with Baaeed in the Sussex Stakes at Goodwood next month with a gritty success in the St James's Palace Stakes – Mark Cranham (racingpost.com/photos)
Paddy Power eased him from 9-4 out to 3-1 for the Qatar Sussex Stakes and a collision course with Baaeed but Charlie Appleby was in no mood to duck Shadwell's world number one.
Appleby said: "We spoke beforehand about having Baaeed and Coroebus together and the Sussex is always a fantastic race, we all know with the three-year-olds and the older horses taking each other on.
"We wanted to be confident in doing that off the back of a win today and I think that's still very much in the conversation. As always, we'll let the dust settle and I'll have conversations with His Highness [Sheikh Mohammed] and the team and we'll firm those plans up.
"But on the evidence of what we've seen today, he deserves to be there for sure."
Warming to the theme of pitching Coroebus into the fire at Goodwood, Appleby said: "Baaeed was a very impressive winner for sure. I'm taking nothing away from him. But don't forget that's only the fifth start of his career and I thought it was a gutsy performance in a race that probably wasn't run to suit us.
"Of course we'd all like to have more pace in a race or wish the race had been run smoother. The key thing I said to William was get that posi and don't lose that posi. Therefore he was always having to keep the revs under him and the horse was getting keener and keener. I just think that paid over the last 100 yards.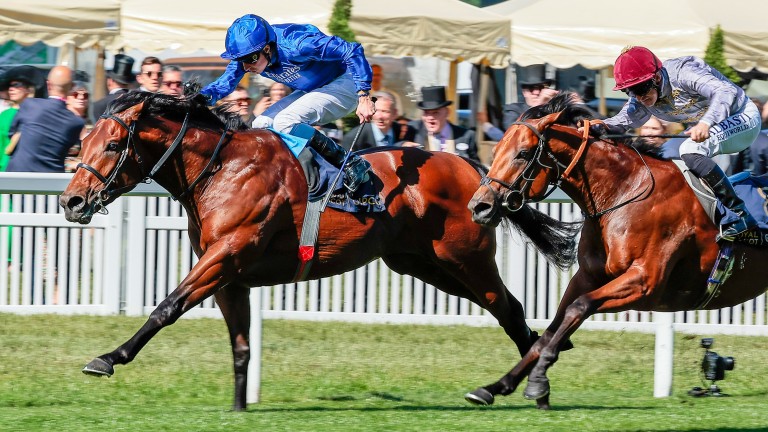 Coroebus fends of Lusail to win the St James's Palace Stakes at Royal Ascot – Mark Cranham (racingpost.com/photos)
"We saw it in the Royal Lodge, he shot clear and then those last 100 yards, you've got to sit and you've got to count to ten with this horse.
"And William gave him a brilliant ride round there. I just think that's possibly why he wasn't winning as impressively as one would have possibly like to have seen."
It was a fourth success for Coroebus and the first away from Newmarket.
Appleby added: "That's going to be a big learning curve for him today in terms of the travelling and the walking around. He's never been more than 20 minutes up the road out of Newmarket. Those challenges have been put upon him and he's ticked the boxes."
My Prospero and Mighty Ulysses both threw down major challenges inside the final furlong, while Maljoom finished fast after getting no luck up the rail.
But in the end it was Lusail that, having been bested by Coroebus a furlong and a half down, fought back to almost get his head back in front.
"He overraced a little bit in the race," said rider Pat Dobbs. "I wish he'd have relaxed a bit better and saved a bit more energy for the end but it was a massive run."
Richard Hannon added: "He was a good horse as a two-year-old and he's proved his run in the Guineas was no fluke. I'm absolutely delighted. He's in the Sussex and the owners sponsor that, so that will be a target and it might just suit him."
Dobbs was given a four-day ban for using his whip in the incorrect place.
font : Racing Post