Sunday, April 10: Reaction to a Grand National fairytale, some top action at the Curragh and your exclusive daily tip and brainteaser. All this and more in today's newsletter . . .
The big story
What. A. Race.
Sam Waley-Cohen, the decorated amateur and Cheltenham Gold Cup-winning jockey, retired in Disney-like fashion when 50-1 shot Noble Yeats – owned by his father Robert – stormed home to win the Grand National at Aintree on Saturday. 
The 39-year-old said in the week this would be his final ride – and what a way to go out. Sporting the silks of his father, Sam proved the perfect partner for Noble Yeats and the pair surged clear for a fairytale victory over Any Second Now.
On his defining moment: "I always wanted to go out on a high. I thought Thursday [in the Foxhunters'] was going to be that high but it doesn't get better than this, so I'm out, done!"
Best of luck for the future and whatever comes next, Sam.
Grand National reaction:
Paul Byrne: 'This is business and I have to sell'
Noble Yeats may not have been carrying his well-known pale blue silks but Paul Byrne, widely regarded as one of the sharpest minds out there, labelled the victory of his former horse for his best friend Emmet Mullins as his best day in racing and said he there were no regrets.
On Mullins: "I'm delighted for Emmet. We've been on a long journey together so it's unbelievable. We're thick as thieves – we've done everything together, gone to America and had runners all over the place, but I've got to keep the show on the road which is why I sell them."
On business: "I've no regrets, no vendor's remorse whatsoever. This is business and I've to sell – this is the ideal scenario. This is my best day in racing. To make a plan like that, it doesn't happen very often." 
Full story: 'I've no regrets over selling Noble Yeats – it's my best day in racing'
Grand National fairytale as 50-1 Noble Yeats wins for retiring Sam Waley-Cohen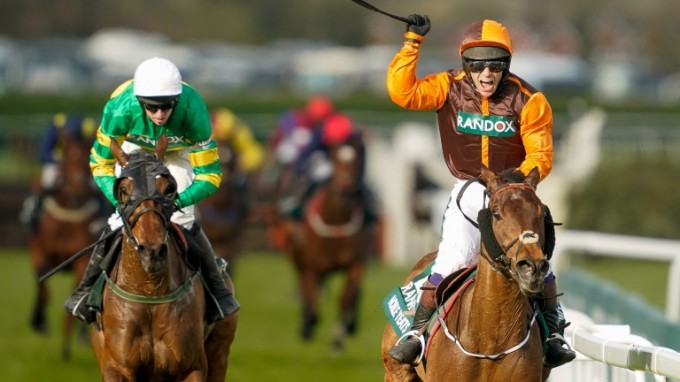 Sam Waley-Cohen roars in celebration as Noble Yeats wins the Grand National at Aintree - Alan Crowhurst (Getty Images) – By Lee Mottershead
This has long been the fairytale horserace but of all the stories told on Aintree's famous turf, few have been so gloriously perfect as the one we witnessed on the sunny April afternoon when Sam Waley-Cohen, once the boy who dreamt of Grand National glory aboard a rocking horse, finally turned that dream to reality on his very last ride.
Just days before his 40th birthday, and sporting the silks of father Robert Waley-Cohen, one of the most accomplished amateurs in jump racing history bowed out in the most magnificent manner by becoming a Randox Grand National winner on Noble Yeats.
It was 11 years ago that the Waley-Cohens conquered the Cheltenham Festival's highest peak by winning the Gold Cup with Long Run. That was a day they will cherish forever but the Grand National is the race they have cherished more than any other. In years gone by they had finished second, fourth, fifth and eighth, but it was with the help of a 50-1 novice chaser and the outrageously talented Emmet Mullins that the world's most famous steeplechase was finally won.
---
2022 Randox Grand National at Aintree: full result and race replay
---
It might have been a travesty had Sam Waley-Cohen never claimed the Grand National, given that of all the 40 jockeys who faced the starter in the contest's 174th running, he was much the most successful over the iconic fences with six wins to his name. The seventh came on an animal who made his debut over fences only in October, having run in a bumper as recently as 14 months ago.
"This doesn't feel real," said the winning rider amidst a flurry of congratulations, which via Twitter even came from royalty in the guise of his friends the Duke and Duchess of Cambridge. "This could be a moment I wake up from," he added. "It really could not be better and it couldn't be any sweeter."
It could also not have been timed more exquisitely, for it had been just two days earlier that Waley-Cohen announced he would retire after riding Noble Yeats, a seven-year-old who the triumphant owner had bought only in February.
'He's extraordinary over these fences'
The former Cheltenham chairman's latest shopping trip proved inspired, for Noble Yeats proved more than equal to this supreme test, gamely holding off last year's third Any Second Now after the two Irish stayers fought out a protracted duel through the closing stages. Delta Work and Santini took third and fourth.
"I've nearly lost my voice from shouting too hard," said Waley-Cohen senior. "We've had such fun and an amazing time together. I'm so proud because he rode the most brilliant race.
"We've had so many wonderful, happy days together – the Gold Cup, two King Georges, the Becher Chase, two Tophams, the Whitbread – the list goes on and on. I'm really sad it's over. He's extraordinary over these fences. If you could bottle it you would."
The man of the moment, typically modest, sought to play down his Aintree accomplishments – and failed to mention that it had been his own suggestion for Noble Yeats to wear cheekpieces for the first time.
"You need a lot of luck and you need to be on the right horses," he said. "I've also been able to ride a lot more over these fences than most of the other jockeys and experience does help. Honestly, though, I think it's luck.
"I also have to say thanks to Dad. He has supported me unwaveringly and lovingly when others said he should use another jockey. We've had a partnership and there has never been one cross word. It has only been for fun."
---
'No amateur has a better CV' – Barry Geraghty leads praise for Sam Waley-Cohen
---
Yet for all that this was fun, it was also poignant, for missing from the happy scene was Thomas Waley-Cohen, who died from cancer, aged just 20, in 2004.
"This a big family day and Thomas is part of it but obviously he isn't with here with us," said Sam, who rode with his brother's initials on his saddle. "I always think about him on these days. You need a lot of luck – and maybe he was lady luck today."
As ever in the Grand National, luck eluded many of those taking part, including Rachael Blackmore, who exited with last year's winner Minella Times at the ninth fence. This was still, however, an Irish-dominated race, with the 32-year-old Mullins one of Irish racing's most impressive young talents.
"It was a long-term plan and it seems to have come off – I don't know how," said Mullins. "We were probably more confident a month ago. The closer we got to it everyone was talking up their chances but the horse didn't know any different. The form was there – and that last circuit, everything just seemed to fall into place."
Sam Waley-Cohen, the owner of a large dental business, could confirm that. He also confirmed his retirement decision will not be revisited, which meant the nine-day whip ban he received will not prove costly.
"No, that's it," he insisted. "I always wanted to go out on a high. I thought Thursday was going to be that high but it doesn't get better than this, so I'm out, done!"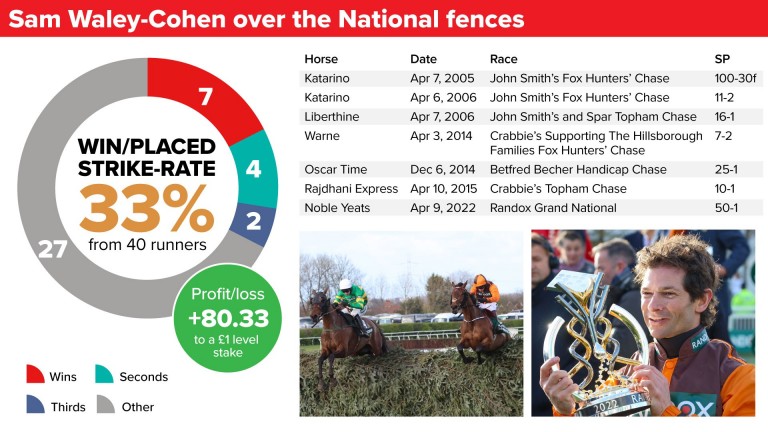 You can, however, be sure he will return to Aintree, just not as a jockey.
"One of my earliest memories is trying to ride the Grand National on a rocking horse when I was aged five or six," he said, casting his mind back to how it all started.
"We always used to come here as kids. I even remember there was an ice cream stall where you could get free tasters. This place was a part of my childhood and the thing that kept me going year after year was knowing I could come back here and get a feeling like that."
Aboard Noble Yeats, a conveyance rather swifter than that rocking horse, Waley-Cohen experienced a feeling like no other.
---
More 2022 Grand National reaction:
'This is just the stuff of dreams' – Emmet Mullins shock at Grand National win
'I've no regrets over selling Noble Yeats – it's my best day in racing'
'He wasn't popular at all' – Noble Yeats a big winner for the bookies
2022 Grand National result: where your horse finished and who won
fonte : RacingPost