Two of global racing's biggest names in Frankie Dettori and Bob Baffert combined for a World Cup win that will occupy plenty of column inches for days and weeks to come, as Country Grammer surged clear of hot favourite Life Is Good.
His win was greeted by rapturous celebrations from US-Saudi owner Amr Zeddan, who has been linked recently with a bid for Chelsea Football Club.
Zeddan has been the most passionate defender of Baffert since the Hall of Fame trainer became embroiled in legal wrangles surrounding the positive test returned by Zeddan's Medina Spirit for betamethasone, a process which saw the horse stripped of his Kentucky Derby win and Baffert currently suspended by Churchill Downs and the Kentucky Horse Racing Commission.
But first the race.
Life Is Good may have slightly repeated his half-stride misstep out of the gate from the Pegasus, but Irad Ortiz was able to use his stall one draw to set the pace and was hardly pressured by Midnight Bourbon and Country Grammer.
Turning for home he looked to still have plenty left for a first try at a mile and a quarter, but the gauge ran empty quickly and it was Zeddan's blue and red silks and a determined Dettori who surged down the outside.
"The race panned out exactly as I thought until the half-mile pole and I felt Life Is Good was getting away from me," said Dettori, who was winning a fourth World Cup but a first since the days of Nad Al Sheba.
"I thought I'd try something different, so I got him on the right leg and went to the outside for fresh air and filled his lungs.
"It was a surreal moment when I passed the furlong pole and I thought 'I've won this.'"
Dettori said his 16-year drought in the biggest race staged in a country that has been his second home, has been an itch he was desperate to scratch, and revealed the story of how he got the ride.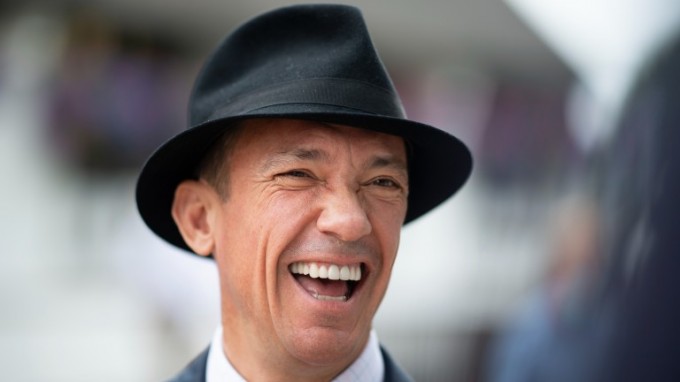 Frankie Dettori: "I've equalled Jerry Bailey now and he's a hero of mine" – Edward Whitaker (racingpost.com/photos)
"I've equalled Jerry Bailey now and he's a hero of mine," said Dettori, whose three previous winners – Dubai Millennium, Moon Balad and Electrocutionist –  came in the Godolphin Blue.
"Once I got a smell of Country Grammer being free, I disturbed Mr Zeddan in his polo game. He told me to ring Bob, who made me swear I was free to ride.
"I've known Bob for over 30 years from my time in California and I've galloped horses for him in the past, but I really believe it's my first [race] ride for him."
In Riyadh, Country Grammer ran a fine second over an inadequate 1m1f, a performance that Baffert's assistant Jimmy Barnes described during the week as "a $20 million prep race for a $12m target."
Zeddan took over a sizeable chunk of time during the Saudi Cup world broadcast to state his belief that Medina Spirit had been wronged and that Baffert would be vindicated when due process had run its course.
And in his greatest hour, the owner was not backing down from his support for Baffert, the ghost at the feast as he too won a fourth World Cup.
"This was a real plan executed by none other than the best trainer that the sport has witnessed, Bob Baffert," said Zeddan. "The horse was on the bench for pretty much the whole year since the Hollywood Gold Cup, and the way Jimmy Barnes over here and the whole Baffert team have got this horse in condition, is just art." 
Medina Spirit remains the most talked about horse in America, even though his life was cut short when collapsing on Santa Anita track during a workout in December.
Zeddan said: "Medina Spirit is a champion and the grit that Country Grammer demonstrated is pretty much parallel and reminds me of Medina Spirit. These horses have nothing but heart. With Frankie and Irad, that was all class."
Hot Rod Charlie and the Japanese-trained Chuwa Wizard both passed Life Is Good deep inside the final furlong and there has to be a good chance Todd Pletcher will look to take him back in trip next time.
WinStar Farm has a share in both the principal players and chief executive Elliott Walden said: "We knew the distance might be a stretch and that's why we ran Country Grammer as well. He was a great option because we knew he would stay the mile and a quarter."
Asked if Life Is Good was too fast to sustain his brilliance over ten furlongs, Walden added: "He ran his race. It's a long way to come and they went 2m05s. Life Is Good is a hell of a horse and Country Grammer, this was his day."
---
Read more from Meydan:
Dead-heat drama as Lord North and Panthalassa share Dubai Turf spoils
'You probably think we're mad' – A Case Of You sends connections wild again
by RacingPost