'He's just seriously good' – connections are blown away by Constitution Hill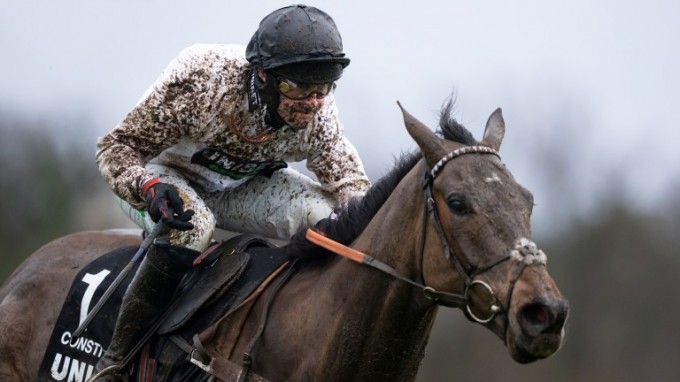 Constitution Hill: another straightforward success at Sandown – Edward Whitaker – By Peter Scargill
Nicky Henderson was so struck by the performance of Constitution Hill in cantering to victory in the Unibet Tolworth Novices' Hurdle that he needed confirmation of what he had witnessed before expressing his views more widely.
With the trainer self-isolating at home having tested positive for Covid-19, he needed to make sure with winning rider Nico de Boinville that what he had seen unfold in the Grade 1 was to be believed.
"It's extraordinary not being there when something like that happens," he said. "It looked extraordinary, so I needed to speak with Nico about it before I spoke with anyone else, and he said the horse really was that extraordinary.
"Nico said he knew within ten strides going to the start that the horse would be happy on the ground and that he was happy the entire way. He also said he couldn't believe how far clear he was without even having to give the horse a click."
---
Watch Constitution Hill blow away his rivals in the Tolworth
---
In the mid-winter gloom, not helped by near-incessant rain, the performance and class of Constitution Hill shone out like a beacon. 
As such, it was little surprise that he supplanted his stablemate Jonbon as the new favourite for the Sky Bet Supreme Novices' Hurdle at the Cheltenham Festival, with Coral cutting him to 2-1 (from 7-2) while pushing Jonbon out to 5-2 (from 2) for the opening race of the festival.
De Boinville certainly wasn't looking to play down Constitution Hill's talent, or the prospects of a clash between the two Seven Barrows stars at Cheltenham.
"He looked a special horse and it's a shame the boss isn't here as he would be able to tell it better than I can," De Boinville said. "I think there is a lot more to come and he found everything so easy today. 
"I'm sure they'll meet at the festival, all being well, and that'll be a good match-up. They're very different horses with different dispositions so it's exciting for us and exciting for the yard."
Henderson said he had found it difficult to come to terms with the excitement Constitution Hill was generating in the run-up to Sandown, and he is wary of what challengers may yet emerge from Ireland, but it was easier for him to get on board with some of the big talk following this triumph.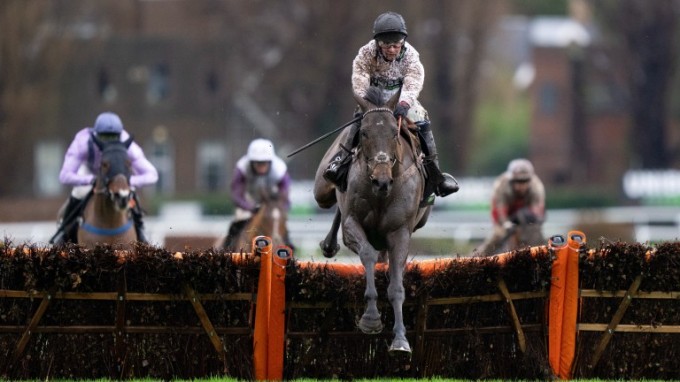 Going, going, gone: Constitution Hill (Nico de Boinville) races away from his rivals up the Sandown hill – Edward Whitaker
"The hype around him is incredible because I can tell you it didn't come from here," he said. "It was on that one run and that's what's so scary about it. You just hoped that it wasn't a flash in the pan. You have to say that he's a very good horse, but how good he is I just don't know – he's just seriously good.
"I expect Mr Mullins and Mr Elliott will come up with something and this is only the start of things, it's far from the end as I'm sure they'll have a lot of ammo coming our way. It's a long time to Cheltenham."
Jonbon is likely to be given another run before Cheltenham, with Henderson eyeing the Rossington Main Novices' Hurdle at Haydock on January 22 or the Contenders Hurdle at Sandown next month as options, while Constitution Hill may go straight to the festival.
"The big question that everyone's asking me now is what will I do with Jonbon and Constitution Hill," Henderson said. "I asked Nico if he thought Constitution Hill would go any further and he said 'no' so we'll be sticking to two miles. Would Jonbon go further? I don't know, but nothing he's done so far would suggest he needs to.
"All I can say is that at the moment I wouldn't want to split them and we're lucky boys to have them both."
Sandown 8 Jan 2022, Unibet Tolworth Novices' Hurdle (Grade 1) (GBB Race) – (Class 1) (4yo+) (1m7f216yds) 2m Heavy 8 hurdles
POS.
AGE
WGT
OR
 
 
 
 

5
117
–
 
 
 
 
Travelled strongly, jumped well, disputing second, went second after 3 out, led and going easily when good jump 2 out, went clear approaching last, kept on strongly, impressive (op 4/11)
 

7
117 h
125
 
 
 
 
Led, headed and ridden 2 out, outpaced approaching last, kept on but well held run-in, no match for winner
 

6
117 t
129
 
 
 
 
Disputing second, mistake 2nd, hit 5th, lost second and chased leaders after 3 out, ridden just before 2 out, soon outpaced, well beaten last (op 11/1)
 

5
117
–
 
 
 
 
Taken down early, held up in last until 3rd, ridden and disputing third just before 2 out, mistake and outpaced 2 out, weakened approaching last (op 6/1)
 

6
117 t
–
 
 
 
 
Held up in midfield, ridden before 2 out, soon beaten and weakened, tailed off when mistake last (op 50/1)
 

6
117
132
 
 
 
 
Midfield, jumped left and reminder when dropped to rear 2nd, dropped to last and ridden 3rd, soon became detached, lost touch and tailed off when pulled up 3 out, never going well (jockey said gelding was never travelling; trainer said gelding was unsuited by the going which was officially described as Heavy and would prefer a quicker surface) (op 18/1)
 
fonte RacingPost