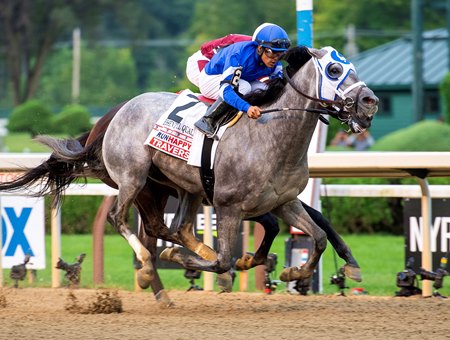 Essential Quality Outruns Midnight Bourbon in Travers
Godolphin homebred wore down Midnight Bourbon for his fourth grade 1 win.
No horse will ever eclipse Monomoy Girl  in Brad Cox's heart.
She was the trainer's first grade 1 winner, a Longines Kentucky Oaks (G1) victress plus a two-time champion and the horse who prevailed in two editions of the Longines Breeders' Cup Distaff (G1).
But that doesn't mean there cannot be a dead-heat for the top spot.
That was the feeling for Cox, 41, as emotions welled up in him after watching yet another brilliant performance by Godolphin's Essential Quality , a gifted colt who keeps challenging his trainer to find new superlatives for him.
This time it was "special" as the homebred son of Tapit   added to an already dazzling legacy by outdueling Preakness Stakes (G1) runner-up Midnight Bourbon  to the wire to capture the Aug. 28 centerpiece $1,225,000 Runhappy Travers Stakes (G1) for 3-year-olds by a neck before a crowd of 44,507 at Saratoga Race Course.
"He's very, very special. He really is," Cox said after Essential Quality, the champion 2-year-old male in 2020, won for the eighth time in nine starts. "It's hard to explain what it feels like because words can't describe it. You work so long and have so many horses and we've had Monomoy Girl and other champions, but he's right there with her for sure. I'm just going to say it's a dead-heat between him and Monomoy Girl and I don't want to split it. I love them both and they are special horses.
"This horse is a first-ballot Hall of Famer," he added. "He's a great horse and you're not going to get horses like him every year. A horse like him is few and far between."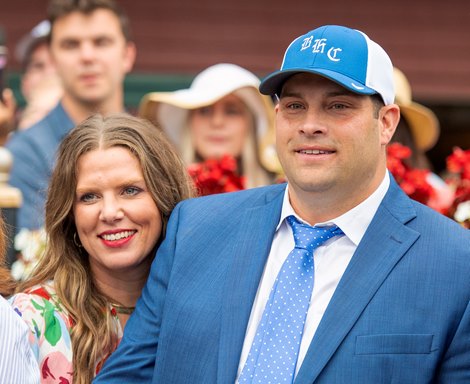 As big a fan of Essential Quality as Cox may be, there was one other backer of the multiple grade 1 winner that caught Cox by surprise. In presenting the Travers trophy to Cox, jockey Luis Saez, and Jimmy Bell, president of Godolphin USA, newly installed New York Governor Kathy Hochul let her allegiance be known.
"She told me she was a fan of this horse," Cox said. "That meant a lot. It was pretty cool."