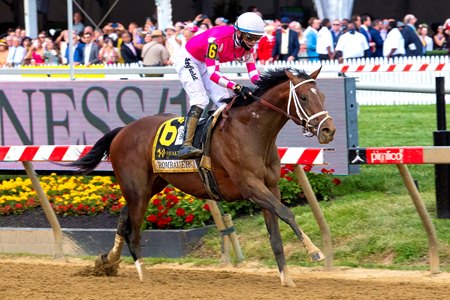 When a Kentucky Derby (G1) winner is defeated in the Preakness Stakes (G1), there's usually a collective sigh of disappointment across the industry over a failure to anoint another immortal runner.
The 146th Preakness Stakes could not be jammed into that mold.
Some of the emotions were quite different May 15 when a head-spinning edition of the middle jewel of the Triple Crown was contested.
There was, of course, the jubilation among the connections of the victorious Rombauer .
California-based trainer Michael McCarthy's voiced cracked while talking about the victory and not having his family with him at Pimlico Race Course for a defining moment in his career.
"I was emotional earlier," McCarthy said after his first classic win. "Probably the biggest part of my team—my family, my wife, and my daughter—it would have been nice to have them here today."
John and Diane Fradkin, who own and bred Rombauer, felt an immense sense of pride from producing a classic winner from a band of just two broodmares.
"It's pretty special," John Fradkin said. "It's a pedigree update that'll be there for a long time for a lot of broodmares. Yeah, we're very proud."
There was also satisfaction for the Fradkins over which Triple Crown race their hombred son of Twirling Candy   competed in. After Rombauer was third in the Toyota Blue Grass Stakes (G2), McCarthy wanted the Kentucky Derby; the Fradkins wanted to wait until the $1 million Preakness. The Fradkins won the debate and their 3-year-old made them look like geniuses.
"Rombauer's running style is not conducive to what's been winning the Kentucky Derby lately," Fradkin said. "The Preakness is usually an easier spot since you get the Derby winner and only a few others from there. If he ran in the Derby, he would have gotten hot and dirty and not earned any money and probably missed the Preakness. I feel when you have a good stakes horse, and he's going to run the best race ever, you want to earn some money and he had a much better chance of doing that here than in the Derby."
Indeed, he did.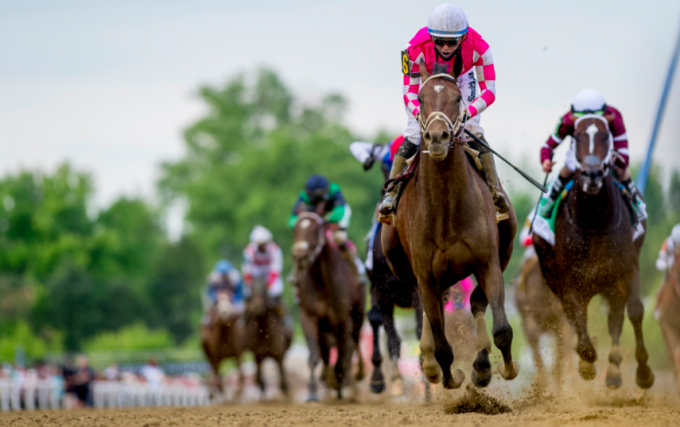 While the winning connections and fans who backed the Kentucky-bred at 11-1 odds ($25.60) had considerable reasons to celebrate, there was also a feeling of relief in some corners of the racing world. It has been a dizzying six days for the sport since trainer Bob Baffert announced May 9 that his Kentucky Derby Presented by Woodford Reserve winner Medina Spirit  had failed a post-race drug test due to the presence of 21 picograms per milliliter of blood or plasma of the corticosteroid betamethasone in the colt's system.
Results of a split sample related to the Kentucky Derby are still pending and Medina Spirit passed three tests prior to the Preakness, but had the Zedan Racing Stables 3-year-old captured the Preakness, the cloud hovering over the Triple Crown would have shipped to New York and created more negative publicity for the sport.
But with 2-1 favorite Medina Spirit finishing third behind Rombauer and runner-up Midnight Bourbon  and perhaps dropping off the Triple Crown trail, attention could shift to other horses in the weeks ahead.
"It's unfortunate what's gone on here the last six days, especially on one of racing's biggest weekends," McCarthy said. "Now we can get back to racing and we need that. This sport takes a lot of hits but days like today are what make it great."
On a day when attendance was capped at 10,000 at Pimlico but a record all-sources handle of $112.5 million was wagered, the Preakness proved to be a big success on that front. The adage of there being no such thing as bad publicity seemed to apply to the Preakness Day handle.
As for the final leg of the Triple Crown, the June 5, 1 1/2-mileTurf Belmont Stakes (G1), Fradkin listed the chances of Rombauer being there as 50-50. Rombauer won his debut on grass and Fradkin expressed interest in the New York Racing Association's Turf Triple for 3-year-olds, a trio of $1 million races.
"I have my eye on them. I'd like to target one of them, maybe all three. We'll talk it over with Michael," Fradkin said about the Turf Triple. "Nothing's set in stone, but I do think this horse is going to do just fine on turf."
The Preakness offered a battle on the front end for much of the 1 3/16-mile test between the two favorites. Medina Spirit and jockey John Velazquez took the early lead in the Preakness, just as they did in the Derby. But after enduring a slow start and finishing sixth in the Kentucky Derby, Winchell Thoroughbreds' Midnight Bourbon broke smoothly and the 3-1 second favorite took up the Preakness chase in second.
Medina Spirit maintained a half-length lead over the Steve Asmussen-trained son of Tiznow  through fractions of :23.77, :46.93, and 1:10.97. Clear by about two lengths from the rest of their rivals in the field of 10, only Rombauer and jockey Flavien Prat were making up ground on the final turn, bringing a smile to McCarthy's face.
"I didn't see anybody posing a threat behind us. The horses on the lead obviously carried each other through the quarter pole. When we wheeled out coming to the head of the lane, I started to get excited," McCarthy said. "I think the hole card for this horse is his stamina and his smarts. He has both of those. He will, I think, run as far as they write races. He has no quit in him. All he knows to do is just run, and he lays it down every time."
Midnight Bourbon and jockey Irad Ortiz Jr. put away Medina Spirit in early stretch and led by 1 1/2 lengths at the eighth pole, but could not withstand Rombauer's surge as the El Camino Real Derby winner surged past him and prevailed by 3 1/2 lengths.
The final time on the fast track was 1:53.62. That time tied for the sixth-fastest in Preakness history when adjusted to fifths of a second.
"Irad gave him a dream trip," said Asmussen, whose colt finished two lengths in front of Medina Spirit. "When he went under the wire the first time, I was thinking, 'Man, I wish the Derby would have looked like that.' But he ran hard; he really did."
With Baffert staying in California for the Preakness, citing his desire to have the focus on his horses, not on him, assistant trainer Jim Barnes saddled both Medina Spirit and Gary and Mary West's Concert Tour , who finished ninth as the 7-2 third choice.
"It's tough going back in two weeks off of that race. A little disappointed, but we go on from here," Barnes said of Medina Spirit.
Keepmeinmind , a son of Laoban  , was four lengths behind Medina Spirit in fourth.
The win was the first graded stakes win for Rombauer and his third triumph in seven starts. The fourth foal to race out of the Cowboy Cal  mare Cashmere  and her first stakes winner, Kentucky-bred Rombauer earned $600,000 to lift his earnings to $890,500. 
In the end, after a week filled with melodrama surrounding racing's best-known figure, Baffert, the Preakness brought the spotlight on some of the sport's other owners and trainers who make up the backbone of the sport.
"That's what our game is built on. There's so much that goes into getting to the races, let alone a race like the Preakness. There are trainers that have a handful of horses that are just as well suited to train hundreds of horses," McCarthy said. "The Fradkins have a small breeding operation. They're passionate about it. They make informed decisions, to say the least. They put a lot of time and effort into it. As John had told me one time: I have a lot more time to study this stuff than you do. He was right. But you never know where a good horse is going to come from. I'm glad this one landed up in our lap. I don't think the journey is over. We'll see where it takes us." (by Bloodhorse.com)
Below is the order of finish for the 146th Preakness Stakes: 
Rombauer
Midnight Bourbon
Medina Spirit
Keepmeinmind
Crowded Trade
Unbridled Honor
France Go de Ina
Risk Taking
Concert Tour
Ram
Watch the Belmont Stakes, the final leg of the 2021 Triple Crown, on Saturday, June 5 only on NBC, NBCSports.com and the NBC Sports app.