American Pharoah, Pletcher, Fisher To Be Enshrined in HOF
American Pharoah winning the Triple Crown in 2015 | Sarah Andrew
American Pharoah (Pioneerof the Nile), who became racing's first Triple Crown winner in 37 years in 2015, and trainers Todd Pletcher and Jack Fishers are the 2021 inductees into the National Museum of Racing Hall of Fame. American Pharoah and Pletcher were elected in the contemporary category and each in their first year of eligibility. Fisher was chosen by the Museum's Steeplechase Review Committee, which convenes once every four years.
Bred and raced by Zayat Stables, American Pharoah was a $300,000 buyback at the 2013 Fasig-Tipton Saratoga sale and broke his maiden at second asking in the GI Del Mar Futurity before adding the GI FrontRunner S. Named the Eclipse Award-winning 2-year-old male despite having to miss the GI Breeders' Cup Juvenile, the son of Littleprincessemma (Yankee Gentleman) launched his assault on the Triple Crown with towering victories in the GII Rebel S. and GI Arkansas Derby before taking the GI Kentucky Derby by a length.
The seven-length winner of the GI Preakness S., he led throughout win the GI Belmont S., becoming the first Triple Crown winner since Affirmed in 1978. He added the GI Haskell Invitational S. and rebounded from a runner-up effort in the GI Travers S. to demolish his rivals by 6 1/2 lengths in the GI Breeders' Cup Classic, closing his career with a record of 11-9-1-0 and earnings of $8,650,300. American Pharoah is now a leading sire at Ashford Stud.
"He's certainly among the all-time greats. I don't think there is any question about that," Baffert said. "He did everything so effortlessly and with such class. The way he moved, his mechanics were absolutely flawless. He also has such a wonderful personality. Pharoah is really a sweet and kind horse and he loves humans. I went and saw him the other day [at Ashford] and he looks as good as he's ever looked, if not better. Winning the Triple Crown with American Pharoah was the greatest sports moment of my life. It was so emotional and such a terrific thing for racing. He deserves all the accolades he gets." (fonte : TDN)
New post on 

Horse Racing in Korea
Both Blue Chipper and Tiz Plan met their matches at Busan and Seoul last weekend. While both were beaten by good horses, it was more the weight advantage they were giving away that saw the two (literal) heavyweights trail home 2nd in their respective features on Sunday.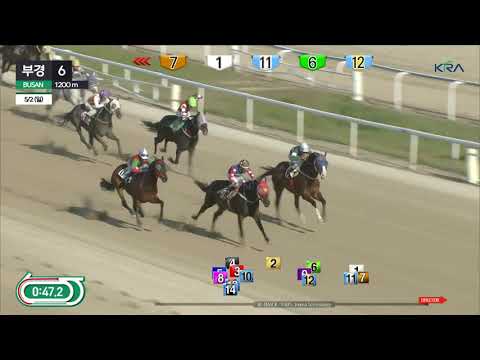 With minimal income entering into the industry for more than a year now, there are currently no Listed or Stakes races races for the top horses to compete in. That means they need to take part in handicaps where they will, naturally be giving a lot of weight away. Blue Chipper conceded 9kg to the up and coming Doctor Carson (Hansen), who continued to burnish his reputation as he defeated the champion by a length over 1200M
It was a similar story at Seoul for Tiz Plan. He too was game but was unable to match the finish of Brigadier General (Tapit), an Australian-bred five-year-old, who came past him in the closing stages to score by three-quarters of a length. Both Blue Chipper and Tiz Plan received 2nd place prize money of 15 Million Won ((US$13,317), a far cry from what they would have expected to have been competing for in normal times.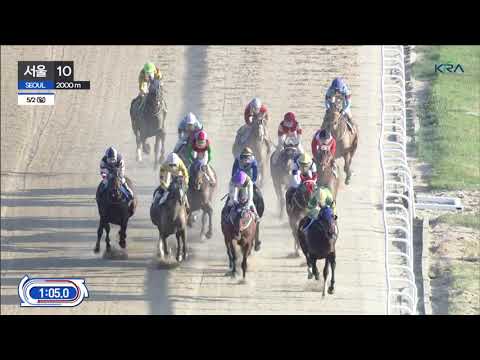 The grim state of affairs was apparent Jangsu Breeze-up sale last week, one of the main Juvenile sales to take place on the mainland, where business was sluggish. Just thirteen of the fifty-three lots offered reached the minimum reserve price of 10 Million Won. Overall it was a slight improvement on last year but well down on the same sale two years ago in terms of numbers sold and in average price, with purchasers uncertain if and when their horses will ever be able to run.
The sale-topper was a colt by Testa Matta and out of the Giant's Causeway mare Coulis De Fraises., bred by Nokwon Farm and bought for 60 Million Won by owner Park Cheol-geun. He fetched almost double the next best, an Old Fashioned filly out of Revereduction (by Revere).
Meanwhile, local media has been reporting that financial figures for Korean "Public" (i.e. government run) companies for 2020 are out and they are, to put it mildly, not good. The Korea Racing Authority swung from a 144.9 Billion Won (US$128.8 Million) profit in 2019 to a 436.8 Billion Korean (US$338.3 Million) loss in 2020 caused by a total collapse in wagering revenue after February. The loss surpassed that even of the Incheon Airport Corporation whose own Covid crisis saw a loss of 423 Billion Won last year.
Racing has been kept going at reduced prize money levels by using "Emergency Reserve" funds, However, local media has reported that these will be finally exhausted in July. Barring something unexpected happening, there seems little prospect on restrictions on attendance at the racecourses and off track betting sites being lifted to an extent that would allow a break-even point to be reached any time soon so it appears the only hope of saving the industry in any recognizable form lies in the legalization of online sales of betting tickets.
Racing continues though so let's turn attention to the weekend where we will have the same schedule as recent weeks. Jeju will run a pony race meeting on Friday while Seoul and Busan will run thoroughbred-meets on both Saturday and Sunday. The only betting outlets open will be those in Jeju, Daegu, Gwangju, Changwon and Cheonan (advance reservation by My Card app required). Here are some selections for Friday's Jeju Pony meeting:
Race 1: 7, 6, 2, 8
Race 2: 3, 8, 1, 4
Race 3: 5, 3, 9, 10
Race 4: 9, 6, 2, 4
Race 5: 8, 4, 7, 6
Race 6: 7, 2, 3, 9
Race 7: 7, 1, 12, 8
Race 8: 2, 11, 4, 8
Race 9: 7, 3, 8, 5
Race 10: 12, 3, 9, 2
Race 11: 12, 2, 3, 5
Race 12: 7, 1, 10, 9