| | |
| --- | --- |
| New post on Horse Racing in Korea | |
Heat Yegam and Winner's Man came home as winner and runner-up in Busan's top juvenile race last autumn but the two up and comers both came unstuck – and yet still emerged with credit – over the weekend. In the older division there were no such problems for Hunch as the four-year-old continued his stately progress towards the elite level of Korean racing with an easy win.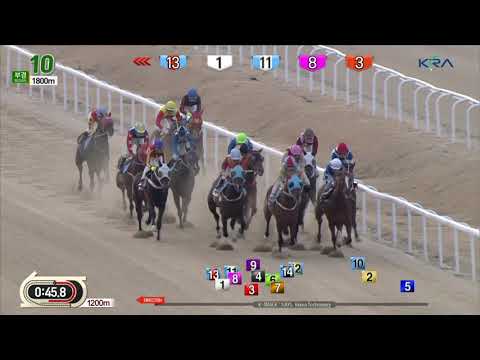 With In-person attendance severely restricted and online betting remaining stubbornly illegal, it remains to be seen if there will even be a Triple Crown series this year but both Heat Yegam went into their Saturday preps at Busan as odds-on favourites. Heat Yegam, went first, sticking to the 1200M at which he had won all his juvenile starts. Despite having led for much of the way round, the Take Charge Indy colt was passed as he drifted wide in the home straight, ultimately coming home 2nd to the four-year-old Great Boss.
Later on in the card Winner's Man, 2nd to Heat Yegam last November but considered more of a Classic contender having already won at a mile, tackled two turns for the first time in the 1800M race 9 at class 3 level. From gate 12, the Musket Man colt had to work hard early to get on the pace. He came together with Golden Winner in the straight and ended up being pushed out slightly wide, finishing just under a length in arrears to the Djordje Perovic ridden winner.
Neither lost very much in defeat. For Heat Yegam it was a positive return after a three-month spell while for Winner's Man, a better barrier may well have seen him victorious. The defeats though may have piqued the interest of connections of another three-year-old at Busan on Saturday who did actually win his race. That was Alpha Again (by Strike Again), who led from gate to wire over 1400M at class 4 level to take his record to three wins from six starts. It is probably enough to get him into the starting gate if and when the KRA Cup Mile kicks off the Triple Crown.
The star of the show at Busan on Friday was Hunch. Peter Wolsley's American import made three undistinguished starts as a juvenile back in 2019 but after nine months off, he reappeared following the first shutdown last summer looking a much better prospect and has gone on to register five wins from six subsequent starts. The latest of those was in Friday's class 2 Busan feature when under Perovic, outclassed a very useful set of rivals by five-lengths in the kind of time that would see him close in Group races.
With rating increases still being limited in line with the current reduced prize money, Hunch will get at least one more crack at class 2 before he has to dip his toe into class 1. By To Honor And Serve, more than one observer pointed out that his winning time on Friday was faster than that recorded by a somewhat more established Korean runner by the same sire in his own latest two wins – Cheongdam Dokki.  On Friday's performance, Hunch may end up facing Korea's favourite chestnut at some point this year.
Seoul's fifteen-race card on Sunday was a somewhat low-key affair with the feature class 2 handicap being won by Top Brain (Uncle Mo). There were, however, doubles for foreign jockeys Johan Victoire and Antonio Da Silva while trainer Luigi Riccardi also recorded a welcome victory.
Next weekend's racing in Korea will follow the same pattern with ten races slated for Busan on Saturday and fifteen at Seoul on Sunday.
Global Views: Ideas to Ease the Workforce Crisis
Bath time on the back stretch | Sarah Andrew
By Devon Dougherty
  In Global Views, Godolphin Flying Start trainees provide insight into practices experienced and observations taken on their worldwide travels. First-year trainee Devon Dougherty looks at ways in which the worldwide Thoroughbred industry is addressing its workforce crises.
A dwindling labor force will suffocate the American industry if the current climate does not change. How will we continue to race and breed Thoroughbreds in America when there is no viable workforce left? This question has long weighed on my mind. The racetrack was practically in my backyard growing up, as I lived only a mile away, and I was a weekly racegoer. However, from a young age, it was apparent to me that there was a stark contrast between myself and the others at the track. The typical fan, owner, trainer, and stable employee were easily double my age. As I have gotten older and worked as an assistant trainer and more recently as a trainee in the Godolphin Flying Start programme, the reality has remained the same: those in the business in America are getting older, and not enough qualified horsemen are entering the game. The cry for more employees can be heard from coast to coast, from trainers to farm managers alike. Many trainers have recalled futile attempts to obtain and retain employees, and now are struggling greatly due to the increasing strain of ICE immigration laws, visa bans, and the COVID-19 pandemic. The issue is truly universal; as the sport battles other issues, this one has been worsening in plain sight across all facets of the industry.
Most farms and tracks in America rely predominantly on an immigrant workforce to satisfy its needs and to care for horses. But in recent times, non-American employees have dwindled in numbers. This population has been hindered due to new immigration laws, which have included I-9 investigations and the possibility of ICE barn raids, leading to a growing fear within this population and a struggle to employ immigrants up to standard. Moreover, the H2-B visa program began to come under pressure "when the federal government suspended all permits for foreign workers wanting jobs in the United States in June of 2020." This has made it increasingly difficult to address the staffing crisis. As the lack of willing and skilled horsemen from the American population continues to decline, it is unlikely that vacant jobs will be filled. Extreme working conditions, long hours, low wages, and the danger inherent in working with Thoroughbreds also stack up against the sport. The average day caring for horses in America starts before dawn, and the days prove to be long and taxing. The working conditions can be harsh, with no relief from inclement or extreme weather. On top of that, entry level workers may not be experienced enough to handle Thoroughbreds due to lack of access to skills training and will be overwhelmed and leave to find a lower-risk job elsewhere. Few days off and lack of holiday vacations could drive newcomers away. Finally, the hardest sell to most new hires or potential employees in the industry is the low wages, often around minimum wage, and lack of benefits offered to most workers.
Being selected for the Godolphin Flying Start course has been a great privilege and stepping stone to my educational experience in the global Thoroughbred industry. Thus far in the course I have been able to witness different industry models in Ireland and in England. Moreover, I have learned a great deal about the initiatives brought about by professionals in these countries to attempt to add breadth and depth to the global workforce. Additionally, I have gained an insight into Godolphin's charitable initiatives team and their efforts to bring issues to the forefront and to offer long-term goals and solutions for pressing industry matters.
During these trying times, perhaps the United States should seek to follow the lead of other industries that are striving and making headway to maintain employment levels. In 2020, Horse Racing Ireland released Employment Guidelines for those seeking new hires and to lessen employee turnover. Among the major points, HRI highlighted a section on "managing people and the employment relationship," which included wage guidelines, weekend working hours, holiday hours, and sick leave, among other topics. In addition, HRI implemented several new programmes to enhance employment as well. Most notably, they have launched Equuip, which is the education and training department within their corporation. They have initiated a "Work in Racing" entry level employee training program, for those needing to learn the practical skills necessary to enter an entry level position working with horses. In comparison, the American industry has worked to bring newcomers into the business though programs such as the Kentucky Equine Management Internship and the North American Riding Academy, which are both based in Kentucky, and most recently, Amplify Horse Racing.
A major turning point in the conversation of U.S. labor issues came during Godolphin's Forum for Education Discovery Day. This event took place on November 2019, in Newmarket, England, and included several leading industry nations, such as France, Ireland, Japan, and England. Global industries converged to discuss the health and well-being of our sport. Among the conversation points, the U.S. noted their challenges to include "a workforce shortage, along with industry fragmentation, a declining foal crop, and public perception." Similar workforce issues were echoed by Australia and France as well.  As a result of this forum, the U.S. representation highlighted the need for "a national equine workforce coalition," which could help to assuage the pressure put on managers and trainers to fulfill everyday duties. Like the Horse Racing Integrity and Safety Act, which will add national uniformity to the rules and regulations of horse racing from coast to coast, the workforce in American racing, breeding, and bloodstock could benefit from a similar system as well.
New solutions must come to the forefront to ensure the health of our Thoroughbred horses. Trainers and farms will be forced to downsize if the labor force cannot accommodate the scale of our sport. We are reaching our breaking point as an industry, from ICE immigration laws, travel bans during the COVID-19 pandemic, non-competitive working conditions with other American jobs, and the lack of recruitment avenues for new hires. A national body to oversee and improve working conditions is the first step to add awareness and to entice newcomers to enter our industry. A national representative body to recruit and monitor employment needs for industry entities would provide relief to those who are struggling to keep our industry thriving. The employment crisis is not going away in America, and time is of the essence to bring positive change to our employment system. (fonte : TDN)