| | |
| --- | --- |
| New post on Horse Racing in Korea | |
Moonhak Chief, 2019 Korea Cup and Grand Prix Stakes winner returned to racing for the first time in just shy of a year at Seoul Racecourse on Friday afternoon. And it was a winning return too as the former Horse of the Year downed a hot class 1 field including the star of last summer Tiz Plan, by a full six-lengths.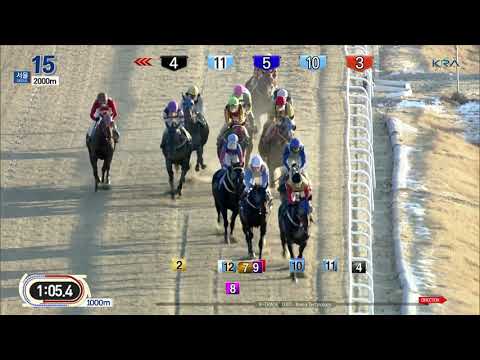 Moonhak Chief dominated the Korea Cup in September 2019 before a disappointing showing behind Dolkong in the KRA Cup Classic a month later. He would return to form in the Grand Prix Stakes in December before opening what promised to be a glorious 2020 season by beating Cheongdam Dokki in early February just as the pandemic was taking hold.
Moonhak Chief was on the sidelines with a tendon injury while Cheongdam Dokki and the emerging Tiz Plan dueled for big purses over the abbreviated summer racing season but showed he hadn't lost a step on his Friday return.
A field containing Moonhak Chief, Tiz Plan and the great – if fading – mare Silver Wolf, probably deserves better than to race at 5pm on a Friday afternoon in a deserted racecourse with no betting or live broadcast for a 1st prize of 28 Million Won (US$25,000). Such is Korean racing's lot these days with customers no nearer being allowed back on track and the Government no nearer budging on allowing online betting.
Coming out of adjoining gates for the 2000M test, Moonhak Chief and Tiz Plan came together at the start and under Johan Victoire, Tiz Plan seized the early initiative tracking leader The Gumpu. Once in the back straight though, Moon Se Young moved up a gear on Moonhak Chief and once the Pioneerof The Nile entire took command of the race, the result was scarcely in doubt.
Tiz Plan ran on well but could only get within six-lengths of Moonhak Chief while Tony Castanheira's The Gumpu ran on for an excellent 3rd. Silver Wolf ran a creditable 5th of twelve but was a full thirteen-lengths behind the winner.
For Moonhak Chief it's a thirteenth win from twenty-three starts. There will be other days for Tiz Plan and Cheongdam Dokki will surely have a say at some point as well. Then there is Blue Chipper, who may well make his return in a similarly underfunded race at Busan next Friday. Will they get to face each other with a suitable purse on the line with a suitable crowd watching and punting on them at any point? With a legislative lifeline looking ever more unlikely, just as it was a year ago, that will be up to the virus.
During January, with all three tracks racing simultaneously on Fridays, the Busan races have been available for international simulcast. With the Seoul coronavirus situation stabilizing a little as well as hopefully the temperature being a little warmer making race times less susceptible to changes, it will be the Seoul races (where there are 15 across the day, rather than the 10 at Busan) which will be broadcast overseas in February). Somewhat amusingly, it means that we have missed Moonhak Chief and Tiz Plan this week and could well mean we miss Blue Chipper next week!
Siegel is Profitable in Beat the Host & Gulfstream Pick 4 Play
Veteran handicapper and host Jeff Siegel turned a profit Saturday when he picked 4 winners out of 10 competition races in Week 4 Beat the Host action. His winning total was $56, based on $5 Win wagers on one horse in each race.
Usually, Beat the Host competition races are a combination of heats from Santa Anita and Gulfstream Park. However, last weekend, in conjunction with the rich and challenging Pegasus World Cup card, all Beat the Host races were decided at Gulfstream Park.
Siegel began the afternoon with a pair of short-priced winners: Performer ($3.80) in race 4 the Gr. 3 Fred W. Hooper and Always Shopping ($4) in race 8 the Gr. 3 La Prevoyante. He later added favored Knicks Go ($4.60) in the main event the Gr. 1, $3 million Pegasus World Cup Invitational. Siegel's best-priced winner of the afternoon came in the 10th race with Tide of the Sea ($10) in the Gr. 3 W. L. McKnight.
The host's solid Week 4 performance trimmed the list of 'live' Sweep the Host prize contenders from 8 to 5 with as many weeks of competition remaining. Steve Glynn, Darlene Wolfson, Lou Kotzman, Scott Shore and John Maskel remain in contention for a $6,000 prize that goes to any single player that can defeat hosts in all 9 weeks of competition. There is a $2,000 consolation prize to the last member of the group to lose to the host.
Week 4 horseplay also resulted in a change atop the Total Winnings leaderboard. Craig Yoshino, who led all players Saturday with $185 in weekly earnings, leapfrogged several competitors to gain sole possession of the lead in the season-long cumulative earnings race. He now has $288, just $13.50 ahead of Andrew Ma and previous pacesetter Steve Glynn at $274.50 each. The top 2 finishers based on cumulative seasonal earnings win seats in the 2022 Pegasus World Cup Betting Championship–$6,000 value each. The next 3 players earn spots in the Ultimate Betting Challenge Saturday, March 6, 2021—$3,000 value each.
Yoshino's weekly earnings figure of $185 is the highest achieved this season and topped Joseph St. Pierre ($174.50) to collect a $2,000 weekly first prize. The runner-up earned $1,500 and Greg Peterson, who was third ($164), bagged $500. Top prize totals were juiced this week because of a carryover from Week 3. That competition, hosted by Santa Anita linemaker Jon White, was cancelled due to technical issues and Saturday's prize totals subsequently were doubled from $2,000 to $4,000.
After 4 Weeks of action, 371 players have qualified for the Beat the Host Championship that includes as prizes: 1 seat to the 2022 Pegasus World Cup Betting Championship ($6,000 value) and 6 seats to either the Florida Derby (March 21, 2021) or Santa Anita Derby (April 3, 2021)– $1,500 values each.
It's not too late to register free for Beat the Host and to play each week in pursuit of $2,000 in prizes and coveted rich tournament seats available to top players based on cumulative seasonal earnings. Plus, beat the host once to qualify for the Championship Round where players can win an assortment of lucrative future tournament seats.
All it takes to play is a 'live' $5 Win wager on one horse in each of 10 competition races. Beat the host once to qualify for the Championship and top all players to earn weekly and seasonal prizes. And, since Beat the Host wagers are 'live,' players keep what they win. Pick a few winners along the way and you could make a few bucks even without winning a prize.
This week's host is unlike any other. For the first time, Beat the Host players will face off against 1/st Bet's Artificial Intelligence selections. That's right, this week it's man against computer with $2,000 in weekly prizes and Beat the Host Championship seats on the line.
Below is analysis and selections for Gulfstream races 9 through 12, otherwise known as the Late Pick 4. Unfortunately, in my house, it goes by a different name, the 'Late Pick 3 out of 4.' Hopefully, the information below will aid humans in their Saturday struggle against Artificial Intelligence in Beat the Host. At this point in worldwide history, humans can use all the help they can get.
Johnny D's Gulfstream Pick 4 Analysis and Selections for Saturday, January 30
RACE 9 // GULFSTREAM PARK (3:46PM ET) // G3 FORWARD GAL S. ($100K) // 7 FURLONGS (DIRT)
Kick all things Pick 4 off with the Grade 3 Forward Gal for 3-year-old fillies at seven furlongs. It appears that there are two logical contenders to deal with. Of course, fillies sometimes can be tricky, so keep your options open.
#2 THREE TIPSY CHIX: Exploded from off the pace to win a maiden sprint last out for trainer Ian Wilkes and jockey Julian Leparoux. That race was in November and was the third career start for this daughter of Medaglia d'Oro. Wilkes, who's having a rough start to the Gulfstream meeting (0-21), brings stock along slowly, and this one is moving in the right direction.
#3 COMPETITIVE SPEED: Has won her last 3 out of 4 starts, 2 of those wins at Gulfstream, including the Glitter Woman by a dominating 3 lengths last out. With those credentials, she must be respected. She races for low-profile connections, but a loaded gun is dangerous in anyone's hands.
#6 LADY TRAVELER: Hasn't started since November, when she made a failed longshot try in the Gr. 2 Golden Rod around two turns at Churchill. Before that she was second in the one mile and one-sixteenth Rags to Riches. Back around one turn going seven furlongs may be a better trip for her. She's an outsider in here.
#7 ZAAJEL: Won by more than 7 lengths in fast time first out for top trainer Todd Pletcher going seven furlongs at Gulfstream in late December. Since that romp, she's worked every 7 days, including a :59 4/5 move at Palm Beach Downs. You know the old 'death, taxes and Todd Pletcher at Gulfstream' saying? Well, here it is in flesh and blood. Pretty much have to use this daughter of Street Sense and she will be a single for many.
#8 COACH JET'S JOY: Decisively won her first start at Gulfstream Park West over a sloppy track on Halloween. She's worked sporadically since then, but a six furlong move in 1:13 1/5 Jan. 16 is interesting. Top jock Irad Ortiz rides from a cozy outside post for 21% trainer Saffie Joseph and they're 41% together in 37 tries! Could be an option for anti-Pletcher players.
RACE 10 // GULFSTREAM PARK (4:18PM ET) // G3 SWEETEST CHANT S. ($100K) //1 MILE (TURF)
Soph fillies gather for another Grade 3 stakes race except this one will be decided at one mile on turf in the Sweetest Chant. Some of the best trainers in the country have contenders in here: Clement, Pletcher, Mott, Brown and Casse. Such is graded stakes turf racing at Gulfstream in the winter. We'll try to separate the best from the best in here.
#2 HONEY PANTS: Tried turf stakes in her last two starts and managed a pair of seconds—going six furlongs at Aqueduct and then one mile at Gulfstream. She'll be hard pressed to turn the tables on #4 Con Lima who defeated Honey Pants by over three lengths last out. Top jock Irad Ortiz rides back for 20% winning trainer Christophe Clement.
#4 CON LIMA: Has been first (3) or second (3) in all six career starts for the meet's top trainer Todd Pletcher, including powerful victories in her last two—both going one mile at Gulfstream. She's 2 for 2 over this turf course and at this distance. She's got enough speed to be on the lead while saving ground. Paco Lopez returns in the saddle. She'll be a very short price to win.
#5 WHITE FROST: Woke up for Bill Mott first time on turf at Aqueduct in November. This race is a big step up for her and for those looking to fade the chalk in here.
#6 DOMAIN EXPERTISE: Has the look of a talented type. She was second first out going a mile and one sixteenth on turf and then was asked to face stakes foes in Pimlico's Selima over a yielding course. Returned to a maiden at Tampa, she romped by 4. Trainer Chad Brown has trained this one every seven days since that early December score, so she should be fit. Tyler Gaffalione rides and he and Brown are 29% together. This filly has enough speed to be close to the early pace. Interesting option to the heavy favorite.
#8 DIRECTOR'S CUT: Raced wide last out in an optional claiming/allowance turf test. She didn't give up and finished second. She draws wide in here and could be losing ground again. She last raced Jan. 10, so she's plenty fit and trainer Mark Casse even added a bullet 4-furlong Palm Meadows turf work in :46 1/5 Jan. 24. Luis Saez rides, so this filly should be in the early mix. That jockey/trainer combo is 33%.
RACE 11 // GULFSTREAM PARK (4:50PM ET) // G3 HOLY BULL S. ($200K) //1 1/16 MILES (DIRT)
We move from sophomore fillies to 3-year-old colts and geldings in the Gr. 3 Holy Bull at one mile and one-sixteenth. These are the glamour boys of 2021, the ones whose connections have hopes of traveling the road to the Kentucky Derby. Todd Pletcher has a pair of starters in here and they look toughest even though neither has gone two turns.
#4 AMOUNT: Romped by more than 5 lengths as favorite first out going seven furlongs at Gulfstream on the day after Christmas. Since then this son of Curlin has worked steadily for top trainer Todd Pletcher every seven days. There's no way of knowing how good this one might be. Top jock Irad Ortiz, who rode this colt last out, abandons ship to ride Pletcher's other starter #6 Prime Factor, also a first-out winner. Luis Saez is a capable replacement. No real reason to doubt this one's ability.
#6 PRIME FACTOR: By Quality Road, exploded to win a 6-furlong maiden race by nearly 9 lengths in fast time Dec. 12 at this track. Since then he has worked five times, including a bullet 5-furlongs in :59 4/5 at Palm Beach Downs. Top jock Irad Ortiz and leading trainer Todd Pletcher combine talents here and they are a sparkling 34% together. This guy showed speed first out, so he should be among the early leaders. He should be a very short price as the most favored of the Pletcher pair.
#7 GREATEST HONOUR: Has steadily improved under the tutelage of Hall of Fame trainer Shug McGaughey. This son of Tapit has no early speed and makes his run late. That strong finish was good enough to overcome trouble and win a maiden race last out around two turns at Gulfstream the day after Christmas. Jockey Luis Saez, who rode him to that score, moves to #4 Amount and Jose Ortiz (20% with Shug) will ride Greatest Honour. This colt will need some help up front to set up his closing charge so he may be a better option in exotics. Of course, he's proven he can go two turns and Pletcher's pair haven't.
RACE 12 // GULFSTREAM PARK (5:22PM ET) // CLAIMING //1 MILE (TURF)
This is a 'beaten' race for runners entered to be claimed for $35k at one mile on the turf. We have a real problem narrowing this one down to a few contenders for a variety of reasons. This race is on turf where unusual pace, trip and trouble scenarios often come into play. Some of these are older horses (7 & 8 years old) who are dropping in class and may have seen better days. It's difficult to assess when one of these senior citizens might feel fine enough to 'rock the oldies.'
#1 THE LAST ZIP: Has some speed and is drawn on the rail. Blinkers go on for trainer Mike Maker, who is good with this kind. The 5-year-old gelding drops back to his original claiming price. With just 2 wins in 18 lifetime starts this one doesn't inspire confidence, but few in here do.
#2 DUNDALK: Has speed and is 7 for 8 in the money at the distance. Expect jockey Jaramillo to have him winging on the rail.
#3 HONEY WON'T: Returns to a suitable level for trainer Bill Mott and has 4 wins in 18 starts with 2 of them coming at Gulfstream. This 5-year-old horse hasn't raced since September and has worked every 7-8 days since.
#4 FINANCIAL SYSTEM: Is a 7-year-old gelding with 5 wins in just 14 lifetime starts. He drops to his lowest level for trainer Kelly Breen. He raced evenly last out at the 50k claiming level and was claimed from Chad Brown for $40k at Saratoga in August when second as favorite. Luis Saez replaces Junior Alvarado who moves to #3 Honey Won't for Mott–an important customer.
#5 TUSK: Will make his second start this year and that's notable because the 8-year-old made just 2 starts in all of 2020. Claimed for $32k from Jorge Navarro in October '19, this gelding has been pitched in four stakes races, 2 of them graded. He won the Tropical Turf in 2020 but was nowhere last out in the 2021 version of that stakes. Now, he drops for high-percentage Saffie Joseph. His most effective style is to be just behind the early running. Tyler Gaffalione rides and he's 27% on Joseph mounts.
#6 TROUBLING MOON: Is a 6-year-old gelding with no speed that dropped from $50k to this level last out and was beaten by a neck at 7.60-1. That's his only in the money finish in his last 7 starts. Did the class drop make the difference and can he repeat that good effort?
#7 WILLING TO SPEED: Is a youngster in this race at 5 and has just 3 wins in 27 starts. He wasn't a factor last out at this level, so he'd need to turn things around.
#8 HARBOUR MASTER: Had a couple of races last year that might fit at this level. He's not real big on winning with just 1 win in his last 10 starts.
#9 MONONGAHELA: Gets top jock Irad Ortiz off a poor effort at 8-1 on the class drop to this level. Why? Perhaps a bullet, best-of-38 half in :47 3/5 at Palm Meadows is a sign of life. He's got the best races of anyone in here, but they occurred a long time ago. He has just been gelded and maybe that procedure renewed a spark of life? He's faced stakes foes in 10 of his last 12 starts.
#10 FIG JELLY: Has won just 2 of 30 lifetime with 12 second-place finishes. To put a finer point on it, this 6-year-old has 0 wins over Gulfstream turf with 4 runner-up placings. He is dropping back to his claimed level where he was beaten just a length going five and one-half furlongs at Saratoga.
#11 BLAMELESS: Dropped in class to this level last out and fired a decent shot to be second by a neck. The 5-year-old is lightly raced and has a win and a second over the Gulfstream turf. Hall of Fame jockey John Velazquez returns to guide this guy from a tough post. Note: both of his wins have come in wire-to-wire fashion.
SUGGESTED LATE PICK 4 TICKET
There's a chance that this Pick 4 could 'chalk out' early via a string of Todd Pletcher victories in races 9, 10 & 11. If that happens, players must hope for a bomb in the last to juice payoffs.
RACE 9: 3, 7
RACE 10: 4, 6
RACE 11: 4, 6
RACE 12: ALL (11 Horses)
TICKET COST: $44.00
Race On!