Le corse di Venerdì 29 gennaio 2021
Venerdì 29 gennaio – Galoppo
Anche questo venerdì appuntamento da non perdere 
all'Ippodromo Capannelle
 con un avvincente pomeriggio di galoppo (prima corsa ore 12.50)
. Naturalmente sulla pista "all weather", protagonista indiscussa del periodo invernale.
Sei corse tutte sul dirt, distanze dai 1200 ai 2300 metri: una "Maiden" per i tre anni, quattro gli handicap e una "Vendere" super affollata. Saranno in 15 nella Maiden sui 1400 metri, il Premio Cervino, con uno sguardo particolare rivolto a 
Love Yourself
, 
Mecontrote
, 
Piccola Ela
, 
Ziogiancarlo
.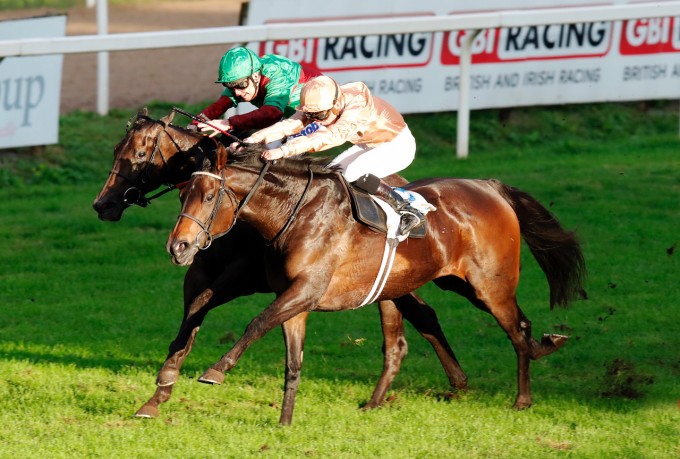 Da seguire anche la perizia sui 1500 per anziani, il Premio Kilimangiaro, con in campo 11 protagonisti anziani tra i quali Dream My Love, Mare Nero, Killwind, Zona d'Ombra, Adrio. 
I 2300 metri vedranno in azione ancora gli anziani, in 10, con Changouro Basc favorito insieme a Big Musquetier, Nobizlikethisbiz, Pabble Beach e San Monterazzano. 
E per concludere 
la Vendere sui 1400 per anziani, 15 in pista, scelta come seconda tris, con 
Toudussac
, 
Ballot Box
,
Amaranto
 e 
Damocles
 da seguire.
Undici partenti in media per ogni corsa renderanno il pomeriggio particolarmente interessante dal punto di vista dello spettacolo. P
rossimo appuntamento tra sette giorni, il primo venerdì di febbraio.
fonte : Ufficio Stampa Ippodromo Capannelle
| | |
| --- | --- |
| New post on Horse Racing in Korea | |
As usual racing in Korea is confined to Friday this week with all three of Seoul, Busan and Jeju hosting cards. At Seoul, Korea Cup and Grand Prix Stakes winner Moonhak Chief returns to action and he runs straight into Tiz Plan in the 2000M class 1 feature on what is set to be a bitterly cold day in the capital – just for good measure, the great mare Silver Wolf is among the twelve lining up too. However, the Seoul meeting will have no attendance and no betting so we will once more focus on Busan, where there are 10 races from 10:4o to 15:20 and which will be available on international simulcast:
Race 1: Class 6 (1000M) Allowance / KRW 22 Million
Only four of these three-year-olds have raced before. Of those four, (4) RAON THE POWER is the clear pick having won on debut on December 12th with a front-running performance. It was no surprise as he had previously looked sharp in a trial and due to the reduced prize money on offer that day, he gets another crack at class 6 here with every chance of winning again. None of the others with previous experience really caught the eye although (10) GOSUUI POWER didn't run badly and could improve second up here. That leaves the first-timers and a couple did well in their trials. (6) COOL GUY registered the fastest time when running 2nd in his heat back in October. He showed good speed out of the gate and can challenge for the lead early here. (5) NEW FIRE and (11) GLORY KING are others who looked well in their respective hearts and have every chance of being competitive first-up.
| | |
| --- | --- |
| Selections | (4) Raon The Power (6) Cool Guy (5) New Fire (11) Glory King |
| Next Best | 10, 9 |
| Fast Start | 4, 5, 6, 10, 12 |
Race 2: Class 6 (1200M) Allowance / KRW 22 Million
Fillies only here. (5) JILJU MANYEO was a very solid winner on debut at this distance on December 5th having previously blitzed a trial. She gets another crack at the level today under a similarly light weight and has every chance of scoring again. (12) NEW LUX is another who gets another chance at this class having won at start number five a month ago. The wide draw shouldn't be too much of a problem as she doesn't need to lead and she looks to have solid claims to go close again. (3) HANHYEOLMA has been getting closer across six starts so far culminating in a runner-up finish on December 6th. Djordje Perovic takes the mount today and she has strong claims to continue her positive run of form. (7) HAPPY WOMAN hasn't shown much in the way of speed so far but has a 4th and a 2nd from two starts and should be in at least the placing frame.
| | |
| --- | --- |
| Selections | (5) Jilju Manyeo (12) New Lux (3) Hanhyeolma (7) Happy Woman |
| Next Best | 8, 1 |
| Fast Start | 3, 4, 5, 10 |
Race 3: Class 6 (1400M) Allowance / KRW 22 Million
(8) CATCH THE VICTORY broke through at start number three on December 12th, making all to win comfortably over 1200M. He tackles this distance for the first time – although so do all but one of these – and he has every chance of being successful again. (6) SKY MORE ran 2nd to Catch The Victory on debut last month. He finished six-lengths in arrears but should have come on for the run and can get closer today. (10) B.J. KING was a good winner on December 12th too, also over 1200M. He can come off the pace here and should be a significant factor. There are others with promise too. (4) WONDERFUL BOBCAT was 4th on debut behind B.J. King and should come on for that run while (7) TWO TWO CARLTON is the only one on the race who has previously tried 1400M. He did rather well at it as well, with a much improved 3rd place and he can aim to match that today.
| | |
| --- | --- |
| Selections | (8) Catch The Victory (6) Sky More (10) B.J. King (7) Two Two Carlton |
| Next Best | 4, 11 |
| Fast Start | 6, 8 |
Race 4: Class 5 (1200M) Handicap / KRW 32 Million
(6) MR. FUSION got his maiden win over this distance on debut back in July last year and has followed up with three very solid showings at this class, beating three of these when 3rd last time out on December 12th. He is giving weight away but he seems to have a bit of quality and he could win again here. (7) CHOEGANG SSONSAL looks a big danger. He got his maiden win over 1300M in November before following up with a 2nd place at 1400M on December 12th and he looks nicely in to go close again today. (1) CHEONNYEONUIYAKSO races for the first time since last February. He made all to win a trial two weeks ago, looking sharp and can go well first-up today. (5) STRONG MIND and (12) NUMBER ONE STAR are others who look firmly in at least the placing hunt.
| | |
| --- | --- |
| Selections | (6) Mr. Fusion (7) Choegang Ssonsal (1) Cheonnyeonuiyakso (12) Number One Star |
| Next Best | 5, 8 |
| Fast Start | 1, 6, 7 |
Race 5: Class 4 (1200M) Handicap / KRW 42 Million
(5) NICE ONE came from slightly off the pace to score his third win in five starts at class and distance on December 12th beating a few of these in the process. All of his wins have come at this distance and staying under a nice light weight today, he has every chance of another. (2) FASHION KEY has been very consistent, finishing no worse than 5th across his nine starts to date. He drops back in trip here but well into contention. Loads of others have placing chances. (7) SINBIHAN YEOIN is inconsistent but does have the fastest time at the distance among these and could be considered for improvement. (1) BAENGNYEON SIDAE and (9) LUCKY NUMBER ONE are others who should be in the hunt.
| | |
| --- | --- |
| Selections | (5) Nice One (2) Fashion Key (1) Baengnyeon Sidae (7) Sinbihan Yeoin |
| Next Best | 9, 3 |
| Fast Start | 3, 5, 9 |
Race 6: Class 5 (1400M) Handicap / KRW 32 Million
Fillies and mares only here. (1) ULTRA PHOENIX was a touch disappointing when 6th of fourteen at class and distance on December 6th. That was a better race than this and she did beat a couple of today's rivals though. Two starts back she was a class and distance winner and she has strong claims here. (5) KINGS LANDING enters with a 3rd and a 4th from her latest two. She's likely to be ridden on pace here and should be going close. (4) CHEONNYEONUI GIL was a good 3rd first-up in November over 1300M. She's not raced since and while she remains a maiden, expect her to be running on strong late and she can place again. The rest of them are going to need to show an upturn in form with (2) DOCTOR MAX perhaps the most likely to have a say in the placings.
Continue reading "Busan Friday: Race-By-Race Preview (January 29)"