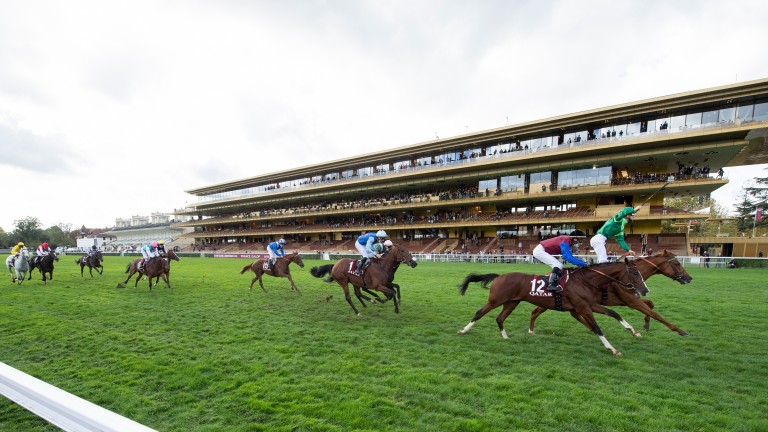 Cristian Demuro celebrates a famous Arc win on Sottsass, narrowly scoring from In Swoop
Edward Whitaker (racingpost.com/photos) – By Scott Burton, 
Jean-Claude Rouget called it right at every stage as he and Cristian Demuro celebrated a maiden win in the Qatar Prix de l'Arc de Triomphe with Sottsass, who upgraded his third place from 12 months ago in a brave defeat of In Swoop and Persian King. 
Demuro revealed afterwards that it was Rouget who had persuaded him to choose Sottsass over stablemate Raabihah, while the 67-year-old was also fully vindicated in plotting a season that had featured just one success in four starts leading into this. 
At the end of a week that featured so many twists and turns, the Longchamp stewards made the winning connections sweat for ten minutes before confirming the result.
Enable, seeking a historic third Arc, could only finish sixth and there were few moments of hope for her supporters during an attritional Arc which was run in the slowest time since Ivanjica's win in 1976. 
That is of no importance to the winning connections as the 67-year-old Rouget executed a plan whose genesis came in the Longchamp unsaddling closure 12 months ago.
"We've worked all year for this," said Rouget. "Our entire aim for 2020 was this and it's not been easy with the changes to the calendar.
"We've never been able to do quite what we wanted with the horse. But these last few days I've really felt he was in top form."
Those few who were on hand to witness Sottsass's staying-on fourth in the Irish Champion Stakes at Leopardstown last month may not have immediately felt that they had witnessed a likely Arc winner, but Rouget was adamant that running against top-class mile-and-a-quarter horses of the calibre of Magical and Ghaiyyath had put the necessary speed into his charge ahead of the day that mattered most. 
"It was a difficult choice to go to Leopardstown rather than the Prix Foy, but we decided that the shorter distance would sharpen him up and it was the right choice. Everything was designed to have him at 100 per cent today and the result is there."
For Demuro the emotions will undoubtedly come tumbling out in the hours to follow as he had scaled the greatest height afforded to a European jockey less than a month after the death of his father Giovanni Battista. 
"I just want to live this moment and tomorrow when I wake up I will think more clearly about it," he said on stepping down from the victory rostrum. 
"I lost my father not even a month ago and so this is a good present for him. I hope he is looking down on me."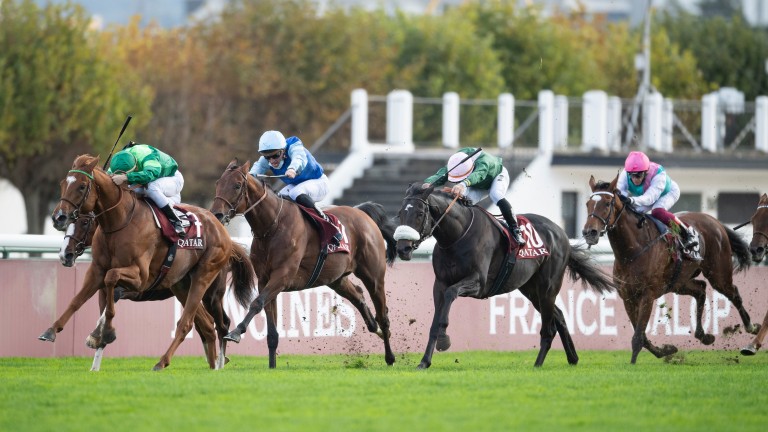 Enable (pink cap) labours up the straight as Sottsass heads for home in the Arc on Sunday
Edward Whitaker (racingpost.com/photos)
Demuro had geared his pre-race plans around pinning a target on Frankie Dettori's back, but once he found Enable behind him his confidence in Sottsass swelled. 
"I think it was won at the start," said Demuro. "I saw Enable wasn't leading and when I realised we were not going that fast I felt confident he could outsprint them in the straight. It was a big help and I knew his turn of foot would kill off the others."
Rouget had not hidden his own feelings in the days before the Arc that the son of Siyouni was peaking at the right time and his sentiments were enough to persuade his stable jockey to side with Sottsass over Raabihah.
"Before the Irish Champion Stakes I expected to ride Raabihah," said Demuro. "Sottsass didn't feel like the same horse as last year, he didn't have the same appetite or the same fitness. 
"But shortly after the race in Ireland, Monsieur Rouget told me he felt the horse was coming back. I told him if he was sure then I trusted him and I'd ride Sottsass.
"The race in Ireland really helped him because he hadn't been made to run at that pace all year in France. He really needed it and then when I worked on him I could feel he was back."
Rouget has long admitted that the Arc has been a puzzle that he found almost impossible to work out, a feeling he expressed again in the moments after this pulsating victory. 
He also revealed that the absence of the Aidan O'Brien-trained quartet had clarified his mind in terms of how the race would unfold.
Rouget said: "I was not surprised to see Persian King in front because that was the best way to avoid him pulling. He ran a magnificent race over what is not his distance and not on his ground. Sottsass was in a good position behind him and he stayed better than him."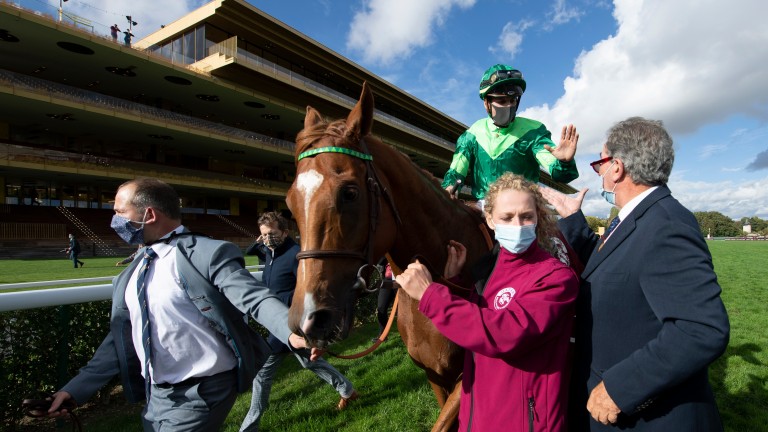 Sottsass and Cristian Demuro are led in after winning the 2020 Prix de l'Arc de Triomphe
Edward Whitaker (racingpost.com/photos)
As with everything else, he called it right when asked how he felt about being the man to deny Enable her rendezvous with history. 
"I like John Gosden a lot," said Rouget. "We don't meet enough to be real friends because he has his job and this year I couldn't go to England and he couldn't come to France. He is a great great trainer and Enable is a super filly. 
"I hoped that if I had to be beaten it would be by her, but there can only be one winner. I didn't cost her though as she wasn't second."
There will be form students who pick over the bones of this Arc and point to the slow time, the lack of pace and the deep ground all casting doubt on the outcome. 
But for absent owner Peter Brant it is the realisation of a dream dating back to being present to witness Mill Reef's Arc in 1971.
And Rouget knows that Sottsass holds the race record for the Prix du Jockey Club. Illness kept him from Chantilly on that occasion, but on this occasion the man of the hour and his horse were right on time.
---
Prix de l'Arc de Triomphe result 
---
Read more reports and news from Arc Sunday:
'That's life' – Gosden rues pace and going but no decision on Enable's future
'The cost is incredible' says a dismayed O'Brien after missing out on Arc
'I love her' – Boudot delight as magic mare One Master wins third straight Foret
Tarnawa and Alpine Star give Ireland a one-two in the Prix de l'Opera
Jessica Marcialis makes French racing history with Prix Marcel Boussac victory
Delight for Rossi as superb Sealiway proves far too good for the rest
by RacingPost