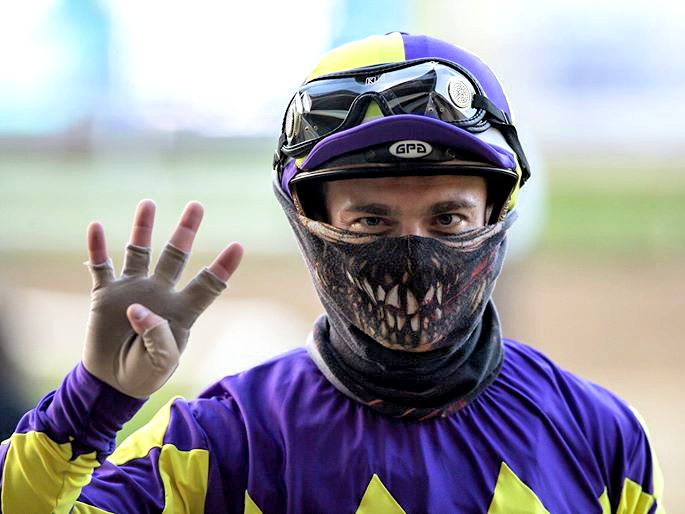 B R E E D E R S ' C U P  A N N O U N C E S  S P E C I A L  G U E S T S  F O R  T H U R S D A Y ' S  C O C K T A I L S & C O N V E R S A T I O N  B R O A D C A S T
This Week's Virtual Cocktail Hour will Feature Trainer Peter Eurton and Jockey Umberto Rispoli LEX INGTON , Ky . (Aug . 1 9, 202 0)
The Breeders' Cup, one of Thoroughbred horse racing's most prestigious international events, announces trainer Peter Eurton and jockey Umberto Rispoli as the special guests for this week's installment of Cocktails & Conversation.
The multi-platform broadcast is a recurring virtual happy hour series designed to rally the horse racing industry's most prominent figures to raise funds for communities that have been profoundly impacted by COVID-19. The Cocktails & Conversation broadcast, airing Thursday, Aug. 20 at 6 p.m. ET via Breeders' Cup's Twitter, Facebook and YouTube pages, will mark the 19 th installment of the series.
The episode will be hosted by Nick Luck and Britney Eurton of NBC Sports and 21 Club mixologist and creator of Breeders' Cup's official cocktails Mark Tubridy. Eurton, the father of Cocktails & Conversation co-host Britney Eurton, is an acclaimed Thoroughbred trainer with more than 600 wins since his career started in 1989. Eurton notably trained Storm the Court to win the 2019 TVG Breeders' Cup Juvenile (G1) at Santa Anita Park. It was Eurton's second Breeders' Cup victory, having saddled Champagne Room to win the 2016 Breeders' Cup Juvenile Fillies (G1). Eurton has entered the 5-year-old horse Dark Vader in Saturday's TVG Pacific Classic (G1) at Del Mar, a Breeders' Cup Challenge Series race which awards the winner an automatic starting position into the US$7 million Longines Breeders' Cup Classic (G1).
Rispoli, a native of San Severino Marche, Italy, is currently the leading jockey at Del Mar's summer meet with 28 victories, and has the mount aboard Dark Vader in the TVG Pacific 8 . 1 9 . 2 0 P A G E 2 Classic. Making his jockey debut in 2005, Rispoli has ridden around the world, winning notable races in Italy, Japan, Hong Kong and France. This is his first season riding in the United States. Thursday's live stream will commence with Tubridy leading a virtual mixology class for viewers, creating two refreshing cocktails to enjoy at home during the broadcast. Mark will be mixing up a "Caipiroska," made with Tito's Handmade Vodka, lime and sugar. Mark's second cocktail is a "Poolside Palmer," consisting of Maker's Mark Bourbon, peach schnapps, simple syrup, lemon juice and unsweetened iced tea. Following the cocktail-mixing segment, the broadcast will feature conversational interviews with Eurton and Rispoli, who will offer perspectives and thoughts on their careers, current developments in horse racing and family life. Fans will be able to submit questions via social media for the hosts and guests to answer during the broadcast for a truly interactive experience.
Throughout the cocktail hour, viewers will be encouraged to donate to industry workers and communities in need through the official Breeders' Cup website. Tapping all-star talents such as world-renowned jockeys Javier Castellano, Frankie Dettori and Mike Smith; leading trainers Simon Callaghan, Tom Amoss, Bob Baffert, Chad Brown, Mark Casse, Kenny McPeek, Graham Motion, Doug O'Neill, Todd Pletcher, Dale Romans and Wesley Ward; NHL All-Star and Thoroughbred owner Erik Johnson; film and television actress and equestrian rider Bo Derek; owners Jeff Bloom, Sol Kumin and Jack and Laurie Wolf; television personality and fashion designer Carson Kressley; and the NBC Sports' horse racing broadcasting team, Breeders' Cup has raised thousands of dollars through previous Cocktails & Conversation broadcasts.
All proceeds generated from Cocktails & Conversation are wholly donated to the following organizations benefitting the horse racing and hospitality industries:
• Race Track Chaplaincy of America, a non-profit organization dedicated to serving the needs of the horse racing community through social services, food and clothing banks and educational workshops.
• USBG National Charity Foundation, which supports bartenders, barbacks and bar servers throughout the nation who have been financially impacted by restaurant and bar shutdowns as a result of the health crisis.
• Restaurant Workers Relief Program, a project jointly formed by Maker's Mark and the Lee Initiative that has transformed restaurants in major cities into relief centers that offer food and supplies to affected hospitality workers. To learn more about the virtual happy hour series and to support those in need, please visit https://www.breederscup.com/convos.
fonte : Breeder's Cup