Irish Guineas Set For June 12 and 13
Naas will host Ireland's first racing fixture since lockdown began | Racing Post
Irish racing will resume on June 8 with a card at Naas, with the G1 Irish 2000 Guineas set for Friday, June 12 at The Curragh, and the G1 Irish 1000 Guineas the following day. The G1 Irish Derby and G1 Irish Oaks remain on their traditional dates of June 27 and July 18, respectively, while Irish Champions Weekend will take place Sept. 12 and 13. International participation will be restricted to Group 1 and 2 races only for June, with personnel required to comply with government policy on the movement of people in and out of the country. Due to necessary purse cuts in the current financial climate, the Guineas' will each be worth €250,000.
It was revealed on Friday that racing in Ireland would be able to resume on June 8 behind closed doors and with extensive sanitary measures in place. For the first three weeks, meetings will take place only at nine centrally located racecourses to minimise travel distances. These facilities also have higher stabling capacities, allowing spacing to be maximised. Eight race cards will be conducted whenever possible, with a full programme for June and the black-type and premier handicap calendar for the year set to be published next week.
A number of purse reductions will take place with immediate effect in June and possibly thereafter, and Horse Racing Ireland has reiterated a focus on maintaining purse levels in the lower to medium tiers as much as possible. Like the Guineas, the Irish Derby and Irish Champion S. both receive significant cuts to €750,000 (from €1.5-million and €1.25-million, respectively). HRI has forecast the base value for Group 1 flat races to the end of June to be down 30% to 25%, and the base value for races above €50,000 to be down 25%. The cut is 20% for races typically between €20,000 and €50,000; 15% for races normally worth €15,000 to €20,000; 10% for races between €10,000 and €15,000 or with a minimum value of €10,000. Entry fees will be reduced in line with these cuts.
There will be no apprentice or claiming races in the opening fortnight, and 10-pound claimers with fewer than six rides will not be permitted to ride during this period. With racecourse saunas closed, the two-pound increase in weights introduced in March will continue to apply to all races.
Brian Kavanagh, chief executive of Horse Racing Ireland, said, "With the confirmation on Friday of the resumption of racing on June 8, we are now publishing the fixture list and the associated details for the first three weeks of racing. We are grateful to everybody for the patience they have shown during this very difficult time and we will provide every opportunity for essential personnel to fully understand and implement the return to racing protocols. Regrettably, due to the financial circumstances of the industry, prize money cuts are inevitable and we have adopted a tiered approach, endeavouring to protect the grassroots of the industry as much as possible.
"We expect there to be significant demand for horses to run once we resume, and we will aim to provide opportunities across the spectrum of age, gender and ability. We will have missed 11 weeks' racing which will take some time to catch up. We intend to do this over the course of the rest of the year rather than immediately.
"The resumption of racing will allow sales, trade and other ancillary services to get going again and will be widely welcomed in those areas. Horse Racing Ireland are liaising closely with our international counterparts regarding the resumption of racing in those countries and issues such as protocols, international runners and prize money levels."
June Fixtures (Flat unless otherwise indicated):
June 8 Naas
June 9 Leopardstown
June 10 Navan
June 11 Gowran Park
June 12 Curragh
June 13 Curragh
June 14 Leopardstown
June 15 Fairyhouse, Roscommon
June 17 Gowran Park, Limerick
June 18 Fairyhouse
June 19 Tipperary, Gowran Park
June 20 Naas
June 21 Leopardstown
June 22 Roscommon, Limerick (NH)
June 23 Navan
June 24 Naas, Roscommon (NH)
June 25 Fairyhouse
June 26 Curragh, Tipperary (NH)
June 27 Curragh
June 28 Curragh
June 29 Limerick, Kilbeggan (NH)
fonte : TDN
IRISHMAN HORE IS DERBY DREAMING AGAIN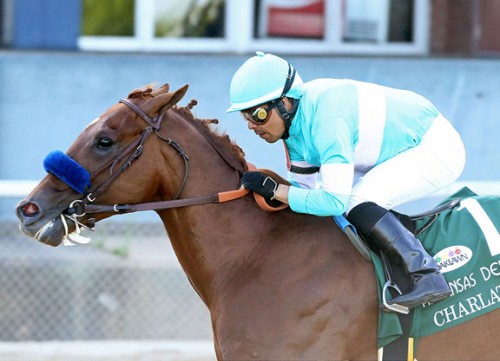 Charlatan is among the favourites for the Kentucky Derby
By Kelsey Riley
Most Irishmen that go to Kentucky didn't plan to stay there. And yet, the story seems to be ripped from a template that is repeatedly recycled: they knew someone working on a farm there and decided to go for six months to a year. And then made it another year. Then 10 or 20 more. Many end up staying their whole lives. Dr. Michael Hore may have followed a well-trodden path from his birthplace in County Wexford to Lexington, but in the ensuing 15 years he has set himself apart as one of the Thoroughbred industry's most renowned veterinary surgeons with Hagyard Equine Medical Institute. And while he serves an admittedly privileged list of clients, it would be hard to look past the buying team of SF Bloodstock and its partners as being among the tops.
The group controls three of the best colts of their generation in the recent GI Arkansas Derby winner Charlatan (Speightstown), unbeaten GII San Felipe S. winner Authentic (Into Mischief) and six-length GI American Pharoah S. winner Eight Rings (Empire Maker), and Dr. Hore was a key member of the selection team that left all three colts on the shortlist at Keeneland September two years ago, and Justify on the list two years before that…
https://www.thoroughbreddailynews.com/pdf/tdn/tdn200517e.pdf
Cumulative Lifetime Active Sire List
Distorted Humor (picture above) is the leading sire of Cumulative Lifetime Active Sire  List (click the link to see the rank)