Coolmore stallion: Australia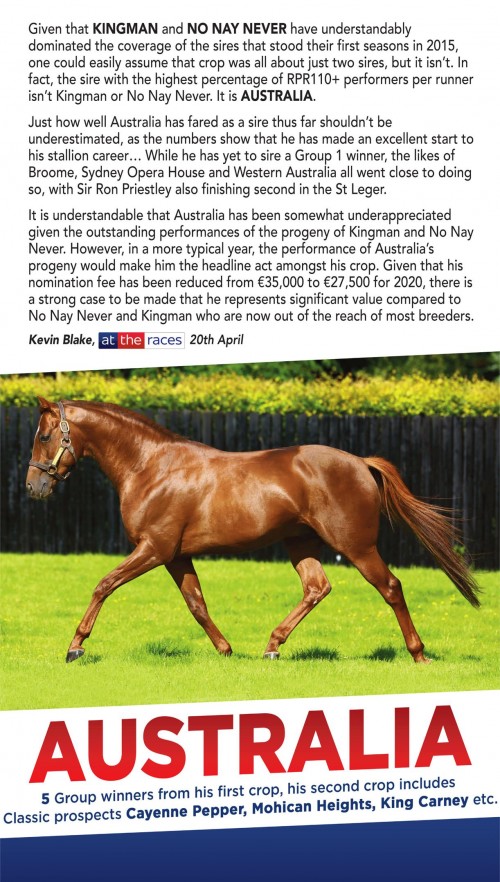 FRENCH LEADERS HAVE A POSITIVE MEETING WITH GOVERNMENT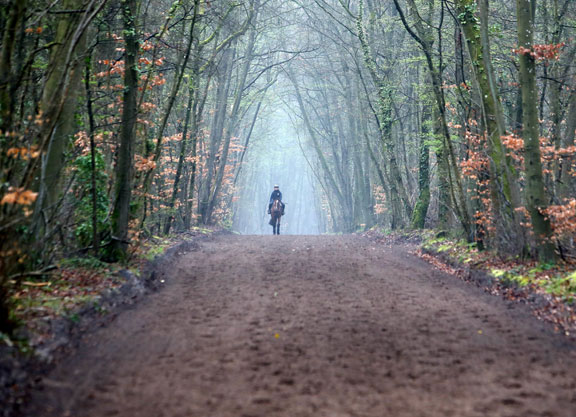 By Kelsey Riley
French racing officials remain hopeful that racing in that country could resume behind closed doors on May 11 after a meeting with government officials on Tuesday that France Galop Chief Executive Officer Olivier Delloye described as Apositive. Among those in attendance at the meeting with the Minister of Finance and the Minister of Agriculture were France Galop President Edouard de Rothschild; Bertrand Meheut and Cyril Linette, chairman and director general, respectively, of the PMU and Jean-Pierre Barjon, President of Le TROT, the governing body of trot racing.
It was a positive meeting as far as we are concerned, Delloye said: "We had pretty positive feedback from the ministers regarding racing's resumption mid-May. We are targetting May 11; that hasn't been approved by the government at this stage, but they're not saying no. They will probably be supportive of our willingness to resume racing on May 11, and it will probably be in the hands of the Prime Minister's team who is in charge of the conditions of how the country is going to get out from this quarantine…
CE CE EXTENDS MAGICAL' HIRSCH LEGACY
by Chris McGrath
Well, I guess even Clement L. Hirsch might have had to scratch his head once or twice, if he were still around, to help confront the challenges facing Santa Anita over the past year or so. But there's no doubt that we could all, in the present crisis, usefully emulate the spirit of altruistic dynamism by which he sustained Californian racing in his own time…
https://www.thoroughbreddailynews.com/pdf/tdn/tdn200422e.pdf
During the shutdown, our friends over at the Korea Racing Broadcast Channel (KRBC) have been posting videos about the careers of some of  the famous horses in Korean racing history. So we thought we would post them too along with some info about each one. First up is Dae Kyeun.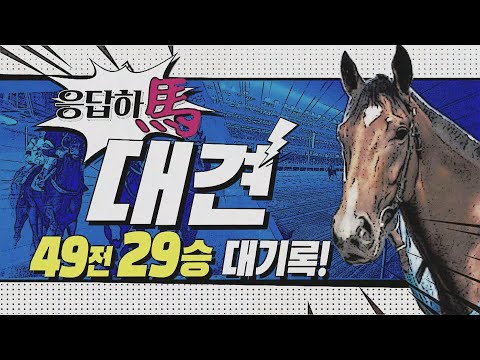 These days, the majority of racehorses in Korea are locally bred with most imports coming from the United States. Things were very different in the 1990s though. The domestic breeding industry was in its very early stages so most horses were imported. Not from the USA though. Instead, horses would be purchased in large numbers and flown over together from Australia and New Zealand – more than 300 in 1996 alone. Another difference back then was that horses were allowed to have raced already before coming to Korea – these days all imports must be unraced. One of those previously raced horses from th southern hemisphere was Dae Kyeun.
Not that he was called Dae Kyeun at home. The bay colt was foaled in November 1989 and was by Northern Regent – a Canadian-bred sire – and out of the Sunset Hue mare Romantic Evening. He was called Fond Farewell. It was under that name that he made seven starts in his home country throughout the course of 1992 at various country tracks in New South Wales. His solitary win was also his solitary paycheck as he picked up $2,900 for 1st place in twelve-runner Class 2 Handicap for 2-year-olds at Kempsey on April 25th, winning by a head. His local career would conclude that November when beating just one home at Scone.
Fond Farewell was sold, along with 150 others in 1993, to Korean interests and arrived in Seoul in June of that year. His new owner was Lee Yoon Ja and he was renamed  "Dae Kyeun" (the literal translation is "Confrontation"). He was placed in the care of trainer Choi Hye Sik, with whom he would remain for his entire career.
All seven of Fond Farewell's Australian starts were on turf but Dae Kyeun quickly found his feet on the sand of Seoul. He made his Korean debut on September 25th in a maiden over 1200M under jockey Lee Sang-keun and while he was sent off as a slightly better than even-money favourite, he had to settle for 2nd, beaten half a length by another 1993 Aussie import N0-Rae-Go-Rak (previously called Young Legend and by a sire called Daring Young Man).
Following that minor setback Dae Kyeun warmed to his task and promptly won his next six races. He was ridden in the first five of these by Kim Tae-kyung, who is still riding at Busan, and in the last of them by Kang Byung-eun, who is now a trainer, also at Busan. That winning streak made him favourite for the Muganghwa Cup in May of 1994. He ran 2nd, beaten by New Zealand import Bo Eun. Bo Eun is notable in that he does not have a Studbook entry, meaning he was considered a "non-thoroughbred". This wasn't unusual for the time – another New Zealand import classed as non-throughbred was Chuk Je, who was the dam of early 2000s star Saegangja.
Dae Kyeun returned to winning ways immediately, rattling off three straight wins to enter the season-ending Grand Prix Stakes as favourite. However, punters would be disappointed once more as having worked to the front from the widest gate, Dae Kyeun threw in the towel in the final furlong, dropping back through the field to ultimately finish last of the fourteen, his worst ever finish and one of only four times in his career that he finished out of the money.
A year later in 1995 though, the Grand Prix would be his biggest triumph. Ridden for the only time in his career by Park Tae Jong and from a much more favourable draw, Dae Kyeun led every step of the way to record victory by a full eight-lengths on what was the first occasion the race was run over 2300M. The winner's share of the purse was KRW 62 Million – which is about the same amount the winner of a regular Class 1 Handicap receives today.
That was perhaps the peak for Dae Kyeun. He kicked off 1996 with three straight wins including the Group 3 KRA Chairman's Cup, a race which has since long since fallen by the wayside but suffered a late season injury and utimately missed out on the chance to defend his Grand Prix.
The inhury setbacks woujld continue over the next couple of years but when he did make it to the track, the quality was still there. He was only able to race four times in 1997, winning twice and five times in 1998, racking up three wins and as well as 3rd place to Sin Se Dae in the Grand Prix with Dae Kyeun on pace all the way around until Sin Se Dae, two years his junior, sprinted away in the closing stages. American import Wolf Silencer pipped a tiring Dae Kyeun for 2nd.
Injury-free, Dae Kyeun set about 1999 with aplomb, beginning the year with a four-race winning streak despite giving away significant weight on each occasion. However, he never again tackled a Group race, and at ten-years-old it was evident his career was drawing to it's natural conclusion. Nevertheless, he still raced seven times in 2000, finishing in the first three on all seven occasions and winning three times. His final victory came over 1900M on Dcember 23rd, 2000, as an eleven-year-old, with old rival Sin Se Dae behind him. He ran for the final time in February 2001 and was officially retired that June.
In total, Dae Kyeun ran 49 times in Korea for 29 wins, 10 seconds and 5 third-place finishes. He won just shuy of KRW 600 Million in prize money. After retirement he was registered as a riding horse in September of 2001 and local media reported as of 2012 that he had died. Trainer Choi Hye Sik retired in 2012 having trained 703 winners from 6589 starters over a twenty-eight year career. Dae Kyeun was his only Group winner but he also trained the multi Listed winning mare Cheongpa, also in the late 1990s.
Park Tae Jong, who rode Dae Kyeun to victory in the Grand Prix is of course, still going strong while Dae Kyeun's regular rider Shin Hyung Chul is also still riding at Seoul.
fonte : KRA