Keeneland CEO Bill Thomason
| | |
| --- | --- |
| | |
As an organization with enormous interests in both the racing and sales worlds, Keeneland has been quick to act in response to the coronavirus pandemic, canceling its April 2-Year-Old Sale and Spring Meet in the early days of the sport's shutdown. They also were quick to reassure nervous buyers and sellers of yearlings that this year's marquee September Yearling Sale would proceed as scheduled, Sept. 14-26. President and CEO Bill Thomason joined the TDN Writers' Room 
presented by Keeneland
 Wednesday, calling in via Zoom from his home as the 
Green Group Guest of the Week
 to discuss what that auction could look like and much more.
"We are counted on to bring two things together," Thomason said. "We bring these best horses in the world together in critical mass to a marketplace that people are going to be counting on. So the horses are going to be there. Now we start working on making sure that we add certainty to that marketplace to be able to bring the world to Keeneland. That's going to evolve in the coming months. We're in the process now of developing protocols. We know people are scared. They're scared for their health, they're worried about the economics of the marketplace, they want to take care of their families. We know those things are happening and we know the angst that's going on, but we've got to evolve. We've got to make sure that people can feel safe. We can say all we want to do, but the science is going to dictate where we go with this."
Thomason also spoke about the feasability of Keeneland running its Fall Meet under normal circumstances, which for this year takes on added significance as it is scheduled to include the Breeders' Cup World Championships Nov. 6-7.
Elsewhere on the show, in the  
West Point Thoroughbreds
 news segment, the writers touched on the news of the Jockey Club of Saudi Arabia withholding the purse of the Saudi Cup after winning trainer Jason Servis was indicted, reacted to Joe Sutton calling out cheating, looked ahead to the GI Arkansas Derby and touched on Chuck Fipke's recent act of philanthropy. 
CLEMENT: PMU NEEDS A BIT OF OXYGEN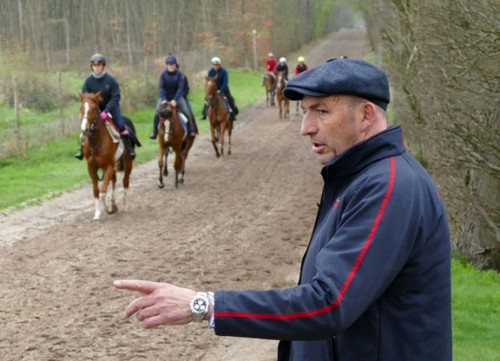 By Kelsey Riley
French racing authorities will on Tuesday meet with government officials to discussthe next stepsin getting racing back under starters orders. Nicolas Clement, president of the French Trainers Association, said chief among the topics of discussion will be finalizing a plan for when racing can resume behind closed doors and potential funding aid for the PMU.
After holding all meetings behind closed doors from Mar. 13Band some as early as late FebruaryBall racing in France was suspended from Mar. 17 through initially Apr. 15 in response to the coronavirus outbreak. That return date waslater extended. On Monday, French President Emmanuel Macron prolonged the country's mandatory lockdown until May 11, and he has placed a ban on large public gatheringsthrough at least July 11. As of Wednesday morning there were over 103,000 confirmed coronavirus casesin France, and 15,729 deaths.
Clement said all possibilities have been put on the table when it comes to what the resumption of racing might look like, but he said it all hinges on the outcome of Tuesday's meeting between racing authorities France Galop and Le Trot and the government's minister of agriculture Didier Guillaume and minister of public action and accounts Gerald Darmanin.
https://www.thoroughbreddailynews.com/pdf/tdn/tdn200416e.pdf