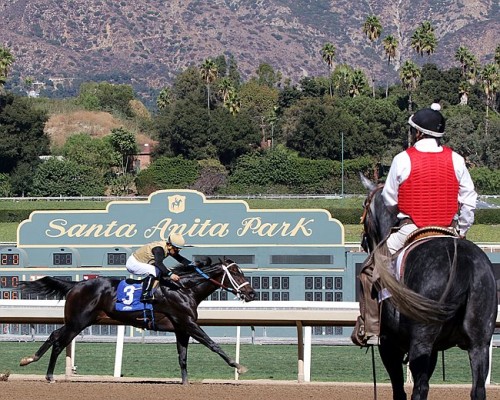 With the prospect of transferring Southern California race dates from Santa Anita Park to Los Alamitos Race Course not materializing, Santa Anita management is focused on its pitch to the Los Angeles County Health Department for a resumption of spectatorless racing in a discussion that could come by April 18.
During an April 10 conference call organized by the Thoroughbred Owners of California that included executives from Del Mar and The Stronach Group, which operates Santa Anita and Golden Gate Fields in the state, participants outlined the conditions that led to the COVID-19-related suspensions at Santa Anita and Golden Gate. Santa Anita was temporarily closed March 27, followed by Golden Gate April 2.
"Unfortunately, and my view is we got caught in one or two crosscurrents," said Craig Fravel, the CEO of racing operations for TSG. "One was that public health authorities are not making exceptions. They are more in the mood of making blanket decisions, and instead of worrying about whether we were creating a situation that was likely to spread the disease, they were more interested in the optics of the activity continuing, whether that was continuing in a safe fashion.
"The second is we have many reasons to believe that a very small group of animal rights activists were heavily engaged to having input to their various agencies that ultimately had some impact—we don't know exactly how much."
As in other regions of the country, many nonessential businesses have been closed in California because of the pandemic, though with exceptions. TSG had maintained, successfully at first to state officials, that racetracks warranted being one of those exceptions because it provided care to animals and that afternoon racing encompassed fewer participants than permitted morning training.
Racing has been able to continue at a handful of tracks in the United States, largely under this rationale, including at Gulfstream Park, a TSG-owned track in Hallandale Beach, Fla.
"Our focus has been on resuming racing at Santa Anita as soon as we can get the health authorities (to agree) and the same today at Golden Gate Fields. In fact, there is a meeting today, I believe, with our equine medical director at Golden Gate, with the county of Alameda to make our case further for reopening," Fravel said. "We don't have any feedback on that at this point, but we're told by the department of health in Los Angeles that their order would not be revisited vis-à-vis live racing until April 18. So our focus right now is on getting them the information, updating our protocols, and being prepared to make the argument to resume live racing without spectators as soon as possible after that determination date."
Elsewhere in Southern California, racing behind closed doors continues at Los Alamitos, which is in the midst of a meet of evening racing of Thoroughbreds and Quarter Horses. The Cypress track is regulated by a different health department, one overseeing Orange County.
Representatives from Los Alamitos, which has been at odds with TSG at times over race dates and other matters, were absent from the Friday conference call.
This month, the TOC floated the possibility of Los Alamitos adding an afternoon racing meet of Thoroughbred racing—as it does at other times of the year—by picking up the dates that Santa Anita is unable to run. Such a transfer would have required clearing regulatory hurdles from Orange County and other entities and would have needed the endorsement of the California Horse Racing Board, which is scheduled to meet via teleconference April 22.
"The collective view of Los Alamitos right now is that is not something that should be pursued as that would jeopardize training at Los Alamitos and, potentially, Quarter Horse racing," said Greg Avioli, the president and CEO of the TOC. "So for now, it is not on the agenda for the upcoming CHRB meeting, and it's not, I would say, in play at this time."
Although the primary focus of conversation during the TOC meeting was Santa Anita, Del Mar executives also weighed in on COVID-19′s potential impact on their summer meet. They are scheduled to race July 18-Sept. 7 after the suspended meet at Santa Anita, which, if resumed, will run through June 23, and a short afternoon Thoroughbred meet at Los Alamitos planned from June 26-July 5.
"From Del Mar's perspective, the good news is that our scheduled opening day on July 18 is 14 weeks from now. So time is on our side," Del Mar president Josh Rubinstein said. "We are hopeful the summer meet will go on as scheduled. We are currently working on a detailed plan of procedures and protocols to operate racing and training."
Del Mar, located about 20 miles north of San Diego, could have its meet impacted by decisions owners make in the coming weeks if racing does not immediately resume, such as whether to keep their horses in training or take them to farms. Horses sent to farms would limit the number of race-ready horses, even if racing is green-lighted.
"We are looking at all various scenarios and conducting our race meet with or without people," said Tom Robbins, the executive vice president of racing and industry relations for the track. "As Josh mentioned, we're going to have a comprehensive program, assuming that things are going to continue as they have been. Again, it's not even mid-April. We're trying to predict how things will be in July."
In the meantime, April 18 is the date most on industry stakeholders' calendars, when Aidan Butler, the acting executive director of California operations for TSG, plans to ask Los Angeles County health officials for a resumption of crowdless racing.
"If (the answer) is a no—and we're all hoping that is not going to be the case—but if it's a no, I have to come away with the rationale for saying no," he said. "What is the rationale? What is that issue, and can we address that issue or particular issues for you? And, if not, I need to push pretty hard for the rest of the guys to get benchmarks. What will the curve look like? What other triggers would we be looking at to react to this? At the moment, we haven't gotten a lot of answers." (fonte : Bloodhorse.com)