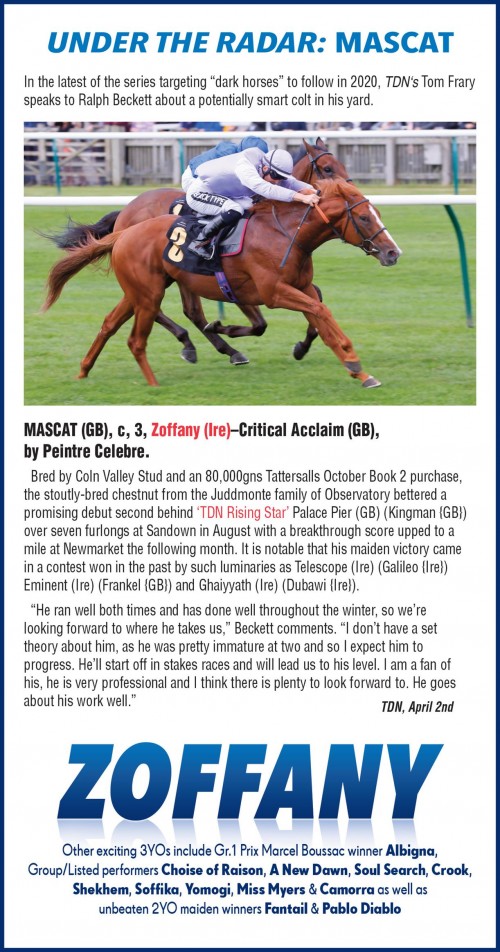 LANIGAN LEAVING NEWMARKET FOR KENTUCKY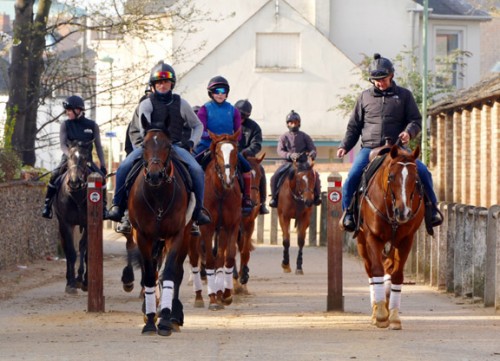 By Emma Berry
David Lanigan has announced that he will be closing his training operation in Newmarket at the end of April and relocating to Kentucky.
Lanigan and his American wife Amy, a much respected equine photographer, will live in Lexington with their two daughters. "Moving back to Kentucky has been something that we have been thinking about for a while and the timing is right for us now to make the move," said Lanigan, who added that the decision is not as a result of the current coronavirus pandemic, which has brought a temporary halt to racing in Britain.
The Irish-born trainer previously spent five yearsin Kentucky working for Johnny T L Jones at Walmac Farm, followed by another five years in Newmarket as assistant trainer to Sir Henry Cecil.
https://www.thoroughbreddailynews.com/pdf/tdn/tdn200404e.pdf
Further Revisions For Tattersalls Breeze-up Dates
Edmond Mahony | Tattersalls
Amid the ongoing uncertainty of the coronavirus crisis, Tattersalls has announced another change of dates for its breeze-up sales this season.
The Ascot Breeze-up, which should have been held earlier this week and had already been postponed until the end of April, will now be held in Newmarket along with the Craven Breeze-up between May 27 and 29. An additional date of June 8 to 10 is bring held in reserve in case a further postponement is deemed necessary.
The Tattersalls Guineas Breeze-up and Horses-in-Training Sale, which had been pushed back to the end of May, will now be staged as the forerunner to an extended July Sale. It will take place on July 6 and 7 and will be followed by the regular July Sale sessions of broodmares and horses in training on July 8 to 10.
Cautioning that the revised timetable will be kept under constant review, Tattersalls chairman Edmond Mahony said, "As has been the case since the outbreak of this virus, we are having to respond as best we can to rapidly changing scenarios, at all times balancing social responsibility and prevailing Government restrictions with the best interests of all Tattersalls clients. While racing in Britain, Ireland and further afield is suspended we strongly feel that it would not be in the best interests of our clients to conduct any of our sales until such time as racing has at least partially resumed and a measure of normality has returned, not just to our own industries, but also to the wider world."
He added, "We hope that the latest changes we have made will allow sufficient time for the current disruption to all our lives to dissipate, but at the same time we will continue to explore all sensible options, recognising that further changes may still need to be made in response to global events outside our control.
"In the meantime all of us throughout the Tattersalls group are available to respond to any queries or concerns surrounding any of our sales and we will continue to work tirelessly towards staging sales as successfully as possible in these unprecedented and troubling times."
It is hoped that the Tattersalls Ireland Goresbridge Breeze-up Sale will be able to go ahead as planned on Friday, May 22, following the breezes at Fairyhouse Racecourse on May 21.
On Monday, Goffs UK announced that it will stage its breeze-up sale on either June 13 and 14 or June 14 and 15, possibly close to London rather than at Doncaster, where it was originally planned to be held in mid-April.
Arqana still hopes to be able to stage a breeze-up sale in Deauville on May 8 and 9 but has pencilled in the dates of June 2 and 3 or June 3 and 4 if the need arises for a postponement. Osarus has moved its April breeze-up in La Teste de Buch to May 12 and 13. (by TDN)