Racing is back! Following the short break for Lunar New Year, the weekend's racing gets underway at Busan on Friday with 12 races from 11:30 to 18:00. Here are the previews:
Race 1: Class 6 (1000M) Allowance / KRW 25 Million
We kick off with one of the weakest maidens you're likely to see at Busan. Four of the twelve are racing for the first time and it is to those who we will turn for our top pick. (1) NEW PROSPECT looked quite the prospect indeed when making all to win a trial two weeks ago. If he brings that form to the races, he won't need to go very much quicker to beat this lot. None of the other first-timers looked up to very much just yet in their respective heats so we'll have to go with the experienced ones to find the main dangers. (5) ECHO MOON ran well on debut in December and while she couldn't repeat on her reappearance earlier this month, she evidently has some ability and can be competitive here. (2) CHEONGCHUN DREAM didn't do too much wrong when 6th on debut and can improve today. (4) BAEDARI SUNSHINE and (11) MUJEOK YONGBYEONG, the latter a trial winner who ran greenly on debut, are others in the hunt
Selections (1) New Prospect (5) Echo Moon (11) Mujeok Yongbyeong (2) Cheongchun Dream
Next Best 4, 9
Fast Start 1, 4, 8, 10
Race 2: Class 6 (1200M) Allowance / KRW 40 Million
A tough assignment for analysts to look over with a lack of form to assess in the second on the card. Whilst never finishing closer than fifth in his three starts to date, (9) SPACE POWER looks one capable of running well. The Clear Attempt colt has run comparatively quick times in races that have been considerably stronger than this event. At set weights he looks a good chance and is likely to map closer to the speed in the race. (11) JEONSEOLUI FIGHT has had just the three starts to date where he has also clocked some reasonable times. The son of Colors Flying drops back to the six furlongs which looks suitable after failing over the mile last time out. His first and seconds runs where respectable albeit he was well beaten. (10) ZENITH POWER has been one paced through the line in some stronger events. He will be stretched out to the 1200m for the first time. (8) ROYAL CASTLE has been well beaten at all five starts to date but is capable of running into some minor money.
Selections (9) Space Power (11) Jeonseolui Fight (10) Zenith Power (8) Royal Castle
Next Best 4, 2
Fast Start 1
Race 3: Class 6 (1200M) Allowance / KRW 25 Million
(10) FANTASTIC WINNER has been neither fantastic nor a winner in three starts to date but at least one of those should change today. The Midshipman colt has been consistent since going down narrowly on debut and has since run 4th and 3rd in arguably better races than this one. He'll be aiming to get to the front as soon as possible and can lead all the way. (6) GRAND CAPTAIN has shown signs of figuring things out with promising performances in his latest couple and looks set to be a danger today. Four of these raced each other over 1300M on January 3rd in what was a deeper race strength wise than this. The best among them was (9) PERFECT ANGEL, who ran 5th and can be expected to build on that here. (3) RAINBOW PARK wasn't too far away in 6th place and already has a 2nd and a 3rd to his name. (11) MAGIC STEALTH has been inconsistent across her eleven outings but has hinted at ability and can aim for the places here.
Selections (10) Fantastic Winner (3) Rainbow Park (9) Perfect Angel (6) Grand Captain
Next Best 11, 5
Fast Start 3, 10, 12
Race 4: Class 6 (1300M) Allowance / KRW 40 Million
A small batch of three-year-old fillies line up in the fourth where there is no standout given the lack of form. (2) CHEONNYEONUI GIL lines up for her fifth career start and will appreciate an easier assignment. The Tiz Wonderful filly was tried over the mile last time out capitulating in bad fashion down the home straight. She showed promise over the 1300m when she collected a cheque at her first three starts in some handy juvenile races. Lee Hee-Cheon is reunited with her today for whom she has performed well previously. (5) MARK ACE lines up for her second career start after finishing midfield on debut. She was sent out a rank outsider on debut and ran better than expected. She looks an athletic type and improvement may be on the cards with a run under her belt. (3) GOLD CANDY is another lining up for her second career start. The Indie Band filly finished fourth on debut in a two-year-old event. The event she comes out of wasn't overly strong but with improvement and a small field she cannot be discounted. (6) BLUE SIGNAL finished fifth on debut behind Global Hero when lining up against both sexes in a three-year-old event earlier this month. She lost her position in the middle stages before hitting the line fairly. Seo Seung-Un will be legged aboard once again which is a plus.
Selections (2) Cheonnyeonui Gil (5) Mark Ace (3) Gold Candy (6) Blue Signal
Next Best 7, 8
Fast Start 3
Race 5: Class 6 (1600M) Allowance / KRW 25 Million
(12) ONE PICK has raced twice so far, finishing in 3rd place on both occasions, both over 1300M. He has finished off well both times and stepping up to a mile today looks very much the one to beat. He'll need to overcome the wide draw to get on pace but One Pick is the clear pick here. (2) CHEONNYEONUIGUREUM is another one who may benefit from the step up in trip here. He ran on well for 2nd on his first try at 1300M last start and looks set to be ridden further forward here. He can be strong late on. (3) WONDERFUL CITY has more experience and comes in off a career-best 3rd place last start when… Read more of this post
FIGURES UP AT TATTS FEBRUARY OPENER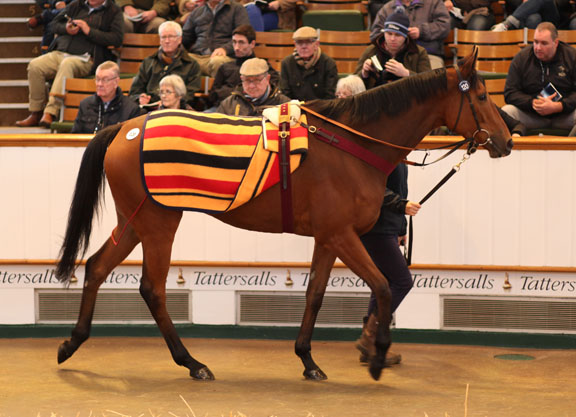 By Emma Berry NEWMARKET, UK–The February Sale may present a relatively low-key start to the sales year at Tattersalls but it has nevertheless drawn a decent crowd of potential buyers from many countries and trade during the first session was well ahead of that produced 12 months ago in only the third time that the sale has been extended to two days….
https://www.thoroughbreddailynews.com/pdf/tdn/tdn200131e.pdf
In TDN Writer's Room Podcast, Mollica Discusses 
Difficulties Facing New York Trainers
Trainers who run on the New York circuit tend to have the best horses in the country and compete for some of the highest purses in North America. But attorney Drew Mollica, whose expertise is equine law, said that workmen's compensation costs and investigations conducted by the New York Sate Department of Labor have put many New York horsemen in a precarious position. Mollica made his comments on this week's edition of the TDN Writers' Room podcast in a segment sponsored by 
The Green Group
.
"New York is suffering terribly because the cost of doing business here has gotten out of control. The workmen's compensation costs are crazy," Mollica said.
To listen to the entire interview, and more on this week's news, presented by 
West Point Thoroughbreds
, click the link below for this week's TDN Writers' Room podcast.