TWO EMERGING SUPERSTARS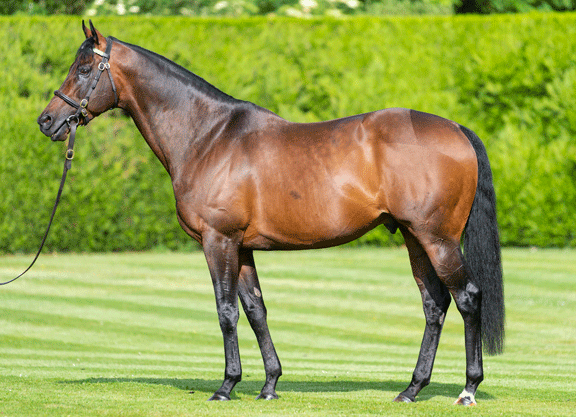 By John Boyce
The 2015 intake of new sires always had the potential to throw up a star. After all, among the group was top-class miler Kingman (GB), who had demonstrated his prowess on the racecourse, with stunning victories in four of the best mile races as a 3-year-old, following a narrow-margin lossin the G1 2000 Guineas at Newmarket. It also featured a host of other Group 1 winners, featuring the likes of Derby winners Australia (GB) and Ruler Of The World (Ire), plus Sea The Moon (Ger), Toronado (Ire), Olympic Glory (Ire), Charm Spirit (Ire) and War Command to name a few.
The group also contained the Timeform 118-rated No Nay Never, whose best performance came in the G1 Prix Morny at two. History now recounts that both Kingman and No Nay Never have made the strongest starts at stud among this group. But that fact in itself doesn't do justice to their effortsin the first two years of their careers. No Nay Never has so far accumulated 18 stakes winners by the end of his second season year with runners, the same count as the outstanding Dubawi (Ire) achieved at the same point in his career and behind only Frankel, who setsthe standard for the modern stallion with 20 stakes winners. No Nay Never'srace record may have been that of an archetypical juvenile with three unbeaten runs, featuring success in Royal Ascot's G2 Norfolk before his G1 Prix Morny victory…
https://www.thoroughbreddailynews.com/pdf/tdn/tdn191224e.pdf
Barlovento: Theft of Stallions' Meat was Motive
The Lieutenant | Shane Micheli Vassar photo
One day after its four stallions were killed in a break-in which saw the night watchman shot, Haras Barlovento in Peru has issued a statement indicating the perpetrators carried axes and that they believe the sale of the stallions' meat was the motive for the crime.
"We want to thank the countless calls and text messages of friends and also people we do not know with comforting words in these difficult times that we are living in, in the wake of the terrible events that occurred," the stud farm posted on Instagram. "The criminals who entered our stud killed our four stallions with axes to sell their meat in the most nightmarish way imaginable. Together with the meat of the four stallions, the medicines of the stud and the generator were taken. Our only wish is for these criminals to be subject to the full weight of the law."
Sunday morning, the farm reported that overnight, four stallions at the farm in Canete, Peru were killed by intruders. They were the American-based The Lieutenant (Street Sense), shuttling from Sequel Stallions in New York; Cyrus Alexander (Medaglia d'Oro); Timely Advice (A.P. Indy); and Kung Fu Mambo (Arg) (Giant's Causeway). ( fonte TDN)