| Ranking | Rating | Cat | Surface | Horse | YOF | Sex | Owner | Trainer | Trained |
| --- | --- | --- | --- | --- | --- | --- | --- | --- | --- |
| 1 | 130 | I | T | Cracksman (GB) | 2014 | C | Anthony Oppenheimer | John Gosden | GB |
| 1 | 130 | I | T | Winx (AUS) | 2011 | M | Magic Bloodstock Racing et al | Chris Waller | AUS |
| 3 | 128 | M | D | Gun Runner (USA) | 2013 | H | Winchell Thoroughbreds LLC & Three Chimneys Farm | Steven Asmussen | USA |
| 4 | 127 | I-L | T | Poet's Word (IRE) | 2013 | H | Saeed Suhail | Sir Michael Stoute | GB |
| 4 | 127 | I | T | Roaring Lion (USA) | 2015 | C | Qatar Racing Limited | John Gosden | GB |
| 6 | 126 | I | D | Accelerate (USA) | 2013 | H | Hronis Racing LLC | John Sadler | USA |
| 6 | 126 | M | T | Beauty Generation (NZ) (ex Montaigne) | 2012 | G | Patrick Kwok Ho Chuen | John Moore | HK |
| 6 | 126 | L | T | Crystal Ocean (GB) | 2014 | C | Sir Evelyn de Rothschild | Sir Michael Stoute | GB |
| 9 | 125 | L | T | Enable (GB) | 2014 | F | Khalid Abdullah | John Gosden | GB |
| 10 | 124 | M | T | Alpha Centauri (IRE) | 2015 | F | Niarchos Family | Jessica Harrington | IRE |
| 10 | 124 | S | T | Battaash (IRE) | 2014 | G | Hamdan Al Maktoum | Charles Hills | GB |
| 10 | 124 | I | D | Justify (USA) | 2015 | C | China Horse Club, Head of Plains Partners LLC et al | Bob Baffert | USA |
| 13 | 123 | M-I | T | Benbatl (GB) | 2014 | C | Godolphin | Saeed bin Suroor | UAE/GB |
| 13 | 123 | L | T | Cloth of Stars (IRE) | 2013 | H | Godolphin SNC | André Fabre | FR |
| 13 | 123 | M | T | Happy Clapper (AUS) | 2010 | G | M. W. Thomas | Patrick Webster | AUS |
| 13 | 123 | L | T | Magical (IRE) | 2015 | F | D. Smith, Mrs J. Magnier & M. Tabor | Aidan O'Brien | IRE |
| 13 | 123 | I | T | Rey de Oro (JPN) | 2014 | C | U Carrot Farm | Kazuo Fujisawa | JPN |
| 13 | 123 | I | D | Thunder Snow (IRE) | 2014 | C | Godolphin | Saeed bin Suroor | GB |
| 13 | 123 | S | T | Trapeze Artist (AUS) | 2014 | C | Vieira Racing, B. Vieira et al | Gerald Ryan | AUS |
| 13 | 123 | M | D | West Coast (USA) | 2014 | C | Gary & Mary West | Bob Baffert | USA |
| 21 | 122 | I | D | Catholic Boy (USA) | 2015 | R | Robert LaPenta, Madaket Stables LLC et al | Jonathan Thomas | USA |
| 21 | 122 | M | D | Good Magic (USA) | 2015 | C | e Five Racing Thoroughbreds & Stonestreet Stables LLC | Chad Brown | USA |
| 21 | 122 | I | D | Gunnevera (USA) | 2014 | C | Margoth | Antonio Sano | USA |
| 21 | 122 | S | T | Harry Angel (IRE) | 2014 | C | Godolphin | Clive Cox | GB |
| 21 | 122 | S | D | Roy H (USA) | 2012 | G | Rockingham Ranch & David Bernsen | Peter Miller | USA |
| 21 | 122 | L | T | Sea of Class (IRE) | 2015 | F | Sunderland Holding Inc | William Haggas | GB |
| 21 | 122 | L | T | Waldgeist (GB) | 2014 | C | Gestut Ammerland & Newsells Park | André Fabre | FR |
| 28 | 121 | S | D | Army Mule (USA) | 2014 | C | St. Elias Stables LLC | Todd Pletcher | USA |
| 28 | 121 | L | T | Best Solution (IRE) | 2014 | C | Godolphin | Saeed bin Suroor | GB |
| 28 | 121 | M | T | Hartnell (GB) | 2011 | G | Godolphin | James Cummings | AUS |
| 28 | 121 | S | T | Ivictory (AUS) (ex Chile Green) | 2013 | G | Michael T. H. Lee & Dr Henry Chan Hin Lee | John Size | HK |
| 28 | 121 | L | T | Masar (IRE) | 2015 | C | Godolphin | Charlie Appleby | GB |
| 28 | 121 | M | T | Recoletos (FR) | 2014 | C | Sarl Darpat France | Carlos Laffon-Parias | FR |
| 28 | 121 | S | T | Redkirk Warrior (GB) (ex Redkirk) | 2011 | G | M. B. Lee & Miss Y. C. J. Tan | David & Ben Hayes & Tom Dabernig | AUS |
| 28 | 121 | S | T | Redzel (AUS) | 2012 | G | Triple Crown Syndicate, Walfam No 2 et al | Peter & Paul Snowden | AUS |
| 28 | 121 | M-I | T | Saxon Warrior (JPN) | 2015 | C | D. Smith, Mrs J. Magnier & M. Tabor | Aidan O'Brien | IRE |
| 28 | 121 | I | T | Suave Richard (JPN) | 2014 | C | Nicks Co Ltd | Yasushi Shono | JPN |
| 38 | 120 | I | D | Audible (USA) | 2015 | C | China Horse Club, Head of Plains Partners LLC et al | Todd Pletcher | USA |
| 38 | 120 | S | T | Blue Point (IRE) | 2014 | C | Godolphin | Charlie Appleby | GB |
| 38 | 120 | M | D | City of Light (USA) | 2014 | C | Mr & Mrs William Warren Jr | Michael McCarthy | USA |
| 38 | 120 | M-I | D | Diversify (USA) | 2013 | G | Lauren & Ralph Evans | Richard Violette Jr | USA |
| 38 | 120 | I | T | Gailo Chop (FR) | 2011 | G | O. T. I. Racing | Darren Weir | AUS |
| 38 | 120 | M | T | Grunt (NZ) | 2014 | C | R. & C. Legh Racing Pty Ltd, Wright Racing Syndicate et al | Mick Price | AUS |
| 38 | 120 | L | T | Hawkbill (USA) | 2013 | H | Godolphin | Charlie Appleby | GB |
| 38 | 120 | S | D | Imperial Hint (USA) | 2013 | H | Raymond Mamone | Luis Carvajal Jr | USA |
| 38 | 120 | L | T | Iquitos (GER) | 2012 | H | Stall Mulligan | Hans-Jurgen Groschel | GER |
| 38 | 120 | E | T | Kew Gardens (IRE) | 2015 | C | D. Smith, Mrs J. Magnier & M. Tabor | Aidan O'Brien | IRE |
| 38 | 120 | L | T | Mikki Rocket (JPN) | 2013 | H | Mizuki Noda | Hidetaka Otonashi | JPN |
| 38 | 120 | M | D | Mind Your Biscuits (USA) | 2013 | H | Shadai Farm, J. Stables LLC et al | Chad Summers | USA |
| 38 | 120 | S | T | Mr Stunning (AUS) | 2012 | G | Maurice Koo Win Chong | John Size & Frankie Lor | HK |
| 38 | 120 | I-L | T | Pakistan Star (GER) | 2013 | G | Kerm Din | Tony Cruz | HK |
| 38 | 120 | I | T | Sungrazer (JPN) | 2014 | C | G 1 Racing Co Ltd | Hidekazu Asami | JPN |
| 38 | 120 | M | T | The Autumn Sun (AUS) | 2015 | C | Hermitage Syndicate | Chris Waller | AUS |
| 38 | 120 | M-I | T | Time Warp (GB) | 2013 | G | Martin Siu Kim Sun | Tony Cruz | HK |
| 38 | 120 | I | D | Yoshida (JPN) | 2014 | C | WinStar Farm LLC, China Horse Club et al | William Mott | USA |
fonte : International Federation of Horse Racing Authorities
Dubawi officially Hot: sire of the two best juveniles in European Classifications
Quorto (121) was clear second highest-rated and one of four Godolphin colts to appear in the top 16 in the latest juvenile classifications.
J A McGrath,  23 January, 2019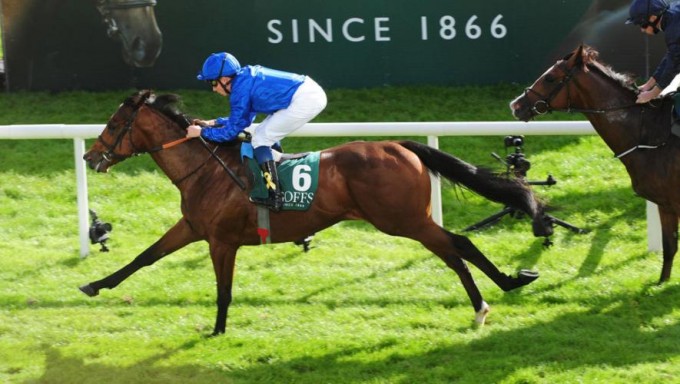 Darley stallion Dubawi is responsible for outstanding colts Too Darn Hot and Quorto, who are officially the two highest-rated two-year-olds in Europe in 2018.
The Classifications, compiled by a panel of handicappers and released in London today, feature the John Gosden-trained Too Darn Hot (rated 126) clear of his generation by 5lb.
The colt, unbeaten in four starts as a juvenile, including Newmarket's G1 Dewhurst Stakes, carries the colours of his breeder Lord Lloyd-Webber, with the breeding rights already purchased by Godolphin for when the impeccably-bred colt retires to stud at the end of his racing career.
His rating is the equivalent of Frankel as a two-year-old in 2010 — that year Frankel was rated equal to Dream Ahead.
The Charlie Appleby-trained Quorto (121) was clear second highest-rated and one of four Godolphin colts to appear in the top 16 in the latest juvenile classifications.
The Saeed bin Suroor-trained Royal Meeting (115), winner of Chantilly's G1 Criterium International, was rated 1lb ahead of the Appleby-trained Line Of Duty (114), the gutsy winner of the G1 Breeders' Cup Juvenile Turf at Churchill Downs.
The other Godolphin interest concerns Persian King (114), the ownership being shared with Ballymore Thoroughbred Limited.
Observations of the official handicappers were very interesting, particularly those of Irish official Mark Bird, who was responsible for the colt's mark after his win in the G1 National Stakes at the Curragh.
"He's the first Dubawi to win a G1 at two (in Europe). He was rated 115 after winning the G2 Superlative Stakes at Newmarket, and then 121 after taking the National Stakes, his best performance," Bird said.
"There is an argument that Quorto could get a mile and a half, but I'd be inclined to believe he is a mile and a quarter horse, at this stage. 
"He settles quite well, so I'm quite confident of him getting a mile and a quarter, but a mile and a half might be a stretch. I'm very excited about him," he added.
Graeme Smith, the English handicapper, was most impressed by Persian King. 
"He's the biggest and most handsome horse in the Classifications. He's massive (in size).
"He's very good, with the size and scope to be a fair bit better than his official rating," he added.
 fonte : Godolphin
Winx, Cracksman Co-Winners of World's Best Racehorse
Prix de l'Arc de Triomphe (G1) crowned Longines World's Best Horse Race a third time.
They were never less than 10,000 miles apart but when the final official judgement on 2018′s top racehorses was made, Australian icon 
Winx
and British heavyweight 
Cracksman
 were inseparable.
In a split decision that made an unconscious effort to satisfy two hemispheres, winning machine Winx and runaway Qipco British Champions Day victor Cracksman were hailed the Longines World's Best Racehorses at a Jan. 23 ceremony in London.
Winx, recently the recipient of the Secretariat Vox Populi Award to determine the world's most popular racehorse among global fans, had finished third in the 2016 Longines rankings and then second in 2017 at 132, while Cracksman was on that occasion a joint-third with 130.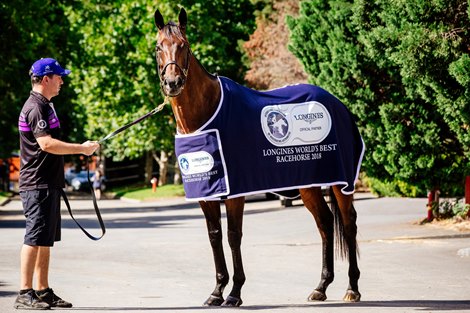 The latest judgement of their abilities was as much a confirmation as a revelation, as the two superstars, who not only never crossed swords but also experienced vastly different campaigns, had been tied at the top when the last interim standings for 2018 were published in November.
They remained tied on the same figure of 130, putting them two pounds clear of Southern California-based Breeders' Cup Classic (G1) winner Accelerate, who returns to the track in the $9 million Pegasus World Cup Invitational Stakes Jan. 26 at Gulfstream Park.
Accelerate's rating was also unchanged when the world's senior handicappers met in December, but there was slight tinkering further down the list, with Kentucky-bred multiple group 1 winner Roaring Lion, Hong Kong's outstanding miler Beauty Generation, and the long since retired Gun Runner  crossing the line collectively in fourth at 127.
Poet's Word, who defeated the John Gosden-trained Cracksman by 2 1/4 lengths at Royal Ascot, was dropped a pound from his November position to end up seventh at 126.
Then, laying equal claim on eighth, were Poet's Word's Sir Michael Stoute-trained stable companion Crystal Ocean, dual Prix de l'Arc de Triomphe (G1) heroine Enable and Triple Crown winner Justify .
There will inevitably be debate about the decision to share the principal spoils between Winx, two of whose owners, Debbie Kepitis and Peter Tighe, were in London with trainer Chris Waller to collect the prize, and Cracksman. They are the first joint-winners of the Longines World's Best Racehorse award since Black Caviar and Treve forced a dead-heat in 2013.
The Waller-trained Winx, who created racing history under Hugh Bowman in October when becoming the first horse ever to win four Cox Plates (G1), is in the midst of a 29-race winning streak and is expected to resume competition next month before likely retiring in April.
While Winx won all seven of her starts in 2018, Anthony Oppenheimer's Cracksman appeared on just four occasions, claiming the Prix Ganay (G1) and Coronation Cup (G1) before finding Poet's Word too strong at the royal meeting.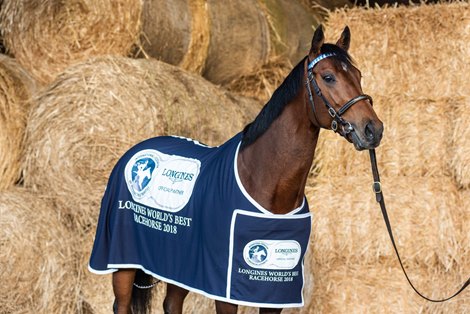 He was pulled out of three races, all reportedly due to ground conditions that were either good to firm or good, before overwhelming Crystal Ocean in the Qipco Champion Stakes (G1) on his favored soft ground. That tour de force was the reason for his 130 official figure.
Wide-margin Breeders' Cup winner Roy H was the world's best sprinter at 124.
A total of 332 horses trained in 17 different countries were rated 115 or higher. In comparison, 334 horses trained in 16 countries attained at least 115 in 2017.
Also honored on this occasion, the 2018 Longines World's Best Horse Race award was given to the Qatar Prix de l'Arc de Triomphe for the third time, with a rating of 125.
Longines and the International Federation of Horseracing Authorities (IFHA) were proud to honor the 2018 top Thoroughbreds and horse race during a ceremony at the iconic Landmark hotel in London Wednesday. 
The World's Best Racehorse honor is established by international handicappers according to the performance of the horses in top international races. 
    
The representatives of the three winning horses were presented with Longines watches by Walter von Känel, president of the brand. The connections of Winx and Cracksman also received a replica of the Longines World's Best Racehorse vase from IFHA representatives.
 
LONGINES World's Best Racehorse Rankings 
Leading Horses 
click here for complete rankings
 

Rank

Horse

Rating

Trained

1

CRACKSMAN (GB)

130

GB

1

WINX (AUS)

130

AUS

3

ACCELERATE (USA)

128

USA

4

BEAUTY GENERATION (NZ)

127

HK

4

GUN RUNNER (USA)

127

USA

4

ROARING LION (USA)

127

GB

7

POET'S WORD (IRE)

126

GB

8

CRYSTAL OCEAN (GB)

125

GB

8

ENABLE (GB)

125

GB

8

JUSTIFY (USA)

125

USA