UNA GRANDE GIORNATA AD AGNANO!
La giornata dei gp Mipaaft e Royal Mares, si è aperta al mattino con il convegno nazionale "Ippica e giustizia sportiva: idee a confronto e regole al passo con i tempi", svoltosi a Napoli nel roof garden dell'ippodromo di Agnano con gli interventi di Pier Luigi D'Angelo presidente Ippodromi Partenopei, Stefano Sedia vicepresidente AIGI Associazione Italiana Giudici Ippici, Alessandro Lazzaro coordinatore Giurie Trotto (Mipaaft) e Luigi Migliaccio giornalista Unire Tv e Trotto e Turf.

Partendo dai recenti ricorsi, primo tra tutti quello che ha interessato l'ammissione di Zlatan alla finale del Derby Italiano del Trotto, sono state discusse le criticità del rapporto tra gli "arbitri", gli operatori e gli utenti finali dello spettacolo ippico: dal rapporto tra giustizia sportiva e giustizia ordinaria all'utilizzo della clausola compromissoria, l'uniformità di giudizio da parte delle giurie che spesso mina il rapporto fiduciario con lo scommettitore e gli operatori ippici, la necessità di riscrivere alcune norme e di rendere il regolamento accessibile a tutti, il supporto delle immagini televisive e i rapporti delle giurie con i media, i costi della giustizia sportiva all'interno del sistema, gli effetti dell'eventuale riforma della giustizia sportiva annunciata dal Governo e infine l'inevitabile confronto con il mondo social.
Sul tema della revisione del risultato sportivo, Stefano Sedia, vicepresidente nazionale dei giudici ippici e presidente di giuria, risponde così "questo convegno ha dimostrato ancora una volta che il rapporto con i guidatori e gli allenatori é fondamentale e i giudici sono sempre stati favorevoli ad un confronto con gli operatori ippici perché solo da un proficuo e fattivo scambio di idee è possibile raggiungere il miglioramento della giustizia sportiva".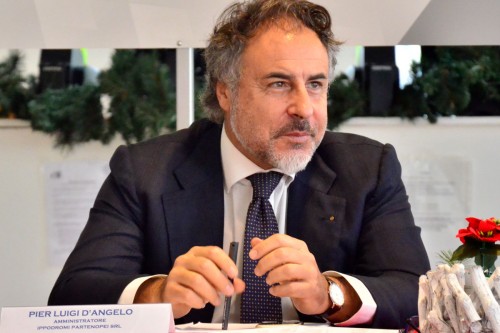 Pier Luigi D'Angelo presidente dell'Ippodromo di Agnano è intervenuto sul ruolo delle società di corse nell'ambito della segnalazione di eventuali condotte sanzionabili all'interno degli ippodromi e sull'uniformità del regolamento dell'Italia rispetto ai Paesi della scena ippica internazionale. "C'è bisogno che si applichino le stesse regole, le stesse normative, per gestire i comportamenti ai limiti del regolamento e quindi l'Italia deve uniformarsi al resto del mondo essendo, con altre nazioni, leader del trotto mondiale. É essenziale il ricorso alla clausola compromissoria perché non è possibile pensare di andare in un tribunale ordinario per stabilire l'ordine di arrivo di una corsa o di un gran premio. Occorre che gli operatori si rendano conto che tutti insieme cooperando possiamo migliora il prodotto per avere un'immagine migliore dell'ippica".
Tra gli interventi da platea quello di Massimo Gentile, avvocato ed ex commissario Encat, Raffaele Capasso allevatore, Guido Gnoffo consigliere di Ippica Nuova e vicepresidente dei gentlemen toscani, Vittorio Di Maro medico sportivo.
Ricco pomeriggio ad Agnano che chiude l'anno con una giornata internazionale di trotto, aperta in mattinata dal convegno nazionale sull'ippica e la giustizia sportiva. 
La cronaca delle corse ci racconta di All Wise As a segno nel gran premio Mipaaft Allevamento in 1.13.9 (gruppo 2, femmine europee di 2 anni, 88.000 euro, metri 1600). La figlia di Varenne, guidata da Bjorn Goop e allenata da Erick Bondo, corre con i colori della scuderia danese di Peter Wilhelmsen ma è allevata in Italia (Pietrasanta). Ordine di arrivo: 1 All Wise As (1.13.9 B. Goop), 2 A Sexygirl Par, 3 A Sexybomb Par, 4 Ariala Cash Sm, 5 Apple Wise As).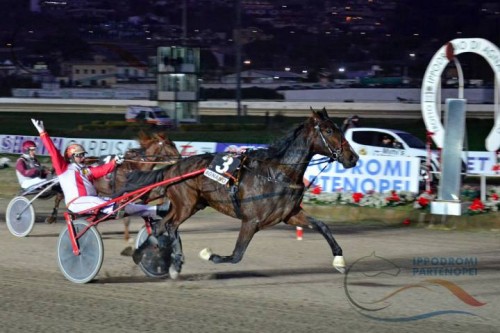 Nella prova open, un eccezionale Axl Rose ha vinto il gp Mipaaft Allevamento in 1.15 (gruppo 1 per 2 anni europei, 440.000 euro, metri 2100), guidato da Vincenzo Piscuoglio Dell'Annunziata ed ottimamente preparato da Alessandro Gocciadoro per i colori della scuderia Maria Alessandri di Emiliano Stecca, Rossana Amendola e Andrea Nicolò. "Portare un puledro a vincere un gruppo 1 è la realizzazione di un sogno per i proprietari e per me che vivo la doppia soddisfazione di aver vinto sulla pista di casa" ha detto il driver napoletano. "La corsa era prevista diversamente con il cavallo che doveva giocarsela in avanti invece allo stacco della macchina le cose sono andate diversamente e sono rimasto tranquillo nelle prime posizioni aspettando il momento di andare e dopo la curva, negli ultimi seicento metri, Axl ci ha messo del suo". Ordine di arrivo: 1 Axl Rose (1.15.0 Vincenzo Piscuoglio Dell'annunziata), 2 Granon Vedaquais, 3 Anita Roc, 4 Amancio).
Nel gp Royal Mares Allevamento Garigliano, internazionale riservato alle femmine anziane (gruppo 2, euro 88.000 metri 1600) Trendy Ok bissa la vittoria del 2017 e si conferma quest'anno la migliore femmina italiana, vantando il record femminile mondiale (10.2) su duemila metri in pista da chilometro. Una gran cavalla che sulla pista di Agnano si trova particolarmente bene. Con i colori della scuderia Verner, la figlia di Varenne ha vinto con la guida e il training di Alessandro Gocciadoro (1.11.1) che ha commentato così in premiazione "ho cercato di evitare lo strappo iniziale perchè avevo lo scomodo numero basso del 2, superata la prima curva sono andato sul mio binario quindi accompagnando il battistrada ho vinto in maniera netta, non ho nemmeno chiuso la breglia". Ordine di arrivo: 1 Trendy Ok (1.11.1 A. Gocciadoro), 2 Pantera Del Pino, 3 Sonia, 4 Stella Di Azzurra, 5 Super Star Reaf.
https://www.ippodromoagnano.it/news/comunicati-stampa/item/2768-ad-agnano-si-e-discusso-di-giustizia-sportiva-nell-ippica. 
fonte : Ippodromo di Agnano
GOFFS : Altior Headlines Graded Race Bonanza For Goffs Land Rover & Punchestown Sales
A super weekend of National Hunt racing was dominated by Goffs graduates, with Altior's Grade 1 Tingle Creek victory headlining six Graded wins for Land Rover and Punchestown Sale horses, alongside some hugely exciting debut wins over hurdles and fences for graduates of both sales who enjoyed Graded wins last season. 
Altior pictured en route to a seventh Grade 1 success, landing a thrilling Tingle Creek Chase at Sandown on Saturday.
The weekend Roll of Honour includes:
 
ALTIOR – Land Rover Sale
Grade 1 Tingle Creek Chase, Sandown
Sold by Kilmoney Cottage Stud to Highflyer Bloodstock for €60,000

DEFINITLY RED – Land Rover Sale
Grade 2 Many Clouds Chase, Aintree
Sold by Rathvin Stud to Brian Hamilton for €13,500
 
CHARBEL – Punchestown Sale
Grade 2 Edredon Bleu Chase, Huntingdon
Sold by Sandra McCarthy to Jill Lamb Bloodstock for €280,000
 
HARDLINE – Land Rover Sale
Grade 3 Klairon Davis Novice Chase, Navan
Sold by Clifton Farm to Mouse Morris for €155,000
 
CASTLEGRACE PADDY – Punchestown Sale
Grade 3 Klairon Davis Novice Chase, Navan
Sold by Cobajay Stables to Gerry Hogan Bloodstock for €75,000
 
DERRINROSS – Land Rover Sale
Grade 3 Stayers Novice Hurdle, Cork
Sold by Castletown Quarry Stud to Philip Dempsey for €28,000
 
GETABIRD – Punchestown Sale
Gain Supporting Laois GAA Beginners Chase, Punchestown
Sold by Milestone Stables to H Kirk/ W Mullins for €200,000
 
TORNADO FLYER – Land Rover Sale & December NH Sale
Punchestown Racecourse Of The Year Maiden Hurdle, Punchestown
Sold by Grange Stud to GH Bloodstock for €30,000 at the December NH Sale, and by Pine Tree Stud to Peter & Ross Doyle Bloodstock at the Land Rover for €63,000
 
I CAN'T EXPLAIN – Land Rover Sale
Novice Hurdle, Sandown
Sold by Rathturtin Stud to Noleen Greaney for €15,000
 
DUE REWARD – Land Rover Sale
Novice Hurdle, Punchestown
Sold by Blackcastle Stud to Aidan O'Ryan for €42,000

BREWIN'UPASTORM – Land Rover Sale
ABF The Soldiers' Charity Novice Hurdle, Huntingdon
Sold by Leinster Farm to Tim Hyde Jnr for €35,000

Congratulations to all winning connections!
Punchestown Sale graduate Charbel pings the last in the Grade 2 Edredon Bleu Chase at Huntingdon yesterday
The next opportunity to purchase top class National Hunt stock at Goffs is at this week's December National Hunt Sale on Wednesday and Thursday.  The sale begins at 10am each day.
He's finally done it. At his fourth attempt, Triple Nine has won the Grand Prix Stakes. The four-time President's Cup winner saw off Cheongdam Dokki, Today and Dolkong. Here it is: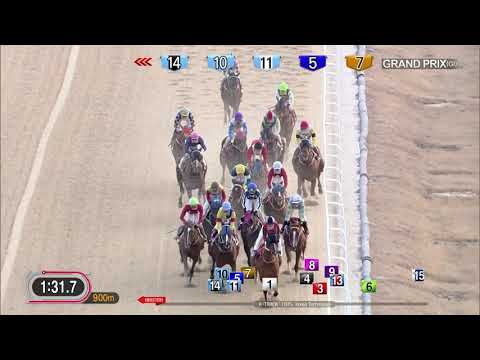 It was another super performance from the oh-so-reliable six-year-old and in winning, Triple Nine broke the US$4 Million barrier in prize money and shows no signs of losing any of his ability. Jockey Lim Sung Sil put in a solid ride (the 1 Million Won he was fined for overuse of the whip in the home straight notwithstanding) while it was another remarkable training performance from Kim Young Kwan's team, who also managed to get Today home in a surprise 3rd place.
Some thoughts on the race a day later. Aside from Triple Nine, Cheongdam Dokkishowed character to fight back after being headed in the straight.  He went significantly slower up front than last year (conditions playing a role in that) controlling the race well. The distance is not his best but he almost did it.
Today only qualified for the race by virtue of the points Korean-trained horses are awarded for participating in overseas and his 3rd place at Kranji in the KRA Trophy over 1200M was enough to get him in. Prior to the race, most debate was about whose race he was likely to ruin – would it be Cheongdam Dokki's by engaging him in a speed duel in which they would both cook themselves? Or would it be by getting on the way of a horse trying to muster a strong finish when he inevitably weakened?
Soon after the start though, when jockey Lee Hyo Sik took a sit behind Cheongdam Dokki, there was a creeping realisation among observers that Today was in the race in order to win. At odds of 60/1, he came very close.
Had Dolkong drawn a barrier, things may have been different. From gate 16, Antonio Da Silva was never able to get into a comfortable position and had to spend the entire race at least three wide. He was still only beaten by just over two lengths in 4th. His career having been blighted by injury, Dolkong is a massive talent. He heads now to Meydan for the Dubai Carnival where there is every chance he will run very well.
Two other horses in the race are also scheduled to go to Dubai. Dolkong's stablemate Choego Money was reasonably prominent throughout but didn't quicken late on while Bart Rice's Buhwarui Banseok had an off-day. Both may show their true ability in different conditions at Meydan.
Thomas Gillespie's Great King ran well for 5th place while looking to the future, Moonhak Chief ran well in 6th, a full seven-lengths clear of the next one home, and was the best of the three-year-olds in the race. Who's to say though that the future won't involve Triple Nine once more? He's now done it all. Don't rule him out of doing it again.