France Galop announces course will close at the end of 2019 season
By Scott Burton, 
Rumours had been circulating for nearly a week but there was still shock and dismay in the French racing community at the announcement on Wednesday morning that racing at Maisons-Laffitte will cease at the end of next season.
The track, with a history dating back to 1878, is most famous for its 1m2f straight track and is the venue for two of France's most important Classic trials, the Prix Djebel and the Prix Imprudence.
Other important races staged at the course, which lies in the western suburbs of Paris, include the juvenile Group 2s such as the Prix Robert Papin and the Criterium de Maisons-Laffitte. 
The plan to close Maisons-Laffitte after the last of its 24 scheduled racedays in 2019 was announced in tandem with a €1.5 million investment designed to restructure the town's training centre – which has capacity for 1,500 horses but currently houses around a third of that number. The scheme will result in the loss of 31 jobs.
Supporters of Maisons-Laffitte begin to mobilise
An online petition launched by the Save Maisons-Laffitte campaign had already garnered more than 3,300 signatures by the middle of Wednesday afternoon.
In advance of the announcement the town council unanimously passed a motion on Tuesday evening to fight the decision. It was proposed by the mayor, Jacques Myard, a former senator and the fiercest defender of the racecourse over a number of years.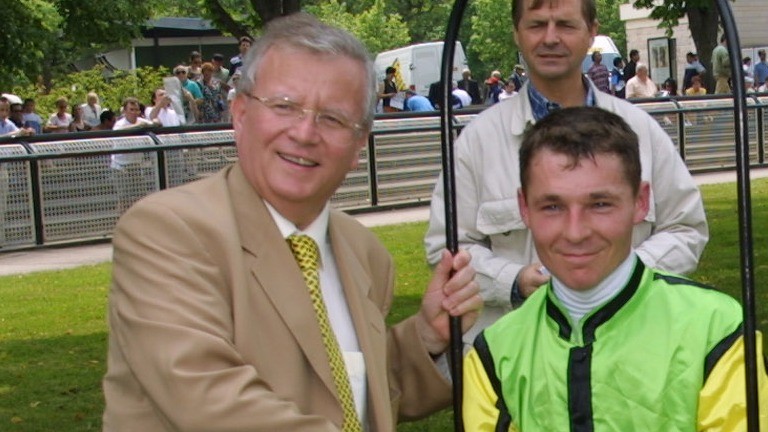 Mayor of Maisons-Laffitte Jacques Myard (left) will be a key figure in the fight to save the racecourse
APRH
The motion declared the council "firmly opposed the decision [to close the track] which is against the interests of relaunching the racing industry in a broader sense".
It added: "The mayor is mandated to bring any and all means to bear on the public powers and to France Galop in order to have this disastrous decision suspended and then abandoned for good, and to preserve Maisons-Laffitte's entire racing and equestrian site."  
Maisons-Laffitte has been dogged by a number of issues in recent years, including flooding from the adjacent River Seine and horses slipping on the right-hand turn on the round course.
But it is France Galop's attempts to balance the books that has led its Central Economic and Social Committee to recommend the closure of the track.
A plan to study the viability of Maisons-Laffitte submitted in 2013 under the previous France Galop president, Bertrand Belinguier, was vigorously fought by unions and racing professionals, leading to its abandonment.
Savings were subsequently made by not renewing the lease to stage jump racing at Enghien, while the last major Parisian racecourse to be closed was Evry in 1996. ( fonte : RacingPost)