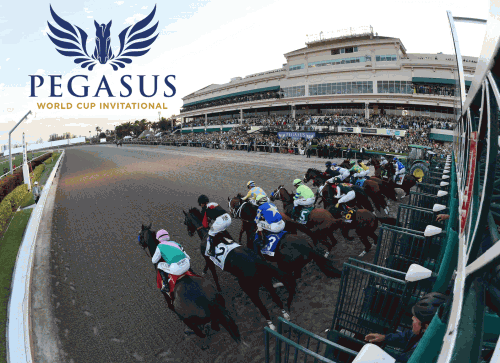 Se volete vedere i live streaming della corsa cliccate su : QUI e QUI.
Entries, odds and post positions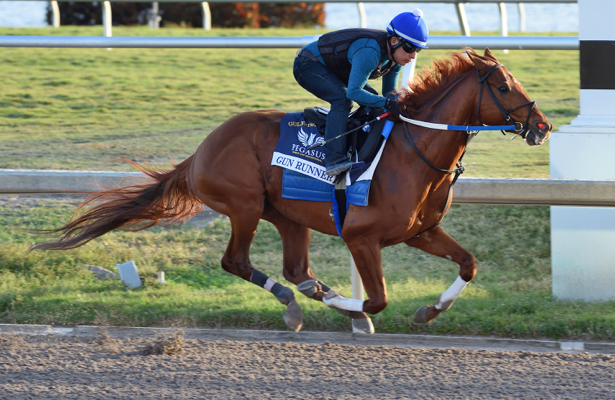 Photo: Lauren King/Gulfstream Park
With a short run up to the first turn at Gulfstream Park, the post position draw for the Saturday's 
2018 Pegasus World Cup
 took on larger importance — and provided prohibitive Horse of the Year Gun Runner a bit of a challenge coming from the No. 10 slot.
The Steve Asmussen trainee is a 4-5 morning line favorite in the field of 12, which also contains two also-eligibles in the event of a late scratch.
An immediate reaction from Gun Runner's connections?
Owner Ron Winchell on Twitter: "Can't say I like Gun Runner's post draw!"
• RELATED: Full-field Pegasus World Cup analysis
The Pegasus winner earns $7 million of the total $16 million Pegasus purse with the 1 1/8-mile race in its second year. NBC will broadcast the race from 4:30-6 p.m.
Pegasus World Cup field
PP. Horse (trainer/jockey) ML odds
1. Singing Bullet (Dale Romans/Robby Albarado) 30-1
2. West Coast (Bob Baffert/Javier Castellano) 8-1
3. Stellar Wind (Chad Brown/Joel Rosario) 30-1
4. Sharp Azteca (Jorge Navarro/Irad Ortiz Jr.) 6-1
5. Collected (Bob Baffert/Mike Smith) 8-1
6. Gunnevera (Antonio Sano/Luis Saez) 15-1
7. Fear The Cowboy (Efren Loza/Tyler Gaffalione) 30-1
8. War Story (Jorge Navarro/Jose Ortiz) 25-1
9. Toast of New York (Jamie Osborne/Frankie Dettori) 20-1
10. Gun Runner (Steve Asmussen/Florent Geroux) 4-5
11. Seeking the Soul (Dallas Stewart/John Velazquez) 25-1
12. Giant Expectations (Peter Eurton/Gary Stevens) 30-1
fonte : www.horseracingnation.com
2018 PEGASUS WORLD CUP ENTRIES AND STAKEHOLDERS
How the Pegasus World Cup works is simple. The race is comprised of 12 stakeholders, each representing a group of individuals and owner groups that purchased a spot in the starting gate for $1 million each. For 2018, another $4 million will be contributed by The Stronach Group, making the purse an astronomical $16 million. The Pegasus World Cup draw has been completed, so here are the official 2018 entries, odds, and stakeholders for the Pegasus World Cup Invitational.
| P# | HORSE | TRAINER | JOCKEY | OWNER | LESSEE | ML ODDS |
| --- | --- | --- | --- | --- | --- | --- |
| 1 | Singing Bullet | Dale Romans | Robby Albarado | Stronach Stables | Pegasus Race Participants, LLC | 30-1 |
| 2 | West Coast | Bob Baffert | Javier Castellano | Gary and Mary West |   | 8-1 |
| 3 | Stellar Wind | Chad Brown | Joel Rosario | Mrs. John Magnier, Michael Tabor, Derrick Smith |   | 30-1 |
| 4 | Sharp Azteca | Jorge Navarro | Irad Ortiz, Jr. | Ivan Rodriguez and Martin Scharf | Ron Paolucci, Ashley Quartarolo | 6-1 |
| 5 | Collected | Bob Baffert | Mike Smith | Speedway Stable LLC |   | 8-1 |
| 6 | Gunnevera | Antonio Sano | Luis Saez | Margoth | Gallo Stables | 15-1 |
| 7 | Fear the Cowboy | Efren Loza, Jr. | Tyler Gaffalione | Kathleen Amaya and Raffaele Centofanti | Stronach Stables, Ronald Frankel and Jerry Frankel | 30-1 |
| 8 | War Story | Jorge Navarro | Jose Ortiz | Looch Racing Stables, Inc., Glenn K. Ellis and Imaginary Stables | Pegasus Race Participants, LLC | 25-1 |
| 9 | Toast of New York | Jamie Osborne | Frankie Dettori | Al Shaqab Racing | Reeves Thoroughbred Racing, R.A. Hill Stable, Eric Young | 20-1 |
| 10 | Gun Runner | Steve Asmussen | Florent Geroux | Winchell Thoroughbreds LLC and Three Chimneys Farm |   | 4-5 |
| 11 | Seeking the Soul | Dallas Stewart | John Velazquez | Charles E. Fipke |   | 25-1 |
| 12 | Giant Expectations | Peter Eurton | Gary Stevens | Exline-Border Racing LLC, Gatto Racing LLC and Garrett Zubok | Pegasus Race Participants, LLC | 30-1 |
Pegasus World Cup Preview: One Last Show for Gun Runner 
Despite all the skeptics, the second annual Grade 1 Pegasus World Cup is still a go! The race now boasts a $16 million purse, up from $12 million last year, making it the richest race in the world. Also, the field has once again attracted the best horses in the country. Last year, Arrogate and California Chrome squared off, and this year is no different, as the top three finishers from the Breeders' Cup Classic are set to do battle.
Of course, the main story of the race will be the final start for 2017 Horse of the Year Gun Runner. The 5-year-old colt comes into the race with four straight Grade 1 victories and will be the odds-on favorite to make it five in a row. Assistant trainer Scot Blasi seems happy with how Gun Runner is coming into the race.
"He's in such good condition right now, and he's so fit, when you get him off that van, off an airplane, he knows where he's at and what he's getting ready to do," Blasi said. "He's just such a champion. He takes everything in stride. Never had a problem shipping, I think this is his 12th or 13th different racetrack he's run at. It's kind of old news to him. It's probably more stressful on us than him. We expect him to settle in and train, get a little work over the racetrack, and school in the paddock a time or two."
Gun Runner's biggest challenge will come from the Bob Baffert-trained duo of Collected and West Coast. Baffert appeared pleased with both colts coming into the race.
"West Coast went really well," Baffert said after the drill at 7:45, when temperatures were rising from just above the freezing mark of two hours earlier. "He's coming into the race without any bumps in the road, like any other big race.
"I'm pretty happy. We gave him a stiff work the other day (a 6-furlong gate drill in a bullet 1:12, in company with Cat Burglar, last Sunday), but today, he was on it. He wanted to do more. He looked great coming off the track. I felt really good about his work."
As for Collected, the Hall of Fame trainer wasn't worried about his most recent performance, a disappointing third in the Grade 2 San Antonio.
"We didn't really super-crank him for it," Baffert said. "We're taking the Pegasus with a different approach. He'll be ready."
One Pegasus entry that competed at the Breeders' Cup, but not the Classic, is Sharp Azteca. The Jorge Navarro-trained colt ran second in the Breeders' Cup Dirt Mile before recently shipping to Aqueduct to take the Grade 1 Cigar Mile. Sharp Azteca possesses plenty of early speed and loves running at Gulfstream Park. The distance of a mile and 1/8 seems to be the only major question mark.
The Grade 1, $16 million Pegasus World Cup will go off as the last race on a 12-race card at Gulfstream Park on Saturday. The full field from the rail out includes: Singing Bullet, West Coast, Stellar Wind, Sharp Azteca, Collected, Gunnevera, Fear the Cowboy, War Story, Toast of New York, Gun Runner, Seeking the Soul, and Giant Expectations.
TOP CHOICE
#10 Gun Runner – The 2017 Horse of the Year makes the final start of his career. He's coming into the event on a four-race winning streak. He's clearly the one to beat, and if he brings his best race, then the others are running for second. Last year, everyone was raving about Arrogate after winning this race and the Dubai World Cup, but Gun Runner's streak could be equally impressive, especially if he can cap off his career with a win here. His Breeders' Cup Classic score was one of the more impressive performances that you'll ever see, as he set very fast fractions and still held off all challengers with relative ease. I expect one more big-time performance from him in his final race.
HORSES TO USE IN MULTI-RACE WAGERS
#2 West Coast – After picking up 3-Year-Old of the Year honors in 2017, he projects to be even better as a 4-year old. This could end up being a passing of the torch, with Gun Runner retiring and West Coast taking over as the top older horse in the country. With that being said, his first challenge will be proving that he's the best horse in his own barn, since Collected finished ahead of him in the Breeders' Cup Classic. However, West Coast seems to have the most upside, and I love that Javier Castellano will be riding him in this spot. He seems to be the biggest threat to the heavy favorite.
#4 Sharp Azteca – Based on talent alone, this is the second-best horse in the race. He's coming off of an ultra-sharp win in the Cigar Mile, but can this horse get the distance? If it were run at a mile, he'd have a big shot, but the mile and 1/8 is worrisome. Still, his talent and early speed make him dangerous. Navarro has been raving about how well Sharp Azteca is doing, and his workout lured Loooch Racing to make a deal with the owner to enter him. If this horse can get the distance, then he's going to have a big shot. He loves Gulfstream Park as well, which adds more intrigue. Hopefully, his price will be around the 8-1 range, which will make him more than playable.
EXOTIC PLAYS
#5 Collected – He finished second to Gun Runner in the Breeders' Cup Classic after beating Arrogate in the Grade 1 Pacific Classic, but his last race left a lot to be desired. He finished third in the San Antonio as the heavy favorite due mostly to a poor ride, but he still didn't look like himself. There's no doubt that he's going to have to bounce back, but Baffert seems confident after his latest workout. Jockey Mike Smith just needs to let the horse do his thing this time around: let him get to the front and see how far he can take them.
#11 Seeking the Soul – This up-and-coming prospect took home the Grade 1 Clark Handicap last time out at Churchill Downs. Trainer Dallas Stewart has slowly and steadily improved him with each race, and he comes into this event in the best form of his life. He has solid rider John Velazquez aboard as well, and the price should be right. He'll definitely be a player underneath in this race as he continues improving.
#6 Gunnevera – Getting to run the biggest race of his career at his home track should be a big advantage. He looks to be training steadily leading up to the race, but he'll have to improve off of his poor showing in the Breeders' Cup Classic. He will also need plenty of pace to run at, which he could get, as several entries can show early speed. He'll drop back towards the back of the pack and make one run, so he's a horse to use underneath in exotics.
PARTY CRASHERS
#9 Toast of New York – Absolutely amazing story about this horse: he was retired as a stud, didn't get a lot of interest, and has now come back to racing. If this was 2015, then I would label this guy a major player, but what kind of form will he bring with him? He has just one race under his belt in the last four years, prepping for this event overseas, but at least it was a win. In the 2014 Breeders' Cup Classic (below), he was right there with Bayern and California Chrome in the end but fell just short of winning. Can he possibly run that type of race again?
THROW OUTS
#12 Giant Expectations – He earned his way into the race after an upset wire-to-wire win in the San Antonio. He'll need a lot to go his way in this spot, but his last workout leading up to the race signals that he's ready. Still, he needs some luck and a perfect trip to have a chance.
#3 Stellar Wind – After a terrible performance in the Grade 1 Breeders' Cup Distaff, she was supposed to retire, but here she is entered in this spot. She seems a little overmatched and might just want to be retire and be a mom. I'm skeptical of what kind of horse is going to show up for this one.
#8 War Story – He always seems a bit disrespected, but at times, he can run a big race and surprise you at long odds. He's probably not a threat to win, but he is a logical bomb to use underneath if you really want to take a major swing.
#7 Fear the Cowboy – He won the Grade 3 Harlan Holiday Stakes here last time out, but this is a tremendous jump up in class. He almost seems to have been entered just so that the race would have a full field of 12 horses.
#1 Singing Bullet – He's an incredible longshot here, as he's never won anything higher than an allowance race. He's definitely just a horse that was entered to help fill out the field.