Laugh Aloud reigns supreme in Princess Elizabeth Stakes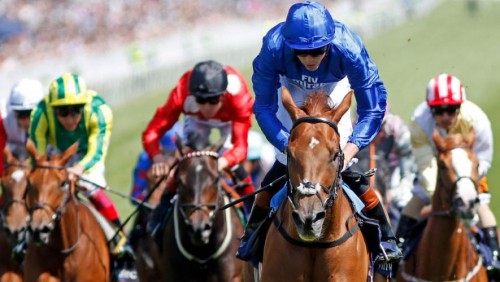 Laugh Aloud continued her upward curve with a very impressive win in the G3 Princess Elizabeth Stakes over an extended mile at Epsom Downs, UK, on Derby Day, Saturday, June 3. 
The John Gosden-trained four-year-old, a Listed winner under a penalty at Goodwood on May 6, disputed the early running before settling in third after the first quarter-mile for James Doyle. 
The Dubawi filly was angled out in the straight and quickened powerfully to take up the running on the outside with a furlong and a half to race. 
Laugh Aloud went away from her nine rivals and was eased on the line to score by five lengths in 1m 41.54s on ground described as good, good to firm in places. 
John Gosden said: "She is a lovely filly and improving with age.
"She normally likes to bowl along in front but I said to James that there were a couple of others who liked to go on.
"He said if they go, we will sit in. Laugh Aloud picked them up and won in great style. The track at Epsom is always a concern when a horse has never raced here – going downhill at that pace – but she quickened well.
"She won well the other day and this was a good performance and, all being well, she will go to the G2 Duke Of Cambridge at Royal Ascot.
"We've just won a G3, if we go and win a G2, then we would consider a G1. She's going the right way and is more settled in her mind this year."
James Doyle added: "That was quite something wasn't it?" 
"It was an explosive performance. It is nice that she is versatile now.
"She was one that liked to get out on the front end and enjoy herself before but there were a couple in the race today that I thought would be hassling her all the way.
"John and I spoke about it beforehand and decided, if one wants to go, we would take a lead and get her to switch off, which is exactly what she did. She's a filly that as appreciated being in front in her previous runs – I just think it's helped her relax and settle down.
"She was impressive – when I let her go, she travelled into the race so well and scampered up the hill. It felt good. The only moment's worry I had was to get a bit of space so, when they started to roll down the hill, I just eased her to the outside. I think she would have won even if I'd have found trouble though!
"I think she could make an impact at an even higher level. She deserves a crack at a G1 race now. She has won a couple of Listed races and now a G3, so she is going in the right direction. 
"That was a pretty authoritative performance, so she definitely deserves a crack at it. Talking to John after the race, the Duke Of Cambridge (G2, 1m, June 21, Royal Ascot) could be the race for her and we'll see what happens after that."
fonte : Godolphin
Ferguson Resigns From Godolphin; Osborne Named Interim Chief Executive
John Ferguson and Sheikh Mohammed at Tattersalls in 2010 | racingfotos.com
John Ferguson, longtime advisor to Sheikh Mohammed bin Rashid Al Maktoum, has resigned from his post as chief executive and racing manager of Godolphin. Originally reported in Racing Post, the news comes after that publication ran an interview with Godolphin trainer Saeed bin Suroor last week revealing a breakdown in communication between the two men. Joe Osborne, managing director of Godolphin in Ireland, will take up the position of interim chief executive of Godolphin, which has operations in Dubai, Britain, Ireland, the U.S., Australia and Japan.
"We are committed to our objective of achieving success for His Highness Sheikh Mohammed and his family," Osborne said. "Our thanks go to John Ferguson for his longstanding contribution to Godolphin and Darley."
In a story published by Racing Post last week, bin Suroor-who has trained for Sheikh Mohammed for 22 years and ran three horses in last weekend's Derby-revealed he has experienced a myriad of frustrations since the resignation of former Godolphin racing manager Simon Crisford in 2014 and the departure of former stable jockey Frankie Dettori two years prior. Bin Suroor alluded to a breakdown in communication between himself and Ferguson, saying, "Sheikh Mohammed makes the decisions at Stanley House [Stables], nobody else."
Bin Suroor also lamented the requirement last year for him to use retained Godolphin rider James Doyle, and described this year's 2-year-old intake as being "behind by miles," in comparison to what he normally receives.
Bin Suroor, who trained Sheikh Mohammed's 1995 Derby winner Lammtarra as well as the likes of Mark Of Esteem, Sakhee, Daylami, Dubai Millennium and Fantastic Light, has since 2014 split British training duties for Godolphin with Charlie Appleby, whose assistant is Ferguson's son James.
Ferguson, bloodstock advisor to Sheikh Mohammed for more than 30 years, was named chief executive and racing manager of Godolphin in December 2015 when it was announced Sheikh Mohammed's Godolphin and Darley empires would be merged. At that time Ferguson ended his brief but successful career as a jumps trainer based in Newmarket. Ferguson said in a statement on Tuesday, "Given the recent articles in the media, it was clear my position [with Godolphin] was untenable. At times such as these, what matters is the future and my stepping down will allow everyone to draw a line under things and move forward. All the staff at Godolphin are wonderful people who work so hard for the greater good and I want to thank each and every one. His Highness Sheikh Mohammed has given me so much over the years–trust, opportunities, amazing experiences and, perhaps most importantly, his kindness and counsel. For all these things I thank him with all my heart."
fonte : TDN
#Godolphin: John #Ferguson si dimette da team manager dello Sceicco, dopo la sparata di Saeed Bin Suroor sul RP
La notizia era nell'aria. Dopo la "sparata" di qualche giorno fa da parte di Saeed Bin Suroor, John Fergunson, per molto tempo advisor di Sheikh Mohammed bin Rashid Al Maktoum, ha rassegnato le dimissioni da chief executive e racing manager di Godolphin in seguito a delle frizioni che erano maturate negli ultimi tempi e di cui aveva dato pubblicamente menzione il trainer dubaiano sulle colonne del Racing Post. A sostituire Ferguson sarà Joe Osborne, ex managing director di Godolphin in Irlanda, che ora prenderà in mano le fila del discorso per le operazioni blues in tutto il mondo ed in particolare a Dubai, in UK, in America, Australia e Giappone.
In una storia pubblicata dal Racing Post la scorsa settimana bin Suroor, che lavora per lo Sceicco da 22 anni ed ha presentato recentemente 3 cavalli nel Derby, ha rivelato di aver vissuto un periodo di enormi frustrazioni da quando Simon Crisford ha annunciato le dimissioni da manager Godolphin 3 anni fa nel 2014. E non solo, anche da quando Frankie Dettori è stato cacciato via come primo jockey, alludendo ad ad una rottura forte della comunicazione tra lui e Ferguson, dicendo che Sheikh Mohammed è l'unico che prende le decisioni a Stanley House, nessun altro. 
Bin Suroor ha altresì dichiarato, lamentandosi, dell'imposizione di James Doyle come primo fantino, ma non solo. Saeed ha allenato per Sheikh Mohammed cavalli come 
Lammtarra
, vincitore del Derby 1995, ed altri come 
Mark Of Esteem, Sakhee, Daylami, Dubai Millennium e Fantastic Light
, mentre recentemente gli sono stati assegnati cavalli "meno" da Derby, preferendo Charlie Appleby che ha come assistente il figlio di Ferguson, James. Ferguson stesso, bloodstock advisor dello Sceicco per 30 anni, ha dichiarato: "Dopo i recenti articoli sui media la mia posizione era diventata insostenibile. Mi faccio da parte, auguro il meglio ad un team formidabile che ci mette tanto cuore ed impegno, e ringrazio pubblicamente per tutte le possibilità che mi sono state offerte Su Altezza Sheikh Mohammed". 
Leading European Sires by YTD NA & EU Earnings




 

After a big weekend of racing in Europe, Haras de la Cauviniere's Rajsaman (Fr) has moved to the four spot on the Leading European Sires by Earnings list, thanks to Brametot (Ire)'s G1 Prix du Jockey Club victory. After Wings of Eagles (Fr)'s upset in the G1 Epsom Derby his sire, Pour Moi (Ire), moves up to the sixth place in the rankings. 

But which sires hold the top three spots? Click here to find out! 
GOFFS. Land Rover Sale Preview: RATHMORE STUD
In today's Land Rover Sale preview, Aisling Crowe turns the spotlight on the draft from Rathmore Stud, consistently among the leading consignors at the sale each year…
 
The success of the Goffs Land Rover Sale is based on the quality stores purchasers are guaranteed to find every June but also on the ambience created by the blend of exciting horses and friendly atmosphere, something not lost on Peter Molony who consistently produces drafts of excellent horses for the sale each June under the banner of his Rathmore Stud in Limerick.
 
"Since I joined the Goffs team as an agent I have concentrated on selling there," Molony reveals. "The Land Rover has a great buzz about it and the team at Goffs look after potential purchasers very well. People love coming back to the sale to buy horses because it gets good results. It was the leading store sale at Cheltenham this year, for the fourth year in row. Horses sell very well here because they produce results on the track."
 
The Land Rover Sale was the only National Hunt store sale to provide winners at the 2017 Cheltenham Festival with four winning graduates including two Grade 1s at jump racing's most prestigious meeting.
 
Altior, whose stunning Arkle triumph was spine-tingling, ended the season beating the Champion Chaser Special Tiara in the Grade 1 Celebration Chase at Sandown and was sold at the 2013 Land Rover Sale. Grade 1 Neptune Investment Novices Hurdle hero Willoughby Court went under the hammer at the Land Rover Sale of 2014.
 
Rathmore Stud has become renowned as a source of top class winners and a cursory glance at the most recent horses to have come through the Limerick nursery and Land Rover sales ring speaks eloquently for the calibre of horse that Molony sells.
 
"From the last few years, we had OO Seven and Tombstone in the one draft in 2013. To have two exciting horses, proper horses sell at the same Land Rover sale is fantastic. Last year we sold Rapid Escape to Gordon Elliott who went on to make £240,000 at the sales after winning his point-to-point."
 
A Rathmore graduate who could add more lustre to the glowing reputation of the farm in the future is Pym, who Molony sold at the 2016 Land Rover Sale to David Minton and Nicky Henderson.  The son of Stowaway was an impressive winner of his only start so far, in a bumper at Ayr's Scottish National meeting in April.
 
"Nicky Henderson says he is the best bumper horse they have at Seven Barrows and one to look forward to," adds Molony.
 
This month Rathmore consigns a strong team of 14 horses for the Land Rover sale and Molony highlights three potential stars in their midst.  The first comes very early in the catalogue, selling as Lot 29, and will be the horse to start the sale for Rathmore.  "He is a very nice Fame And Glory gelding, very good-looking horse and I am keen on him," is Molony's appraisal.
 
From Fame And Glory's first crop, the bay is out of the winning Kahyasi mare Larkbarrow who has produced two winners from three runners so far, and is herself a half-sister to Grade 2 winning chaser Frisco Depot by King's Theatre and the blacktype pair of Royale Knight and Miss Ballantyne.
 
Lot 171 is described by the vendor as 'a very good Stowaway gelding,' from the final full crop of the Whytemount Stud sire who passed away in February 2015. The bay is the fourth foal of a Presenting half-sister to the classy hurdler and chaser Time For Rupert by Flemensfirth, who was runner-up to Big Buck's in the Grade One World Hurdle at Cheltenham.
 
Completing the trio is the standout filly in the team, Lot 208 and Molony says: "She is a half-sister by Yeats to Tombstone, who we sold to Gordon Elliott here four years' ago and has been second in a couple of Grade 1 novice hurdles so far."
 
They hail from a family that is strong on winners and blacktype with their Un Desperado dam Connaught Hall, herself a winner over hurdles, a half-sister to the dam of last year's Grade 1 Sefton Novices Hurdle winner Ballyoptic. With a page of recent winners, Rathmore's daughter of Yeats has strong residual value as a broodmare.
View the catalogue for Goffs Land Rover Sale (13 – 14 June) »
In Inghilterra va segnalata la prematura dipartita del noto allenatore David "Dandy" Nicholls, scomparso domenica all'età di 61 anni. Dandy è stato un omone simpatico, buon fantino e buonissimo allenatore soprattutto con i velocisti. Nato nel 1956, la sua carriera di jockey prese una buona piega grazie alla stellare femmina Soba (Most Secret) che vinse 11 corse nel 1982. In generale ha montato 421 vincitori durante la sua carriera durata 21 anni, prima di cominciare da allenatore. Il primo vincitore di Gruppo è datato 1996 con Venture Capitalist nelle Duke Of York Stakes, ma noi italiani (o meglio Luigi Riccardi) lo ricordiamo sopratutto per una vittoria: Quella di Continent (Lake Coniston), di naso, nell'Abbaye di Longchamp dove riusci a mettere un inezia davanti a Slap Shot, che perse malamente. Quel giorno tutti si chiedevano chi fosse! Tra le sue ultime creazioni anche Regal Parade (Pivotal) e soprattutto Sovereign Debt (Dark Angel), che proprio domenica gli ha regalato (seppure da spettatore) una gioia nelle Diomed StakeS G3. Nicholls lo aveva allenato fino a Febbraio portandolo alla vittoria in G2 a Doha, prima che Sovereign passasse nelle mani di Ruth Carr e con il quale ora vanta 3 vittorie consecutive. 
Noto soprattutto per i velocisti e per i grossi handicap, ha vinto 5 volte il Dash Handicap di Epsom, per 6 volte l'Ayr Gold Cup. In generale ha vinto 1269 corse da allenatore.
First Crop Sires: L'ultimo ad essere rappresentato in corsa con un suo figlio è stato Cityscape (Selkirk), che ha avuto il primo vincitore in Ballymount che ha vinto alla sua seconda uscita in carriera in una maiden sui 1200 metri a Senonnes-Pouance in Francia.  Ballymount, allenato da Eoghan O'Neill per la moglie Melissa, era finito quarto al debutto. 
Cityscape ha ora 11 anni, funziona all'Overbury Stud in Inghilterra al tasso di £4,500, ed è mezzo fratello del champion sprinter Bated Breath (Dansili) che ha vinto 6 corse incluso un Dubai Duty Free a Meydan in maniera esplosiva. Altresì è finito secondo al massimo livello per 4 volte, incluso l'Hong Kong Mile.
In Giappone 2 nuovi stalloni sono entrati nel marcatore con i primi figli vincitori. Partiamo da Novellist (Monsun), è stato rappresentato da Weiser che ha vinto una maiden sui 7furlongs ad Hanshin. Allenato da Ryo Takahashi per i colori della U Carrot Farm, ha vinto di una lunghezza e mezzo. 
Novellist era il favorito del Derby tedesco perso da Pastorius, ma poi si è rifatto concludendo la stagione dei 3 anni vincendo a Milano il Premio Del Jockey Club G1 e poi rimanendo imbattuto in 4 corse di cui 3 a livello di G1 come Grand Prix de Saint-Cloud, the King George VI and Queen Elizabeth Stakes e Grosser Preis von Baden prima di essere acquistato dalla Shadai Stallion Station dove ha coperto rispettivamente 156, 148 e 122 fattrici negli ultimi 3 anni, escluso il 2017. 
Meno europeo ma sicuramente significativo il riferimento che porta a Lord Kanaloa (King Kamehameha), spettacolare sprinter in giro per il mondo ma soprattutto in Giappone, rappresentato da Stelvio (mamma da Falbrav) che ha vinto una maiden per 2 anni a Tokyo sui 1200 metri. 
Lord Kanaloa ha vinto 13 corse in carriera di cui 6 a livello di G1, il suo spessore è dato dalle 5 lunghezze rifilate a Sole Power ad Hong Kong. In razza è stato sempre estremamente popolare tanto che ha coperto una cosa come 250, 276 e 267 fattrici nelle prime 3 stagioni da stallone.
Quando il gatto non c'è i topi ballano! A parte gli scherzi, non vogliamo togliere il merito ad Umberto Rispoli che nella domenica di Sha Tin ha piazzato un poker terrificante a 226/1, dimostrando di essere sempre un abilissimo fantino, capace di imprese sensazionali, dopo un periodo non brillantissimo a causa di un problema fisico. Umberto, dopo la rottura completa del crociato, ha divorato i giorni di degenza rientrando in 86 giorni quando gliene erano stati presentati 180 da attendere prima di montare a cavallo. Invece la sua tempra e la sua energia hanno fatto si che in 2 mesi e mezzo fosse di nuovo in sella. Domenica ha vinto quattro corse a dir la verità "rubando" poco ai colleghi citati sopra.
Due vittorie sono arrivate per il training di John Size (Ivictory e Jolly Bountiful), una per K L Man (Laugh Out Loud) e una per Y S Tsui con Mongolian King, con il quale ha chiuso il poker o "quadrella" come dicono ad Hong Kong dove quello che conta, ancora più che in altri paesi, è avere il contatto giusto. Per Umberto è il secondo poker a Sha Tin dopo quello ottenuto nel giorno di Capodanno del 2015. 
Umberto è stato sempre un gran fantino, ma a volte si rischia di cadere nel dimenticatoio mediatico. Serviva una scossa ed è arrivata con giusto tempismo, visto che a breve scadrà la licenza per i jockeys ad Hong Kong ed il jockey club locale è pronto a firmare un altro contratto con il jockey italiano per la stagione completa, quella prossima. In alternativa, quando finirà questa stagione (a metà Luglio), Umberto tornerà in Francia alla ricerca del suo spazio. 
I video delle vittorie di Umberto Rispoli cliccando su questo LINK.
Nonostante le aspettative fossero più alte per le prime 2 uscite del nuovo corso, Kaspersky (Footstepsinthesand) è ancora in corsa per le Queen Anne Stakes G1 al Royal Ascot del 20 Giugno, dove troverà a fargli compagnia la monta della jockette australiana Michelle Payne. Il 6 anni italiano, che conta vittorie a livello di G2 in Italia e Germania condito con un terzo nel Di Capua G1 per il training di Endo Botti e Cristiana Brivio, è ora allenato da Jane Chapple Hyam per la quale ha ottenuto un quinto nelle Paradise Stakes Lr ad Ascot e poi un secondo posto in Classe 2 a Nottingham qualche giorno fa, rendendo chili.
Michelle Payne, la prima amazzone a vincere la Melbourne Cup, è stata ufficialmente ingaggiata e sbarcherà in UK il 14 Giugno per conoscere il suo allievo. 
GLI ISCRITTI DELLE QUEEN ANNE STAKES CLICCANDO QUI.