Milano, gli arrivi della riunione di mercoledì 15 marzo 2017: molte sorprese ed alcune conferme
Cuggiono, un rientro vincente
Gran bel rientro di Cuggiono nel Premio Nova Milanese, handicap sui 2000 metri della pista circolare che ha chiuso il mercoledì di San Siro. In testa dal via, con Sergio Urru che ha addormentato il ritmo nella prima frazione di gara, il cavallo di Domenico Crisanti ha allungato deciso a metà retta e ha salutato la compagnia per vincere con netto vantaggio sui rivali. Dal gruppo è emerso al secondo posto il trascurato Stalingrado rimontando Monforte che si era impegnato ai lati del battistrada.
Swell Hill vola sull'erba
Ha atteso la pista in erba di Milano per mostrare il suo reale valore l'ex inglese Swell Hill, che pure sul dirt di Varese qualche sprazzo interessante lo aveva fatto vedere. Gli scommettitori non ci hanno creduto e la portacolori di Federica Tomasini ha pagato una bella quota come vincente. Nelle posizioni di coda, Swell Hill si è presentata con fare minaccioso a metà dirittura ed è passata di slancio ai 100 finali, regalando a Walter Gambarota il secondo successo del pomeriggio. Idroscalo ha guidato sin dal via con Riflente in seconda posizione: i due si sono disputati la miglior piazza giungendo nell'ordine.
Sboccia La Giacinta
Ci sono voluti sette tentativi, ma alla fine La Giacinta è riuscita a centrare il primo successo italiano della sua carriera. E l'allieva di Fernando Jovine lo ha fatto con grande autorità, liquidando in poche battute il battistrada Universal Soldier ai 300 finali e facendo il vuoto alle sue spalle, con Nicola Pinna in sella. Universal Soldier ha chiuso in affanno ma è riuscito a salvare il secondo posto dal ritorno dei rivali, giunti subito a ridosso, tra i quali Tony's Power l'ha spuntata per il terzo posto.
Burmese Whisper da un capo all'altro
Tutta l'abilità di Silvano Mulas dietro alla vittoria di Burmese Whisper nel Premio Roncello, primo handicap del mercoledì a San Siro. Sui 1600 metri della pista circolare, il jockey sardo ha subito portato al comando il portacolori della "Crossing Promotion" e dopo aver distribuito alla perfezione le energie, è riuscito a respingere l'agguato finale di Queen Tango e di Swanpool, che al via si erano sistemati alle spalle del battistrada. Quarto con bel recupero Salimbeni.
Run Fast Again sfrutta l'occasione
Il Premio Vedugio, reclamare sui 1600 metri in pista circolare, rappresentava un'occasione favorevolissima per Run Fast Again, e il portacolori della scuderia Tignanello non se l'è lasciata sfuggire. Netto favorito al betting, montato con fiducia da Walter Gambarota, il cavallo allenato dal team Marcialis ha preso subito l'iniziativa impostando a piacimento il ritmo per poi respingere agevolmente l'attacco del rivale dichiarato Lucomagno e firmare la seconda vittoria in carriera. A intervallo è emerso al terzo posto Namoum su Arkansas Slim.
Lorqueen, successo facile facile
Apertura di pomeriggio con una "reclamare" sui 2000 metri in pista circolare per cavalli di 4 anni e oltre. Facile facile il successo di Lorqueen, appoggiata con grande fiducia da parte degli scommettitori: la cavalla allenata da Frank Turner ha risposto "presente" dominando il campo in una corsa che ha visto Fata Birichina prendere un buon vantaggio nella prima parte di gara. Silvano Mulas, in sella alla portacolori del signor Gervasoni, ha rotto gli indugi a metà percorso e in breve ha ricucito il gap con la battistrada per attaccarla in dirittura e superarla in poche battute ai 300 finali. Fata Birichina ha evidentemente accusato il rientro e in dirittura è stata superata anche da Cengalo e She Is Noun che sono emersi alle piazze.
fonte : Ippodromimilano.it
Strong Demand Fuels Record OBS March Sale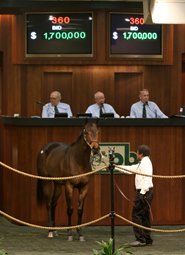 Zayat Stables hit it out of the park at the second session of the Ocala Breeders' Sales Co.'s March sale of 2-year-olds in training, selling the sale-topping Congrats   filly for $1.7 million and a colt for $1 million. Those horses fueled a vibrant market that resulted in record gross and average prices for the two-day auction.
The cumulative $56,627,000 paid for 300 head represented a 10.4% gain over the 2016 gross, when 320 horses sold. The average price rose 17.7% from $160,275 to $188,757 while the median fell to $100,000 from $102,500.
For the final session, the gross rose 19.7% to $29,791,500 from $24,869,500 and the average price soared to $195,997, a 19% increase from $164,699 last year. The session median declined from $100,000 last year to $90,000 this year.
There were 30 horses sold in excess of $500,000 this year, compared with 17 last year. The cumulative RNA rate was 27.5%, compared with 26.3% a year ago.
OBS sales director Tod Wojciechowski said there was a positive feeling going into the sale and the positive results afirmed that confidence level.
"We were pleased with the catalog and pleased with the horses when we saw them physically," he said. "There was activity on the grounds that buoyed the spirits of consignors."
While the number of horses above the $500,000 level showed continued strength at the top of the market, Wojciechowski said there were also more horses sold within the middle price ranges.
"We got some horses sold in the middle," he said. "I think we would all like to see the middle market robust and we strive for that."
The sale topper-was purchased by agent Kerri Radcliffe from McKathan Bros., agent. Radcliffe, who was also active during the the Fasig-Tipton Gulfstream sale, was excited about the sale-topper, a daughter of WinStar stallion Congrats  .
"She's beautiful," said Radcliffe, who was the sale's leading buyer with three horses purchased for $2,925,000. "She was the standout of the sale and I wanted her from the start. It's hard. I didn't think I was going to have to give that for her."
Consigned as Hip 360, the filly breezed an eighth of a mile in :09 4/5, one of the more impressive pre-sale works.
"I knew she was the one I wanted from the time I saw her breeze,"  the agent said.
Radcliffe said the filly and her other purchases at OBS were on behalf of a new client she declined to identify. They will be trained by Bob Baffert, who accompanied the agent to the auction.
"She's a queen," Kevin McKathan said of the filly, noting that the sale-topper appeared on most top buyers' radar screens following the under tack show. "Once she breezed as well as she did, she picked up momentum and everyone found her. You never know how they're going to do, but it just felt like everyone was lined up on her."
Bred in Kentucky by Todd Frederick, Chad Frederick, and Phoenix Farm and Racing, the filly was produced from the Dixie Union mare Azalea Belle, a daughter of grade 2 winner Westerly Breeze. She was bought by Zayat through agent Patrice Miller with EQB for $250,000 from Brookdale Sales at the 2016 Keeneland September yearling sale.
"It's great when one you bought for $250,000 sells for that much," said Justin Zayat, president and chief executive officer of racing and bloodstock for Zayat Stables. "After the breeze, they told me that she was going to do really well, but I was like, 'I'll believe it when I see it.' "
Zayat's other big score came with a Pioneerof the Nile   colt bought by Robert and Lawana Low for $1 million, the fifth highest price of the sale.
Consigned as Hip 586 by Eddie Woods—who was the leading consignor with 23 sold for $8.05 million—the colt from the extended female family of grade 1 winner Outwork   and grade 2 winner Cairo Prince   was purchased by Sobhy Sonbol for $240,000 from the Royal Oak Farm consignment to the 2015 Keeneland November sale.
"They love Pioneerof the Nile, like everybody," said Jacob West, who represented the Lows at the sale. "He's got a classic pedigree. He's a lovely horse. The rest is up to God and (trainer) Todd Pletcher."
Zayat, who bought back a Speightstown   colt for $600,000 and sold a Curlin   colt at a loss at OBS, said the outfit offers horses at public auction as part of their business plan.
"We loved all our horses in the sale and get emotionally attached, but we do not lose our business head," Zayat said. "We hope they all win grade 1 races and the buyers come back for more."
The Lows were active on both sides of the auction aisle Wednesday, selling a Tapit   filly they bred for $1.1 million. The filly (Hip 349), offered by Tom McCrocklin on behalf of the Lows, was bought by Lawrence Best's OXO Equine. She was produced from the grade 2-placed Giant's Causeway   mare Arienza, a daughter of Horse of the Year and three-time champion older mare Azeri.
The Tapit filly was one of two seven-figure 2-year-olds bought by Best from McCrocklin, as the former Boston Scientific executive went to $1.05 million to get an Arch colt (Hip 515). Out of the winning Forestry mare Enhancing, who is a daughter of champion and grade 1 producer Heavenly Prize, the colt was bought privately from breeder KatieRich Farms after failing to sell on a final bid of $110,000 at the Keeneland September yearling sale.
Best, who bought his first horses during the fall and purchased the Fasig-Tipton Gulfstream sale-topper, said both of his OBS purchases will be campaigned on the West Coast with Hall of Fame conditioner Jerry Hollendorfer.
fonte : Bloodhorse.com
MERCOLEDÌ 15 MARZO 2017. Les italiens: Maurizio Guarnieri vince con Kick Down a Chantilly. Anche Paolo Aragoni espatria in Francia con 5 cavalli..
Les italiens che fanno tanto bene in Francia, e non solo. In questa occasione diamo menzione di quanto accaduto negli ultimi giorni nel mondo transalpino ma con retropensiero italiano. Innanzitutto da menzionare a Chantilly la vittoria di martedì pomeriggio per 
Kick Down
 (Arcano) nel Prix Janus, un handicap sui 1500 metri con Cristian Demuro in sella, contro un campo partenti di tutto rispetto in una corsa da €26,000 di dotazione. Nella stessa giornata un np per 
Two Shades Of Grey
 in un handicap da €52,000, ma da segnalare domenica la vittoria di 
Cape Sunion
 sempre per l'allenatore toscano oramai stabile in Francia a La Teste de Buch, dove ha 24 cavalli tra cui 8 puledri e l'acquisizione in training di 
Tamil Nadu
, altro che ha frequentato bene le nostre piste. Nel 2017 sono 3 le vittorie per l'allenatore italiano che potrete seguire attraverso la pagina Facebook della scuderia cliccando su questo 
LINK
.
Nei giorni scorsi è volato in Francia anche Paolo Aragoni, sempre più intenzionato di appendere la sella al chiodo ed intraprendere la carriera di allenatore. Il jockey, o l'ex jockey, reduce da una esperienza positiva in Corea del Sud, ha portato con se 5 cvalli tra cui Pure Grace che ha debuttato in Francia con un np, mentre nei prossimi giorni, esattamente giovedì a Marsiglia, faranno il loro debutto locale anche 
Mc Enroe
 (Kingsfort) e 
Norbanus
 (Footstepsinthesand). Paolo ha portato con se anche il grigio 
Bharuch
 ed un puledro, con 5 unità sempre a La Teste de Buch. Buona fortuna. I partenti di giovedì a Marsiglia, cliccando 
QUI
.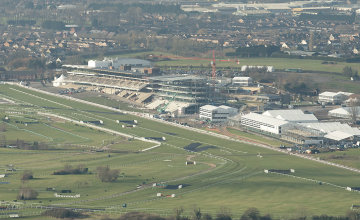 Cheltenham: racing starts at 1.30
PICTURE: Edward Whitaker (racingpost.com/photos)
Good, good to soft in places at Cheltenham
 BY JAMES BURN,   16 MAR 2017 
CONDITIONS for day three of the Cheltenham Festival are described as good, good to soft in places after clerk of the course Simon Claisse and his team watered the track last night.
The feature race of the day is the Sun Bets Stayers' Hurdle and Claisse said: "We've had a couple of days of temperatures reaching 14/15C and we just want to keep the ground on the easy side of good.
RELATED LINKS
"The New course we've moved onto today was very dry all the way through the autumn and when we moved onto it in December we had to water then, so it's been quicker right the way through the winter.
"We took the decision last night to put 10mm of water on and that has just eased the ground a little. I gave it as good, good to soft [on the Old course] yesterday and have left it there, but we've got rid of the good to firm that was in it when I went round last night."
Claisse, speaking to Sky Sports News, added: "It feels cooler and the forecasts I've seen suggest the temperatures will barely get into double figures today, but I haven't seen any rain in the forecasts for today or tomorrow."
ITV will screen the first five races today, while the entire card will be on Racing UK.
fonte : RacingPost