California Chrome 'Fit' for BC After Work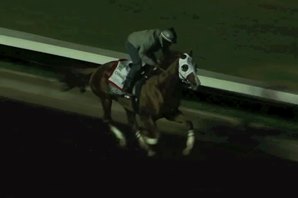 After California Chrome  's final serious workout in preparation for the Nov. 5 Breeders' Cup Classic (gr. I), trainer Art Sherman expressed confidence his standout chestnut not only is doing well, but that he has an advantage on the competition.
"If he's not fit for a mile and a quarter now, he'll never be," Sherman said of the 2014 Horse of the Year, who covered six furlongs in 1:12 1/5 at his Los Alamitos Race Course home base Oct. 27. "Coming back in five weeks, some of these horses haven't raced in two, three months. Going a mile and a quarter, let me tell you something, it takes a lot out of a horse. A mile and a quarter first time out of the box is tough."
California Chrome heads toward the $6 million Classic off a score in Santa Anita Park's nine-furlong Awesome Again Stakes (gr. I) Oct. 1.
Los Alamitos clocker Russ Hudak timed the son of Lucky Pulpit   in fractions of :24 2/5, :47 3/5, and :59 3/5 through five furlongs. California Chrome broke off at the five-eighths pole and worked a furlong past the wire under regular exercise rider Dihigi Gladney to complete his drill. Sherman was looking for a work around 1:13, but wasn't concerned it came up a few ticks faster.
"The way he was going, it didn't look like it was too fast," Sherman said. "He was pretty well in-hand. Perfect work."
Sherman moved up California Chrome's work two days because of potential rain in the forecast. Originally scheduled for Oct. 29, the conditioner didn't want to roll the dice with having to possibly work on a hard, sealed track at Los Alamitos. The moved-up work also puts a potential short breeze on the table next week at Santa Anita, although he could also gallop into the race. The Classic favorite will van north to Arcadia either Oct. 27 or 28, depending on the weather.
"This game is like that. Sometimes you've got to change things up," Sherman said. "In this game, you have to play your cards right. I won't have to do much with him now. This is a key work."
fonte : Bloodhorse.com
Aste: Pubblicato il catalogo delle #GoffsUk Doncaster Autumn Horses-in-Training and Yearling Sale del 31 Ottobre e 1° Novembre
Il catalogo delle Doncaster Autumn Horses-in-Training and Yearling Saleè online da qualche giorno per un'asta sempre molto consistente in termini di risultati. Ricordiamo ancora una volta come l'euro sia preponderante sulla sterlina in questo periodo, dunque si tratta di una buonissima occasione per fare affari tra le proposte dell'allevamento inglese, da sempre al top. L'asta si terrà tra il 31 Ottobre ed il 1° Novembre ed offrirà una vasta gamma di cavalli: 372 soggetti in catalogo di cui 140 sono yearlings che verranno offerti all'apertura delle contrattazioni lunedì 31 Ottobre con inizio fissato per le 12 ore locali. Non solo yearlings ma anche 232 horses in trainingprogrammati per martedì 1° Novembre, con inizio predisposto per le 10 di mattina. 
Ricordiamo che in questa asta sono stati pescati cavalli presi a pochi soldi, che si sono poi rivelati ottimi investimenti in corsa. Alcuni esempi ne sono Nice Sunday (Stimulation) pagata £1,500, attualmente ne guadagna €8,000 correndo regolarmente le condizionate. Poi Mister Anthony (Sakhee's Secret) pagato £2,500, ha debuttato ad inizio Settembre con un secondo posto ed ha vinto agevolmente la sua maiden alla successiva qualche giorno fa. Attualmente guadagna €6,000. Poi Bond Girl (Monsieur Bond), pagata £3,600, che ha solo debuttato con un quinto posto ma è accompagnata da ottime voci circa il suo spessore ed il valore che a breve dimostrerà. E questi sono gli unici acquisti effettuati da operatori italiani. Insomma, tutti cavalli utili a pochi soldi, complice anche la sovraproduzione nelle isole britanniche, che consentono un mercato più semplice ed agevolato per chi acquista.
California Chrome, Found, et 2 français engagés dans la Breeders' Cup
Créé le 27 octobre 2016,  par Katherine Ford
185 chevaux représentant 9 pays ont été inscrits dans les 13 Groupes 1 de la Breeders' Cup, qui se disputeront les 4 et 5 novembre prochains. Invaincu cette année, California Chrome sera l'attraction du week-end, au départ du Classic, où il pourrait retrouver Found. Après le forfait d'Erupt, la team tricolore est composée de Cavale Dorée et Karar.
Pour sa neuvième édition sur l'hippodrome de Santa Anita en Californie, la Breeders' Cup a attiré un plateau de choix, avec en vedette California Chrome. Invaincu cette année, l'alezan populaire s'alignera pour la troisième fois au départ de la Breeders' Cup Classic, à la recherche d'une première victoire lors de ce championnat du monde des pur-sang. Sur les 2000 mètres en dirt, California Chrome pourrait retrouver Arrogate, gagnant impressionnant mais surprise des Travers Stakes, et aussi Found qui tenterait un défi incroyable pour Aidan O'Brien après s'être imposée dans la Breeders' Cup Turfl'an passé et récemment dans le Prix de l'Arc de Triomphe. Found est également engagée dans le Turf mais son entourage a annoncé une préférence pour le Classic.
Aidan O'Brien en force 13
Aidan O'Brien pourrait bien être l'homme de ce meeting, car représenté par 13 chevaux engagés, plus que tout autre entraîneur, même les américains. Dans la Breeders Cup Turf, il devrait compter sur son globetrotteur Highland Reel, récent dauphin de l'Arc. Cette épreuve aura une saveur française, malgré le forfait d'Erupt, avec en favori l'ancien tricolore Flintshire, et son tombeur récent Ectot.
Changement de programme pour Erupt
Gagnant du Canadian International, Erupt faisait partie de la liste des engagements publiée mercredi, mais son entraîneur Francis Graffard nous a confirmé jeudi, « Erupt n'ira pas à la Breeders' Cup. Il est rentré du Canada mardi dernier, après un voyage plus long que prévu, et je le trouve encore un peu fatigué pour repartir ce week-end. La Japan Cup (27 novembre) est une possibilité pour lui. »
La Team France
Les deux seuls Français de la réunion seront donc Karar, autre élève de Francis Graffard, et Cavale Dorée, pour Christophe Ferland. Karar est sur la liste d'attente pour une magnifique édition de la Breeders' Cup Mile, avec en attraction la tenante du titre Tepin, la partenaire de Julien Leparoux, et aussi engagé dans le Breeders' Cup Turf Sprint. Quant à Cavale Dorée, la lauréate du Prix du Calvadosest inscrite dans la Breeders Cup Juvenile Fillies Turf avec Spain Burg, ancienne pensionnaire de Xavier Thomas Demeaulte qui dépend désormais de l'entraînement américain de Kathy Ritvo. Bien connue dans l'héxagone, la franco-allemande Spectre sera également de la partie et cette élève de Markus Munch est engagée dans le Mile et la Breeders' Cup Filly & Mare Turf.
Des champions au départ
En total, pas moins de 11 gagnants de Breeders' Cup seront présents à Santa Anita pour défendre leur titre ou essayer d'en gagner un autre. Les 13 épreuves, dotées ensemble de $28 millions, seront diffusées en direct sur Equidia Live les 4 et 5 novembre.
fonte : Equidia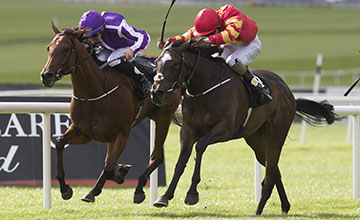 Intricately and Donnacha O'Brien (right) winning the Moyglare Stud Stakes
 PICTURE: Patrick McCann (racingpost.com/photos)
O'Brien gives Intricately Breeders' Cup target
 BY BRIAN SHEERIN,  27 OCT 2016 
AFTER making his own searing mark on the Breeders' Cup, Joseph O'Brien is ready to keep the faith in his younger brother Donnacha and give the teenager his biggest day in the saddle aboard Intricately in the Breeders' Cup Juvenile Fillies Turf at Santa Anita next Friday.
 RELATED LINKS,   Race entries 
The former champion jockey sent out out the homebred to cause a 25-1 shock in the Group 1 Moyglare Stud Stakes at the Curragh last month for a maiden Group 1 win on the Flat as a trainer, with his 18-year-old brother Donnacha on board.
Joseph was just 18 years when piloting St Nicholas Abbey to win at the Breeders' Cup in 2011 for his father Aidan, who will be in opposition on Friday with Hydrangea, Roly Poly and Promise To be True, and is ready to keep the fruitful family partnership intact with Donnacha, who will be three months younger for his first taste of the US highlight.
O'Brien, whose first Breeders' Cup runner is 4-1 favourite for the Grade 1 over a mile, said: "It was a fantastic thrill to be able to give him his first Group 1 win in the Moyglare Stakes at the Curragh.
Family rivals
"Donnacha has had a great season and has just got better and better all year. He's been riding very well and I wouldn't want anyone else on her."
The budding trainer believes Intricately has much of what is required for her date with the Santa Anita turf next week.
The 23-year-old said: "The Breeders' Cup is special and I enjoyed one of the best moments of my career in the saddle when St Nicholas Abbey won the Breeders' Cup Turf, for sure.
"Intricately is in great form. Our biggest dangers look likeliest to come from the European runners. Obviously, Dad has a strong hand –with Hydrangea, Roly Poly and Promise To Be True – and I thought Spain Burg was very good when she won at Newmarket."
fonte : RacingPost