Pinhooking Rookie Scores Big at Keeneland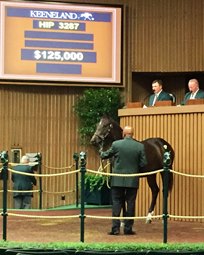 Lexington horsewoman Samantha Menker looks like a pinhooking genius.
In her first foray into Thoroughbred ownership, Menker paid $2,700 for a Gemologist   colt at this year's Keeneland January mixed sale. Consigned to the Keeneland September yearling sale by Hill 'n' Dale Sales Agency on behalf of Menker, the colt was bought by Crupi's New Castle Farm for $125,000, providing his owner with a huge windfall.
According to BloodHorse MarketWatch data, the colt had the second-highest return on investment among the 281 previously purchased horses sold during the September sale. After deducting the sales company's 5% commission, the colt's net price at Keeneland was $118,750. Subtracting total investment (previous sale price plus upkeep, estimated at $10,000 from time of purchase to being re-sold) left a $106,050 profit, an impressive 835% return on Menker's investment.
Menker, who rides, breaks, and sells barrel horses under the SM Barrel Horses banner, is also a veterinary technician at Hagyard Equine Medical Institute near Lexington, working with Dr. Michael Hore. Since she attends all the sales as part of her job, Menker said she decided to buy a horse and was aided in her search by Donato Lanni from Hill 'n' Dale and Carrie Brogden who operates Machmer Hall Farm and is a partner in Select Sales.
The colt did not look very good and had some vet issues when consigned to the January sale, leading to the inexpensive price, Menker said, adding the colt was her year-end bonus from Hore.
The colt's value had risen from the time of purchase until he went through the sales ring again, as Levante Lion, the colt's half brother and first foal from the winning Ghostzapper   mare Ghostly Darkness, won a grade III stake in Japan.
Menker said she knew there was quite a bit of interest in the colt because a group of Japanese buyers inspected the colt at her barn before the sale, and while at Keeneland he was vetted three times on behalf of potential buyers.
"We knew we had some action on him but didn't expect him to go for that much," Menker said. "I think I got very lucky. The fact his brother would go on and win a grade III, we never would have imagined."
Menker said she has no plans to rapidly expand her pinhooking venture, but will likely buy one or two horses a year. "I would probably buy another cheap one, not expecting the same result, but looking to make a little," she said.
According to the MarketWatch data, an Uncle Mo filly bought for $30,000 by partners in the Cockaigne Ranch and sold by Four Star Sales for $450,000 had produced the September sale's highest ROI. UNCLE MO FILLY MOST PROFITABLE AT KEENELAND
KEENELAND SEPT. PINHOOK RETURN ON INVESTMENT
| | | | | | | |
| --- | --- | --- | --- | --- | --- | --- |
| Hip | Description | Kee Sale Price | Prev. Price | Net Price | Profit | ROI |
| 1123 | Uncle Mo   f. | $450,000 | $30,000 | $427,500 | $387,500 | 969% |
| 3287 | Gemologist  c. | $125,000 | $2,700 | $118,750 | $106,050 | 835% |
| 2187 | Stay Thirsty  c. | $160,000 | $12,000 | $152,000 | $130,000 | 591% |
| 3283 | | $210,000 | $20,000 | $199,500 | $169,500 | 565% |
| 2759 | | $125,000 | $10,000 | $118,750 | $98,750 | 494% |
fonte : Bloodhorse.com
Colpo di scena! Ad una settimana dall'Arc de Triomphe G1, la corsa più attesa d'Europa perde una fortissima pretendente come La Cressonniere (Le Havre), imbattuta in 8 uscite e vincitrice di Poule d'Essai des Pouliches G1 e Prix de Diane G1, a causa di un leggero infortunio che le impedirà di essere al massimo a Chantilly. La Cressonniere, che era a 5/1, era la seconda favorita di una corsa che adesso avrà  ora in Postponed un caldissimo pretendente. 
Rouget, dominatore della stagione, ha parlato a Jour de Galop dicendo che dopo un bel canter di sabato mattina non è tornata nel migliore dei modi, ed essendo obbligati a somministrare dell'antidolorifico sarà impossibile essere al top fra una settimana. Non ancora chiara comunque l'entità dell'infortunio che potrebbe essere alle ossa pelviche o alle vertebre. Nonostante ciò non pensa sia gravissimo e conta di farla riposare tutto l'inverno prima di rimettersi in marcia per il 2017. Davvero una disdetta, non ci voleva nemmeno per Cristian Demuro che ora dovrà cercare una alternativa valida. Chissà che ora Rouget non ripensi adAlmanzor, preparato invece in chiave Champion Stakes G1 per non fare incontrare i suoi due migliori 3 anni.
Il ruolo di secondo favorito è passato il giapponese Makahiki (Deep Impact), con terza scelta per Found (Galileo). Il duplice derbywinner Harzand(STS), secondo Dermot Weld, correrà solo se pioverà a Chantilly. Martedì mattina la rifinitura e la decisione. 
Dossier spécial EpiqE Qatar Prix de l'Arc de Triomphe 2016
Créé le 22 septembre 2016,  par Jean-Baptiste Morel
Left Hand, Postponed, Makahiki : les carrières des plus grands champions galopeurs des quatre coins du monde vont converger dimanche 2 octobre vers Chantilly, à l'occasion du célèbre Prix de l'Arc de Triomphe. Qui succédera à Trêve et Golden Horn ? Une chose est certaine, il va y avoir du sport…
Dans les épisodes précédents…
---
Avant toute chose, révisons nos classiques. La plus belle course du monde existe depuis 1920. Si vous avez manqué quelques éditions, notre frise interactive vous aidera à pallier vos petits manques. Cliquez ici pour y accéder.
---
Coup de théâtre à une semaine du Qatar Prix de l'Arc de Triomphe, l'une des grandes favorites, la Cressonnière déclare forfait. La championne de Jean-Claude Rouget, lauréate de la Poule d'Essai des Pouliches puis du Prix de Diane passera des examens mardi ou mercredi.  Cristian Demuro : « C'était un rêve, je ne me voyais pas battu… »
Si Midterm décline la lutte ce n'est pas sur blessure, son dernier travail samedi dernier s'est bien déroulé et le poulain est bien rentré après cet exercice. Dans une déclaration faite à la presse anglaise ce lundi, Teddy Grimthorpe  précise qu'il faut laisser une chance au pensionnaire de sir Michael Stoute, le poulain  ayant déjà pu revenir à la compétition après avoir contracté une blessure en début de saison.
Si le cheval entraîné par Dermot Weld fait pour la première fois le déplacement dans l'hexagone,Frankie Dettori est un habitué des grandes joutes tricolores. Sur les 27 groupes 1 figurant sur le calendrier français, seul 4 manquent à son palmarès. Dans le Prix de l'Arc de Triomphe Frankie est co-recordman de victoires parmi les jockeys en activité.
---
Portraits des protagonistes
---
---
---
---
---
---
---
---
---
---
---
---
---
---
---
---
---
---

 fonte : Equidià
SAHorseracing.COM 
Newsletter 
Advertise to more than

 

 

HIGHLIGHTS IN THIS NEWSLETTER:

 

 

- DAUGHTER OF DANCER DEBUTS

 

- AUS DAVENPORT RACING

 

- POWER'S BROTHER POTENT

 

- SMART CALL'S RUN ONLINE

 

- UK WINNER  FOR SA MARE

 

-  SINGAPORE SUNDAY RACING

 

- STALLION PROFILE AWAIT THE DAWN

 

 

 

MORE NEWS:

 SINGAPORE FRIDAY RACING

HEADLINE NEWS

 

UK: SMART CALL RIDER ENGAGEMENTS, DETTORI HAS FIRST CALL FOR BREEDERS' CUP

 

 

The plum ride on Champion South African mare Smart Call has been confirmed by Jessica Slack, the owner of the wonder mare. However there are visa issues to finalise. ……..

READ MORE

SAF: JULY WINNER'S DAUGHTER SET FOR TURFFONTEIN DEBUT

 

 

 

Former Gr1 Vodacom Durban July winner Dancer's Daughter (Act One) is set to be represented by her fourth runner this Saturday.. ……

READ MORE

AUS: DAVENPORT SUNDAY RACING 25 SEPT 2016

 

 

Racing this Sunday is at Devonport, which hosts its last meeting until December after an extensive winter program. The 8 race card throws up a number of races with many winning chances and with showers forecast for the weekend the track should race very consistently once again….

READ MORE

 

 

SAF: POWER'S BROTHER LOOKS PRETTY POTENT

 

A Greater Power who is a full brother to former Grade 1 winning juvenile and Hong Kong success, Potent Power (renamed Rocket Let Win) scored his second win from six outings in the sixth race on today's programme at the Vaal Classic……

READ MORE

 

 

UK: SMART CALL'S SUN CHARIOT RUN ON RACING UK

 

 

South African racefans can watch Smart Call's eagerly-anticipated appearance in the Sun Chariot Stakes at Newmarket on October 1, thanks to the Racing UK International Service. …..

READ MORE

 

 

 

 

SAF: BRITISH WINNER FOR SA MARE

 

 

Riyo Stud's top class broodmare Bella Cantata (Singspiel) was represented by a British winner on Wednesday afternoon…. …READ MORE

 

 

SAF: STALLION PROFILE –AWAIT THE DAWN

 

 

 

A large band of well performed young sires will be represented by their first crop of two-year-olds this season…..

READ MORE

 

 

 

SIN: SINGAPORE SUNDAY 25 SEPTEMBER 2016

 

 

With only two weeks to go before the $700,000 Kranji Mile, things get very interesting in Singapore with some of our best middle distance horses getting ready for the start of the Singapore Triple Crown Series…..

READ MORE

 
IPPODROMO DI SAN SIRO MILANO GALOPPO : STAMPA DEGLI ISCRITTI
Corse di domenica: 16/10/2016,   64^ GIORNATA -
641) Premio GRAN CRITERIUM 275.000 GRUPPO II interi e femmine 2 m.1500 (P.Media)
A MAGIC MAN, AETHOS, ALQAMAR, AMYNTAS, BAHAMAS, BAY OF POETS, BIZ POWER, CELESTIAL SPHERES, D'BAI, DIDITI, ENJOY VIJAY, GOOD OMEN, GREY DANCING, HOLY WATER, L'INCREDIBILE, MACAN, MAX ZORIN, MEDIEVAL, REBEL DE LOPE, SKARINO GOLD, SOPRAN DULANNA, SUN DEVIL, TOGETHER AGAIN, TRUST IN ME, ( 24 )
642) Premio JOCKEY CLUB 275.000 GRUPPO I 3 e oltre m.2400 (P.Grande)
ARAB SPRING, BERKSHIRE, DUCA DI MANTOVA, DURLINDANA, DYLAN MOUTH, ELBERETH, FULL DRAGO, GUIGNOL, HAWKBILL, IQUITOS, KLOUD GATE, MAMBOMISS, NIGHTFLOWER, RIGHT CONNECTION, TELLINA, TIBERIAN, VENTURA STORM, WAY TO PARIS, ( 18 )
643) Premio DEL PIAZZALE 64.900 GRUPPO III 3 e oltre m.1800 (P.Grande)
AURY TOUCH, AZARI, AZZECCAGARBUGLI, BASILEUS, BERLING, BREX DRAGO, CEFFONE, CIRCUS COUTURE, DIPLOMAT, FELICIAN, GREG PASS, HALLI GALLI, KYLLACHY GALA, NICE NAME, NORDICO, PEPPARONE, PEREGO, POETA DILETTO, PORSENNA, PRIORE PHILIP, ROGUE RUNNER, SOUND CHECK, SUFRANEL, TAMARIND COVE, TIME TO CHOOSE, VOICE OF LOVE, ZOLLIKON, ( 27 )
fonte : Ippodromimilano.it