F-T Saratoga Sale Posts Modest Declines, by Ron Mitchell, August 9, 2016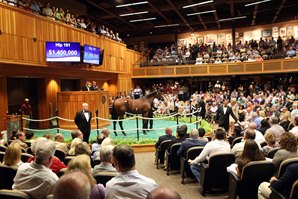 The opportunity to buy a well-bred filly from the stock of Josephine Abercrombie proved irresistible to Mandy Pope, who bought a Medaglia d'Oro   filly from the prominent breeder for $1.45 million to top the Fasig-Tipton Saratoga selected yearling sale Aug. 9.
The filly and continued demand for yearlings by leading sire Tapit  highlighted the second and final session of the auction in Saratoga Springs, N. Y. that saw a decline in key statistical categories.
Consigned as Hip 191 by Craig and Holly Bandoroff's Denali Stud, the filly bred by Abercrombie's Pin Oak Stud is out of the stakes-winning Thunder Gulch mare Whisper to Me, the dam of grade II winner Overheard.
In addition to the powerful female family, the filly is by Darley stallion Medaglia d'Oro, whose offspring continue to excel at the highest level. Included among his top fillies are Rachel Alexandria, who is being inducted into the National Museum of Racing's Hall of Fame this year, and undefeated champion Songbird.
The filly's family is steeped with tradition, tracing back to champions Chris Evert, Chief's Crown, and Winning Colors, among others.
Pope said the filly was the standout horse in the sale. 
"(She) stands over a lot of ground, good conformation, and as often as she was shown, she always had a forward walk, she always had her ears up, you could always go up and pet her, she never pinned her ears," she said. "She always had so much class—an unbelievable amount of class."
The filly was one of two seven-figure horses at this year's two-day sale, held in the unique setting that combines racing at nearby Saratoga Race Course, the sale, and Fasig-Tipton's hospitality. Last year, three yearlings were sold for more than $1 million, topped by Rothenburg, a son of Tapit purchased by El Capi Racing.
For the two days, Fasig-Tipton reported 156 horses sold for $45,570,000 compared with gross receipts of $46,755,000 for 145 that changed hands last year. This year's average price of $292,115 was down 9.4% from $322,448 in 2015 and the median declined 5% from $250,000 to $237,500. The 47 horses not sold represented a 23.15% buyback rate, compared with 15.2% in 2015.
"I think the reality is that the marketplace is in close proximity to last year," said Fasig-Tipton president and CEO Boyd Browning Jr. "I think there is a little less competition at the top of the market and you continue to see a trend  toward  merging and developing partnerships among the top buyers, which doesn't result in as spirited a bidding competition as we want to experience in expensive colts."
Browning said part of the interest in the sale topper was the ability for Pope to obtain a quality individual from the Pin Oak stock.
"She was a beautiful, beautiful individual, but the reality is it's a family people have not had access to," Browning said. "It's unusual to see a filly with that depth of pedigree and physical offered at public auction. That's why you such spirited competition."
Not surprisingly, yearlings by Gainesway's leading sire Tapit were in demand at Saratoga, with the night's second-highest price of $1.25 million paid for a full brother to graded-placed Royal Obsession.
The colt bred in Kentucky by Marbat is out of the winning Tiznow   mare Rote and has a female family loaded with stakes winners, including grade I winner Magnificent Song under the second dam.
"He's a beautiful Tapit; as far as Tapits go, he's one of the best ones I've ever seen," said Stonestreet bloodstock adviser John Moynihan, who signed the ticket. "We hope to have a lot of luck with him. He's probably one of the two best horses in the sale.
"He's completely different from Royal Obsession. She is big and lanky; this horse has a look of more muscle. He's a little more tighter, he looks like he'll be early. I actually prefer him physically to her."
fonte : Bloodhorse.com.
Acquistare è diventato sempre più difficile. Tra calo delle nascite e compratori sempre più agguerriti, non è più così semplice trovare la pepita d'oro nei mari delle aste degli yearlings, con pedigree più o meno alla moda, al prezzo giusto. Il paradigma perfetto sarebbe quello dell'acquisto a basso costo, ingresso in pista in tempi brevi, vittorie, valorizzazione e la vendita nelle leghe maggiori con dei profit inimmaginabili prima. Non è mai semplice, ma se c'è un'asta che permette di fare con una certa sicurezza questo tipo di lavoro, questa è quella organizzata da GOFFS UK, anche quest'anno ha dato vita ad un catalogo per il quale ci sono molte attese. Tre giorni di asta così suddivisi: il 23 ed il 24 Agosto le Premier Yearling Sales, il 25 le Silver Yearling Sales. 
Perché comprare alle DBS è cosa buona è giusta? Ecco i motivi:
1) Perché
 attualmente è il miglior compromesso possibile prezzo/rendita. Esempi: Lo scorso anno furono acquistati 7 cavalli, di questi c'è una percentuale altissima di cavalli che già sono rientrati dell'investimento! Il riferimento è a cavalli come 
Baffonero
 (£16,000), 
Oakville
 (£10,000), 
Dorkhel
(£7,500), 
Kobal Kolor
 (£22,000) ed altri 2 che ne devono debuttare e se ne parla un gran bene..e tutti questi hanno guadagnato e già praticamente coperto l'investimento solo con il valore acquisito in corsa!
2) Perché
, per effetto della 
BREXIT
, la sterlina è attualmente ai minimi storici: Oggi è a 1,17 il cambio con l'Euro, ad Aprile 1.30 ad Ottobre era 1.40. Meglio di così, per i paesi extra Inghilterra, non potrebbe andare.
3) Perché ci sono molti stalloni debuttanti, ed è dunque logico trovare qualcosa di buono laddove altri non cercano. I debuttanti sono questi: Camelot, Cityscape, Dabirsim, Data Link, Dawn Approach, Declaration Of War, Epaulette, Farhh, Finjaan, Havana Gold, Intello, Lethal Force, Maxios, Mazameer, Most Improved, Planteur, Red Jazz, Swiss Spirit, Tough As Nails ed il campione italiano Worthadd. 
4) Perché
 gli italiani fino ad oggi non hanno mai preso in considerazione un mercato nel quale scegliere e comprare un dato cavallo è 
più semplice
 che accontentarsi degli scarti altrui.
5) Perché 
ci sono cavalli perfetti per l'Italia. 
Veloci, precoci, pronti per essere valorizzati
 e
 venduti 
su mercati ricchi.
6) Perché
gli allenatori italiani non hanno nulla da invidiare a quelli stranieri in fatto di formazione di uno yearling. E, in questa ottica, con un cavallo preso qui diventa semplice correre, 
valorizzare e vendere
 anche nei primi mesi estivi in Francia, quando loro non sono ancora così pronti. 
7) Perché
conviene, ancora per poco, presenziare alle GOFFS UK
 prima che il mercato in quella fascia diventi esagerato. Anche perché lo sarà inevitabilmente, una volta compreso il meccanismo e visti i risultati. 
8) Perché
, dati alla mano, 
è al momento il mercato migliore
 per chi vuole comprare a prezzi contenuti un cavallo dal pedigree molto commerciale. 
9) Perché
 proprio da qui, molto spesso, esce il 
campione
 che non ti aspetti. La miglior favola possibile per un proprietario di cavalli da corsa. 
10) Perché 
ci sono 
molti incentivi di viaggio per gli operatori italian
i, mai visti prima! Basta chiedere, e il desiderio sarà esaudito. 
Negli ultimi 2/3 anni da qui sono usciti cavalli come TIGGY WIGGY (vincitrice di G1 solidissima), LIMATO (imbattuto a 2 anni e a 3 champion sprinter),ILLUMINATE, BEACON, BAITHA ALGA, KOOL KOMPANY, SOLE POWER. Poi il recente vincitore del Prix Robert Papin G2 Tis Marvellous, il vincitore di Royal Ascot nelle Norfolk Stakes Prince Of Lir… La piazzata di 3 Oaks Architecture, gli Stakes/Group winners Kachy, Easton Angel, Humphrey Bogar Tasleet, Log Out Island e tanti altri solo per citarne alcuni che sono stati pagati "due spicci" ed hanno realizzato mega profit correndo i grossi meeting estivi, a 2 anni!
Presenti tutti gli stalloni più interessanti, ben rappresentati e sono: Acclamation, Bated Breath, Choisir, Dandy Man, Dragon Pulse, Dream Ahead, Epaulette, Footstepsinthesand, Harbour Watch, Havana Gold, High Chaparral, Holy Roman Emperor, Kyllachy, Lope De Vega, Makfi, Mastercraftsman, Mayson, More Than Ready, Most Improved, Paco Boy, Raven's Pass, Reckless Abandon, Sepoy, Showcasing, Sir Percy, Siyouni, Society Rock, Swiss Spirit, Wootton Bassett, Zebedee. Ma poi, tanti altri stalloni per i quali intravedere l'ascesa a prezzi contenuti. 
Per consultare un agente e confrontarsi sulle opportunità di queste 
GOFFS UK
, studiare il catalogo e prendere contatto con l'organizzazione in italiano, contattare Gianluca Di Castelnuovo della New Racing Factory: 02466706 oppure al (+39) 3332927168 o al numero inglese (0044) 07704995604. Oppure via mail a 
newracingfactory@gmail.com
.
Enjoy.
World Class Orby Sale Catalogue 

 
 

The catalogue for the 2016 Goffs Orby Sale is now online and features a world class selection of yearlings by sires such as Galileo, Dubawi, Shamardal, Redoute's Choice, Sea The Stars, Kitten's Joy, Frankel etc and pedigrees from a host of Classic  families.  The two day select sale takes place on Tuesday 27 and Wednesday 28 September commencing at 10am each day.

The 472 Lot-catalogue also features 18 yearlings from The Wildenstein Stables Ltd Dispersal that will be offered on day two as Lots 455 – 472 and includes the Dubawi colt out of French 1000 Guineas winner Beauty Parlour.

Orby catalogue highlights this year are plentiful, with the following just a selection of the quality on offer: 

The Wildenstein Stables Ltd Dispersal yearlings (18) will be offered as Lots 455 to 472 on the second day of the Orby, Wednesday 28 September and among this spectacular collection of yearlings are:
 

Commenting on this year's Orby catalogue, Goffs Chief Executive Henry Beeby said:

"This is a milestone year for Goffs as we celebrate 150 years since Robert J Goff was appointed as official auctioneer to the Irish Turf Club, and I am delighted to report that the quality of yearlings buyers can expect from the 2016 Orby Sale more than befits such a significant anniversary.  

The level of demand for Orby places surpassed any previous year which is testament to the strength of the sale in recent times.  Goffs selection team spent the summer visiting leading breeders and walking the stud farms of Ireland, as well as the UK and US, to hand pick some of the best bred and best looking yearlings anywhere this year.  Buyers can be assured of more world class yearlings from a sale that has produced a steady supply of Classic winners since its first Derby winner in 1870. 
 

In addition we are proud to catalogue yearlings from The Wildenstein Stables Ltd Dispersal in the Orby, which has been another wonderful endorsement of the quality of this sale and of the Goffs service". 
 

The horses in training section of The Wildenstein Stables Ltd Dispersal will be offered immediately after Lot 472 on the second day of the Orby, Wednesday 28 September.

The Orby Sale will be followed by the Sportsman's Sale Part 1 on 29th September and Sportsman's Part 2 on the 30th.  The catalogue for the Sportsman's Sale will be online from Friday 12 August.

 
View catalogue »
 
 
 

 
fonte : Goffs