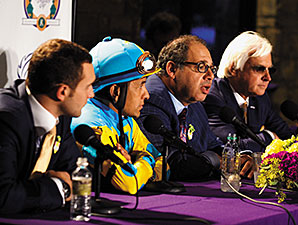 The 2015 Big Sport of Turfdom Award, recognizing a person or group of people who enhance coverage of Thoroughbred racing through cooperation with media and racing publicists, has been awarded to the connections of American Pharoah  , the Turf Publicists of America (TPA) announced Nov. 17. 
"Team American Pharoah," led by owner Ahmed Zayat, trainer Bob Baffert, jockey Victor Espinoza, and Zayat Stables racing manager Justin Zayat, won in a landslide vote determined by the nearly 150 active members of the TPA, a trade organization of Thoroughbred racing publicists and marketing executives.
There have been two prior instances of the Big Sport of Turfdom going to the connections of a superstar horse: Cigar in 1996 and Zenyatta in 2009. Baffert was an individual Big Sport winner in 1997, the year Silver Charm won the Kentucky Derby (gr. I) and Preakness Stakes (gr. I). 
American Pharoah established himself as a Thoroughbred legend this spring when he swept the Kentucky Derby Presented by Yum! Brands, Preakness, and Belmont Stakes (all grade I) to become racing's first Triple Crown winner in 37 years. Subsequent victories in the William Haskell Invitational Stakes (gr. I) and against top older horses in the Breeders' Cup Classic (gr. I) further enhanced his stature as an all-time great.
"Owning and campaigning American Pharoah has been an honor, a privilege, and the thrill of a lifetime," said Ahmed Zayat. "What topped it off was sharing American Pharoah with the fans. Indeed he is America's horse and we are very grateful on behalf of Team Pharoah to accept this prestigious award."
Said Baffert: "The Big Sport of Turfdom is a big deal. I remember getting it the first time and being blown away by all of the really important people that had won it before. It means a lot to be recognized by the publicists because they're so close to all of the good stories that are out there in racing."
Said Espinoza: "Thank you to the Turf Publicists for awarding Team Pharoah this honor. It was a great experience to be teamed with such a magical and talented horse and great people. Thank you also to all the members of the media that followed along on our journey making history."
American Pharoah retired to Ashford Stud with a record of 11-9-1-0 and earnings of $8,650,300. His historic 3-year-old season brought racing positive coverage in mainstream media, including large television ratings for the Belmont Stakes and a Sports Illustrated cover story. The connections appeared on national television in non-horse racing programming ranging from NBC's "Today Show" (Zayats, Baffert, and Espinoza), to CNBC's "Secret Lives of the Super Rich" (Zayats), to ESPN's "College GameDay" (Baffert), and to ABC's "Dancing with the Stars" (Espinoza).
"Everyone connected with American Pharoah went well beyond typical expectations in accommodating the media and track publicists throughout the year," said TPA president Jim Mulvihill. "Victor sacrificed a good deal of business to make countless appearances, Bob gave us unprecedented access to the top horse in the world, and the Zayats made it all possible by continuing to race a valuable Triple Crown winner."
Mulvihill added that the "Team American Pharoah" designation would officially extend to everyone associated with the horse who helped to raise the profile of Thoroughbred racing this year via their interactions with media and publicists, especially the Zayat, Baffert, and Espinoza families; assistant trainer Jimmy Barnes; groom Eduardo Luna; exercise riders Jorge Alvarez, Dana Barnes, and Martin Garcia; and jockey agent Brian Beach. 
The Big Sport of Turfdom will be presented at the Race Track Industry Program awards luncheon Tuesday, Dec. 8, emceed by Chris Lincoln. It is part of the 2015 Symposium on Racing & Gaming presented by the University of Arizona at the Loews Ventana Canyon Resort in Tucson, Ariz. 
The awards luncheon is included in registration fees for the Symposium. Additional information about the luncheon may be obtained by contacting TPA secretary/treasurer Dave Zenner (email). 
The Big Sport of Turfdom has been presented annually since 1966. Previous winners include jockeys Mike Smith, Pat Day, Laffit Pincay Jr., Chris McCarron, Bill Shoemaker, Angel Cordero Jr., Eddie Arcaro, and Gary Stevens; trainers D. Wayne Lukas and Jack Van Berg; as well as other individuals who have made significant contributions to the sport, including track announcer Tom Durkin (last year's winner), author Laura Hillenbrand, broadcaster Jim McKay, turf writer Joe Hirsch, and actors Tim Conway and Jack Klugman.