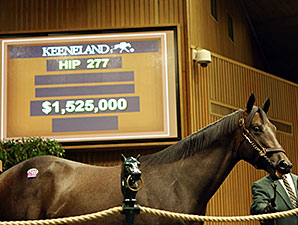 On a day colts by a range of established sires set the pace, a $1,525,000 Distorted Humor   colt bought by Three Chimneys brought the highest price Tuesday at the Keeneland September yearling sale's second session in Lexington. 
Despite selling that colt and two other seven-figure yearlings, the same number of seven-figure lots as last season's second day, the Tuesday session saw declines in average and median. But after Monday's strong opener, the cumulative average remained up, and the two-day median is even with last year's figure. 
The sale format changed slightly this year, with the premier Book 1 section trimmed from four days to three, but with more horses cataloged this year in each Book 1 session. That makes year-to-year comparisons inexact. 
Tuesday's session sold 142 yearlings for a combined $42,965,000, a 13.7% increase over last year's total for 121 at a smaller overall session. But average fell 3.1%, from $312,298 in 2014 to $302,570, and median sank even further, by 12.5%, from $280,000 a year ago to $245,000.
Session buybacks remained up for the second day. In 2014, the second-day reserve-not-attained, or RNA, rate was 27.1%, and that rose to 31.7% Tuesday.
Cumulatively, the first two days have sold 292 yearlings totaling $87,607,000, an increase of 23.4% that's helped somewhat by the format change selling more horses each day. Average also is running 1.9% ahead of last year's two-day figure at $300,024, as compared with $294,411 a year ago. The cumulative median is holding level with last year's figure, $250,000.
But buybacks remain stubbornly higher, with a two-day rate of 31.4%, up from 27.4% last year at the same point.
After seeing off a challenge by Whisper Hill Farm owner Mandy Pope, Goncalo Torrealba of Three Chimneys Farm signed for the gray or roan session-topper Tuesday, a Jan. 30 foal and a half brother to graded winner Kentuckian.
Taylor Made Sales consigned the colt for his breeder, Barbara Banke's Stonestreet operation, and also leads all consignors by gross sales so far at the auction with 44 horses sold for $13,940,000. The leader by average (three or more sold) is Timber Town, with a trio—including Monday's $1.45 million session-topping  War Front   filly—averaging $681,667.
"We looked at the pedigree, and hopefully he'll be our next stallion," Torrealba said, adding that, if perhaps he paid a bit more than he'd hoped, "You always go a little further, but the good ones are hard to come by."
Banke undoubtedly knows that, too, and after talking with Torrealba she revealed that she'll go in as a partner on the foal she bred out of Stonestreet's 2005 Honorable Miss Handicap (gr. II) winner Forest Music, by Unbridled's Song.
"This colt, my son said, 'Do not sell this colt,' " Banke said. "And this mare gets runners. I'm going to stay in for some of him. I love the mare. I have a painting of her in my dining room. She was super-fast, she raced every two weeks going around the country, and he looks like a runner, he acts like a runner."
The colt, offered as hip 277, added riches to his sire's sale returns. WinStar stallion Distorted Humor led all sires by gross sales at the end of two days' selling. His 18 yearlings to sell so far have grossed $7,490,000. 
"Three Chimneys is all about trying to build good partnerships, so we always go in with the idea of a partnership," Torrealba said. "Partnering with good people is what we're about." 
Partnerships were very much in the air on Tuesday at Keeneland. The session's second seven-figure horse—a $1.1 million Medaglia d'Oro colt out of multiple stakes winner Kid Kate—went to Ron Winchell, Gainesway Farm, and bloodstock agents Alex Solis and Jason Litt. The Lane's End agency consigned the colt, whose dam is grade II-placed.
Solis noted that the colt had "a great hind leg for Medaglia d'Oro," adding, "You're looking for that Medaglia d'Oro that has the length and the size and looks fast, and he looks fast."
The Hill 'n' Dale agency's filly by Australian sire Fastnet Rock, a three-quarters sister to European champion Peeping Fawn and a half sister to group I winner Thewayyouare, was the second session's highest-priced filly at $1 million. Spendthrift Farm owner B. Wayne Hughes, who recently bought Yallambee Stud in Victoria, Australia, secured the bay filly on a single bid. 
"It's about as good as pedigrees get," Spendthrift manager Ned Toffey said. The filly's second dam is 1982 Kentucky Oaks (gr. I) winner Blush with Pride, the dam of Better Than Honour, who produced back-to-back Belmont Stakes (gr. I) winners in Jazil and Rags to Riches. "We're obviously doing stuff in Australia, and we think the sire will work anywhere. And, again, it's as good a female family as there is in the world. We have the stallion Can the Man  , who's from that family, and we've got an older mare that's just going out of production that's from that family, so we were happy to be able to replace it with a filly we think is going to be a great athlete, too. But she doesn't have to run a step to be worth a whole lot of money.
"It's been great," Toffey said of the market. "I think it's been really strong, because the money's spread out pretty well. There are a lot of good, solid horses here, and they're bringing good, solid money, but it hasn't been really crazy money. It feels like a very healthy, legitimate market to me."
But many consignors noted less traffic at their barns, wondering aloud whether buyers might have expected to be shut out of a bullish Book 1 or skipped Book 1 in the belief they'll get better value in later books.
"It's a little spotty," said Dan Hall of Hidden Brook. "Obviously, the good horse is bringing plenty of money. But it can be soft after that. With the buyback rate, they're either on you or off, and there's not much in between. I think we need to do a better job of convincing people to be here this first book, a wider range of buyers. There are horses that are going through that are reasonable horses that maybe aren't finding a home because that group of buyers isn't here yet."
Some RNAs have been selling privately on their return to their consignments, but others fit the scenario that Keeneland director of sales Geoffrey Russell described when attempting to explain the 31% buyback rate at Monday's opener. "These are horses that are highly prized, and they're also highly prized by their owners, so they're not afraid to race them," he said.
One of those was Stonestreet's Banke. 
"Yesterday was very slow," Banke said of the auction's opening session on Monday. "I think people weren't paying attention. I RNA'd one that was on my potential keep list anyway, so I'm not that unhappy about it. I think I sold three pretty well, in line with expectations, not crazy."
Other buyers described some market polarization. Shadwell Estate manager Rick Nichols, who on Tuesday signed for the Gainesway agency's $800,000 Malibu Moon half brother to 2009 Horse of the Year Rachel Alexandra, also described a "spotty" market, adding, "You pay a lot of money for the right horse, and the ones that aren't filling the bill aren't getting the job done."
Clearly, Rachel Alexandra's younger half brother, bred by Dr. Dede McGehee's Heaven Trees Farm, did fit the bill.
"He was just a lovely colt, a beautiful mover," Nichols said of the April 3 colt. "Watching him out back, he just seemed to have a certain air about him, a lot of class. Nice horse."
Shadwell owner Sheikh Hamdan, the brother of Darley Stud owner Sheikh Moahmmed, leads all buyers so far by average expenditure (three or more bought), with a two-day average spend of $641,667 for six horses. Although his name was absent from the list of Tuesday's highest prices, Sheikh Mohammed's agent John Ferguson is the sale's leading buyer by gross expenditures through the first two days, with 20 purchases totaling $7,440,000.
Other high prices at Tuesday's session included a $900,000 War Front  —Magnificent Honor colt, whose dam is a full sister to Rags to Riches, that Coolmore's M. V. Magnier bought from the Eaton Sales agency; an $850,000 Tapit   colt out of millionaire and multiple graded winner Keertana (Johar) that Woodford Racing bought from the Denali Stud consignment; an $850,000 filly by first-crop sire Bodemeister  , a half sister to 2009 Kentucky Derby (gr. I) winner Mine That Bird and to record-setting multiple grade I winner Dullahan, that Crupi's New Castle Farm bought from the Betz Thoroughbred agency; a $750,000 Tapit colt out of multiple graded winner Indescribable (Pleasant Tap) that Robert and Lawana Low bought from the Lane's End agency; and a $725,000 Distorted Humor filly out of the A. P. Indy mare Forbidden Gift, from the family of 2000 Kentucky Oaks (gr. I) winner Secret Status, that Courtlandt Farm purchased from Mt. Brilliant Farm (Gainesway, agent). 
The sale's most expensive pinhook, a Tapit half brother to graded winner Thiskyhasnolimit that cost $520,000 as a weanling, fetched $700,000 Tuesday from Grupo 7C Racing Stables. Baccari Bloodstock, which signed for him last year at the Keeneland November breeding stock sale, was the consignor. The colt's second dam is the grade I winner Cara Rafaela, who also is the dam of champion and sire Bernardini; Bernardini is by A.P. Indy, the yearling's great-grandsire. His dam is the Deputy Minister mare Lovely Regina.
The second of four yearlings by another closely watched stallion, the undefeated European champion and first-crop sire Frankel, went through the ring Tuesday but failed to reach his reserve. The colt, a Lane's End consignee out of the graded-winning Hennessy mare India, was bought back at $275,000.
Among first-crop sires through Tuesday, WinStar's Bodemeister is tops by gross and by average (three or more sold) with 14 horses fetching $4,380,000 and averaging $312,857. War Front, whose progeny dominated the top of the market on opening day, remains the two-day leader among sires by average price (three or more sold) with his 11 yearlings to date averaging $643,636. 
"I thought it was solid and steady all the way through from start to finish," Russell said. "It was steady."
Asked if he could explain the difference between an opening session that produced across-the-board gains and a second session with softer average and median," Russell said, "It was probably just the way the catalog fell, alphabetically. When you do a three-day sale alphabetically by dam, if there is a lull you don't know where it's going to be, and obviously there was a little bit today."
The Keeneland September auction concludes its Book 1 sessions on Wednesday; that session begins at 11 a.m. EDT. After a dark day on Thursday, Sept. 17, the sale resumes with Book 3 starting at 10 a.m. on Sept. 18-19. Books 4-6 round out the sale, which ends on Sept. 26, and sessions for those days also begin at 10 a.m.
Tags