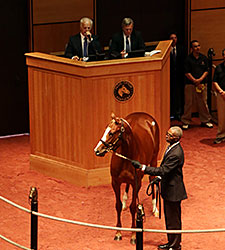 "She's hopefully a wonderful filly by an extremely talented stud," Young said after signing the ticket. "Her mother could run, and I hope she can run. Speightstown, I gotta believe, is going to be a good broodmare sire, so I don't think it's that difficult.
"I hope she just gets bigger," he added. "She's very well balanced and has got a beautiful hip on her. Being by a $300,000 stud, that's what she's supposed to cost. She's a beautiful horse, arguably the best filly in the sale, and I hope she's brave and lucky."
The Fasig-Tipton July auction sold 205 yearlings for a combined $20,005,000, resulting in an average price of $97,585 and a $77,000 median, and all of those categories were up from last season's figures, when 162 yearlings sold. The 2015 gross climbed 31.1%, average gained 3.6%, and the median advanced by 10%.
Buybacks also improved, dropping from 30.8% a year ago to 28.8% this year.
"You're always pleased when your gross increases, your average increases, your median increases, and your buyback rate decreases," said Fasig-Tipton president and CEO Boyd Browning. "It was what our expectations were: very solid, very competitive, optimistic but not exuberance out there in the marketplace."
"Every time I thought a horse was going to bring money, they brought that and then some," Young said of the market. "So I think the market's strong, and I think it bodes well for Saratoga and Keeneland September."
"It's been a strong market," said consignor Jim FitzGerald of Knockgriffin Farm. "There are a lot of people here. I wish there were more end-users, but there are a lot of pinhookers. It's the usual story in July. That being said, it's a very strong market, especially for the good horses. Fasig-Tipton have done a great job, and there are some lovely individuals here, and I think the catalog is stronger than in previous years. There's a good buzz, and I think it bodes well for the rest of the yearling sales from now on through Keeneland September."
"We thought he was a beautiful individual, and he had a big walk and a lot of pedigree, so he could be a stallion," said Crupi. "But he will probably go on to a 2-year-old sale. We wanted to be around $300,000 or $350,000, so we were right there.
"He vetted perfectly," Crupi added. "Good throat, good X-rays. You can't ask for much more than that."
The $385,000 colt helped Scat Daddy lead Fasig-Tipton July's sires by average price (three or more sold), with three selling for an average price of $265,000. They grossed $795,000.
Crupi, who owns Crupi's New Castle Farm near Ocala, Fla., noted that the colt's turf-oriented female family should not be a drawback at the juvenile sales, where early-maturing speed is the more usual focus. The colt's dam, a Sadler's Wells mare, made her debut at 3 and raced only in Ireland, where she was third in the 2002 Irish One Thousand Guineas (Ire-I).
"They've got a lot of these all-weather tracks now, like in Canada and here and there, so those horses work," Crupi said. "People will buy grass horses. And grass horses seem to last a lot longer."
Crupi said he expects to buy "50 or 60, at least that many" at the 2015 yearling sales. He made a good start at the July sale, buying 12 yearlings for $1,475,000 to reinvest some of his good earnings from a strong 2015 juvenile auction season.
"We had a very good year last year," he said. "We topped the sale in Miami at Fasig-Tipton. We sold $4.5 million in Miami. So we're going back to the well again."
Yearling-to-juvenile resellers like Crupi fueled strong selling Thursday. But they were not alone, as end-users filled out the buyers' list. A number of consignors have credited the racing-age session that immediately follows the yearling sale for helping to bring in more end-users since its inception in 2013. While not all consignors queried this year reported a boost in end-user traffic, many did, and most agreed that the racing-age catalog had generally proved a draw to the yearling sale.
"I love Blame," Charles said. "I first saw Blame when he ran on the undercard of the Preakness (gr. I), and I just fell in love with him. So I've been following him. This colt looked so much like him, and he's got a nice pedigree, and I've wanted a Blame for a long time.
Charles, who campaigns largely in Maryland, has about 20 horses in training at the moment. She said her new Blame colt will head to Niall Brennan's operation in Ocala, for breaking and then will join her horses in trainer Rodney Jenkins's stable.
"We had students that prepped the filly and brought her over here," said UK's Dr. Laurie Lawrence. "She was a professional, the kids were professional, and it all went well. We bred her and raised her at the farm. The kids go on the breeding shed runs, they foal the babies out, they halter-break them, they do everything. We've got great kids. We've had six who graduated in the last two semesters. I think five of them are employed in the Thoroughbred industry, and the other is an eventer."
The Bellamy Road filly's sale revenue, Lawrence said, will go toward usual farm expenses, including the feed bill, the farrier, and the student hourly wages for the students who work at Maine Chance.
The Bellamy Road stallion season was donated. "We really have WinStar to thank for that," Lawrence said. "They've been great supporters. We really appreciate the support of the industry. We couldn't do it without them."
fonte : Bloodhorse.com