CONGRATULATIONS TO AMERICAN PHAROAH ON WINNING THE TRIPLE CROWN!

Watch him win the Kentucky Derby, Preakness, and Belmont Stakes

 
American Pharoah Claims Triple Crown Triumph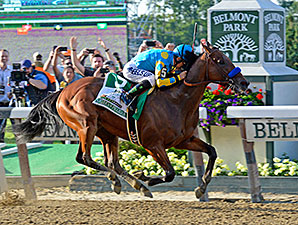 In the 37th year after Affirmed swept the classics in 1978, Zayat Stables' American Pharoah toyed with the field of seven other horses to win the $1.5 million Belmont Stakes Presented by DraftKings (gr. I) June 6 at Belmont Park (VIDEO).
After a good break, the Pioneerof the Nile colt trained by Bob Baffert easily took the lead and carried the field through fractions of :24.06, :48.83, and 1:13.41 for six furlongs as he used his long stride to gallop effortlessly down the backstretch.
The mile went in 1:37.99 and he cruised through 1 1/4 miles in 2:02.33.
When Materiality came to challenge in the turn, American Pharoah shrugged him off. When Mubtaahij went under a drive, he couldn't get within striking distance. When Frosted made the final run, jockey Victor Espinoza simply opened American Pharoah up, cruising away from the rest to hit the wire in the 1 1/2-mile test in 2:26.65, a fifth of a second faster than Affirmed's Belmont time.
"We knew we had the horse and we were hoping we had the horse," Baffert said. "Once Victor got him in the clear and got him in that beautiful mode of the way he just goes over the ground. Every fraction—I saw (1:13) and change and I just loved that, then 1:37. They turned for home and I was prepared for somebody coming, because I've gone through this so many times. I was just hoping, for once—I could tell by the eighth pole that it was going to happen.
"All I did was just take in the crowd. The crowd was just thundering and I was enjoying the call, and the crowd, and the noise—everything happening. Thirty-seven years—that little horse, he deserves it."
Frosted was second, 5 1/2 lengths behind, and Keen Ice closed to finish third. It was the fourth-largest winning Triple Crown-sealing margin behind Secretariat (31 lengths), Count Fleet (25 lengths), and Citation (eight lengths).
Mubtaahij hung on to finish fourth, 7 1/2 lengths in front ofFrammento, Madefromlucky, Tale of Verve, and Materiality.
Off at 7-10 odds, American Pharoah loaded into the starting gate first, simultaneously with Mubtaahij, then jumped out after the bell rang, leaving most of the field behind. Materiality provided some pace challenge, as expected, but Espinoza sat comfortably ahead by a length after the first quarter-mile. Materiality got within a half-length at the half-mile marker, but no other horse ever got close to putting a head in front.
"He walked into the gate amazing," Espinoza said. "He was ready today. As soon as I sat in the saddle, there was so much power and so much energy this horse had… He was a touch slow out of (the gate), but I sent him anyway. I'm telling you, in the first turn, it was the best feeling I've ever had… Turning for home, I was like, 'This has not happened yet.' "
"We were going slow enough, with those fractions, but I didn't have anything," Materiality's jockey, John Velazquez said. "I was in trouble as soon as we got to the backstretch. American Pharoah is a great horse. That's the only way you can describe him. My horse ran as good as he could, but he was done early. The best horse won the race."
Frosted made the most substantial push, riding the rail in the final turn, and appeared primed for a stretch run when jockey Joel Rosario angled the grey runner to the outside of the leader, but American Pharoah would not be denied. Espinoza provided a few rhythmic, right-handed strikes with the whip to keep the colt focused and American Pharoah did the rest.
"I wanted to ride to the wire. I just dropped my hands and he just took off," the jockey said.
"My horse ran great, but the horse everybody expected to win, won the race," Rosario said. "My horse ran really great, and we got second place. It's exciting, because we have not seen this for so long and the winner really looked brilliant."
The 12th Triple Crown winner arguably had his toughest test in the Kentucky Derby Presented by Yum! Brands (gr. I), when he outlastedFiring Line by a length, then was untouchable in winning the Xpressbet.com Preakness Stakes (gr. I) under a downpour in Baltimore.
Owner Ahmed Zayat said he felt his colt was ready as soon as he hit the track in Elmont, N.Y.
"I looked at my wife in the post parade and I told her, 'Get ready to be the owner of the 12th Triple Crown winner,' " Zayat said. "He looked unbelievable—focused, honest, relaxed, full of energy."
Baffert was tortured by the Triple Crown three times prior, coming up short in the Belmont with Silver Charm (1997), Real Quiet (1998), and War Emblem (2002).
"While I was here in town, I was listening to every news station and people were saying, 'Oh, it never happens and everybody gets up for it,' " Baffert said. "But there's something about this horse that he just brought it every time… What a feeling. It's probably going to take a few days to sink in.
"I had my kids here and they got to enjoy it. Savannah, she's here somewhere," Baffert said, remembering a good memory mixed with a bad one. "I was holding her in my arms when she was 4-years-old for Real Quiet. Luckily, she doesn't remember that."
American Pharoah paid $3.50, $2.80, and $2.50 across the board. Frosted delivered $3.50 and $2.90, while Keen Ice brought $4.60 to show.
The Triple Crown-winning colt was homebred in Kentucky, out of theYankee Gentleman mare  Littleprincessemma.Pioneerof the Nile, who Zayat raced and in which he owns a majorty interest, stands at WinStar Farm. The stallion's prized runner now has just more than $4.5 million in earnings with six grade I wins on his résumé.
Zayat said after the race he intends on running American Pharoah for the rest of the 2015 season.
"I personally made a promise to my family and to the fans more than anybody else," Zayat said. "We need to enjoy our stars and race them as long as we possibly (can)."
fonte : Bloodhorse.com
USA: American Pharoah nella leggenda! Stravince le Belmont Stakes e cancella la maledizione triple crown dopo Affirmed
Anno domini 2015. Nei libri di storia ippica americana si partirà, come in un nuovo inizio, da questa data. Da quando cioè, il 6 Giugno 2015, American Pharoah ha finalmente spezzato la maledizione triple crown che durava da tanti, troppi anni. Da oggi in poi la nuova era ha inizio e si dirà anno 1 D. AP. Cioè, dopo American Pharoah, e non più dopo Cristo. Era il 1978 ed Affirmed con la sua giubbina rosa e nera battè per la terza volta consecutiva Alydar. Da quel giorno ne è passata di sabbia sotto gli zoccoli. Sono passati 37 anni da quella impresa e in 13 ci sono andati vicini, senza tuttavia agguantare la triplice. La storia, invece, si è riscritta in questa calda notte mondiale dove il figlio diPioneerof The Nile (Empire Maker) ha vinto..che dico, stravinto. Ma che dico: Demolito, abbattuto, schiantato i rivali che mai possono essere alla portata di un cavallo definito "epocale" da molti media americani. Il baione ha preso le Belmont subito di petto andando in avanti a scanterare con un ritmo decente, ma chiunque gli si sia avvicinato è stato sempre respinto. All'ingresso in retta Victor Espinoza aveva un sorriso a 60 denti, perchè il suo controllava ed ancora doveva muovere. L'ultimo attacco glielo ha portato, provandoci, Frosted (Tapit), con il Godolphin americano (giornata di secondi per lo Sceiccone dopo Epsom), che ha preso solo la sabbia in faccia dalla leggenda che, alla fine della fiera, ha piazzato tra se ed il secondo 5 lunghezze e mezza, finendo il miglio e mezzo in 2:26.65 sparando parzialoni in 1m 13,41s per i 3/4 di miglio, poi i 1600 passati in 1m 37,99, ed il miglio ed 1/4 in 2m 02,33. 5 lunghezze e mezzo, dicevamo, con il 4° distacco superiore della storia della corsa dopo le 31 lunghezze di Secretariat (1973) le 25 di Count Fleet (1943) e le 8 di Citation (1948). Al terzo è finitoKeen Ice (Curlin), ma solo per la cronaca, e quarto lontanissimo anni luce Mubtaahij (Dubawi). La copertina è tutta per un cavallo della madonna. American Pharoah è diventato così il 12° cavallo a vincere le famose tre corse in 5 settimane entrando di diritto nel Pantheon accanto a nomi quali: Sir Barton (1919), Gallant Fox (1930), Omaha (1935), War Admiral (1937), Whirlaway (1941), Count Fleet (1943), Assault (1946), Citation (1948), Secretariat (1973), Seattle Slew (1977) ed Affirmed (1978). Dunque, marchiato a fuoco, anche American Pharoah (2015). Anno domini, appunto.
Un tour de force massacrante, non per uno come lui che ha vinto lottando il Kentucky Derby (forse una tattica per preservarlo fresco per le ultime due), mentre ha spaziato nelle 2 successive. Anatema spezzato anche per Bob Baffert dopo 3 tentativi andati a vuoto nel 1997, 1998 (di muso) e nel 2002. Ed anche per Victor Espinoza al terzo sparo dopo il 2002 e nel 2014 con 
California Chrome
. E poi, 6 minuti di scroscianti applausi da parte di una folla (90,000 unità, perché i 102,000 dello scorso anno stavano troppo stretti) che si è sentita immersa nella leggenda, nella storia.
Forse l'attesa era giustificata dal fatto che c'era bisogno di un nuovo eroe. Di un vero eroe. Ed American, un nome quasi profetico, è diventato finalmente faraone. Ahhh.. adesso si, che possiamo rilassarci. Pensavamo come ad un incubo attendere un altro anno per un altro campione da cominciare a seguire in prospettiva triple crown. Sembrava non finire mai. Ma alla fine è arrivata la sospirata triplice: Kentucky Derby – Preakness Stakes – Belmont Stakes. Alleluja! Sia lodato American Pharoah. Sia lodato Bob Baffert. Sia lodato Ahmed Zayat. Non ce la facevano più ad essere nominati Affirmed, Laz Barrera e Steve Cauthen. Andate in pace. 
IL VIDEO DELLE PREAKNESS STAKES CLICCANDO QUI
.
Knob Creek Manhattan Stakes G1
: Nell'altra corsa importante di giornata, e che ci riguardava da vicino, a vincere è stato 
Slumber
 (Cacique) a portare a casa tutto il milione di dollari di dotazione, accelerando nella fase finale e vincendo per 2 lunghezze e 3/4 nei confronti di 
Big Blue Kitten
 (Kitten's Joy), finito forte, con 
Legendary
 (Exceed And Excel) rimasto in quota per il terzo. Il vincitore (a 15/1) è un 7 anni figlio di 
Cacique 
(Danehill), stallone semifertile ma fratello pieno di 
Dansili
, di proprietà in partnership tra Michael Dubb, Sheep Pond Partners e le Bethlehem Stables allenato da Chad Brown e montato da Irad Ortiz Jr. Nota curiosa: Slumber, come del resto Legendary, ha cominciato la carriera in Europa agli ordini di Charlie Hills dove ha corso a 3 anni anche il Chester Vase G3 finendo terzo di 
Treasure Beach
. Esportato negli States nel 2012 si è ritagliato il suo spazio senza tuttavia spaccare. La vittoria gli mancava da Agosto 2013, pur essendosi piazzato in due G2 nella stagione 2015. Il tempo finale è stato di 2:01.23 su terreno buono. 
Nulla di fatto per i due europei 
Magic Artist
 (Iffraaj) con Cristian Demuro a bordo il quale è giunto quinto ma correndo con onore, gravitando a centro gruppo, provando una progressione senza tuttavia produrre il suo canonico "guizzo" che finora ha mostrato in Italia. E nulla da fare nemmeno per 
Biz The Nurse
 (Oratorio), Derbywinner italiano del 2013, arrivato decimo e mai riuscito ad inserirsi per il discorso vittoria, rimanendo invischiato nelle retrovie provando un allungo all'ingresso in retta, ma rimanendo sul passo sui brevi 2000 metri con 2 curve del tracciato in erba di Belmont Park. 
IL VIDEO DELLE MANHATTAN STAKES QUI
. 
IL RISULTATO COMPLETO QUI
.