America: California Chrome incoronato Horse Of The Year 2014 con 143 voti. In pista il 7 Febbraio nelle San Antonio..
California Chrome
 (Lucky Pulpit), vincitore di 4 G1 nel 2014 tra cui Santa Anita Derby, Kentucky Derby Preakness Stakes ed Hollywood Derby sull'erba, è stato il grande protagonista della notte del 44° annuale Eclipse Awards che celebra il cavallo dell'anno, in una cena di gala che si è svolta all'ippodromo di Gulfstream Park, in Florida, con una commissione presieduta da rappresentanti della National Thoroughbred Racing Association, Daily Racing Form (DRF) e del National Turf Writers And Broadcasters (NTWAB).. California, vero sogno americano, è stato insignito del titolo di Horse of the Year e del Three-Year-Old Male. Il cavallo di proprietà di Steven Coburn e Perry Martin è frutto di un incrocio a basso costo tra lo stallone
 Lucky Pulpit
(Pulpit), che costa $2,500, e di 
Love The Chase
 (Not For Love) che in corsa non è stata di certo fenomenale ed era stata acquistata a reclamare per $8,000. California è un miracolo della natura che ha fatto sognare milioni di appassionati del galoppo sfiorando la triple crown, che dura ancora dal 1978 quando vinse 
Affirmed
, vincendo le prime due prove e fallendo come spesso accade storicamente l'ultima, vittima di un infortunio patito in partenza e della distanza un filo lunga in una stagione molto impegnativa dal punto di vista degli sforzi sostenuti. 
Forse non avrebbe vinto lo stesso, ma resta il gran can can mediatico che ha fatto di California Chrome un cavallo seguitissimo ed ammirato. Il cavallo allenato da Art Sherman ha dunque coronato il sogno di essere cavallo dell'anno con 143 voti, seguito da 
Main Sequence
 con 53 voti, 
Bayern
 con 36 voti, e curiosamente solo con 12 voti il campione 
Shared Belief
. California ha vinto anche il California Cup Derby, le San Felipe Stakes, e poi terzo in una discussa edizione della Breeders' Cup Classic G1 di Santa Anita Park. Ha concluso il suo 2014 con $4,007,800 vinti. Non male per un cavallo costato praticamente zero euro e che ha come nome dei soci proprietari la scuderia Dumb Ass Partners, che praticamente significa la scuderia dei 2 idioti…
California Chrome è attualmente in preparazione per la prossima apparizione in pista che dovrebbe coincidere con il 7 Febbraio con la corsa delle corse, o meglio la rivincita del Classic nelle San Antonio Stakes G2 di Santa Anita del 7 Febbraio con $500,000 al palo ma molto di più in palio, come il rinnovato duello contro Shared Belief e Bayern con il quale ha appunto un conto più che aperto. Un corsone!
Gli altri titoli della serata hanno visto Ken e Sarah Ramsey insigniti del 4° titolo di champion owner e secondo come champion breeder. 
Di seguito ecco tutti gli "oscar" assegnati:
HORSE OF THE YEAR & THREE-YEAR-OLD MALE
Califonia Chrome (Lucky Pulpit)
THREE-YEAR-OLD FEMALE
Untapable (Tapit)
TWO-YEAR-OLD MALE
American Pharoah (Pioneerof The Nile)
TWO-YEAR-OLD FEMALE
Take Charge Brandi (Giant's Causeway)
OLDER MALE & TURF MALE
Main Sequence (Aldebaran)
California Chrome Sews Up HOY Honors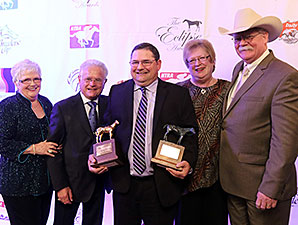 California Chrome, a colt who was running against his fellow California-breds at the beginning of the season, soared through his conditions and emerged Horse of the Year as the annual Eclipse Awards were presented Jan. 17 atGulfstream Park in Hallandale Beach, Fla.
The brilliant chestnut son of $2,500 stallion Lucky Pulpit   ran a six-race win streak for trainer Art Sherman from Jan. 25—when he rolled by 5 1/2 lengths in the California Cup Derby—to May 17 when he aced the Preakness Stakes (gr. I) after taking the Kentucky Derby Presented by Yum! Brands (gr. I) off victories in the Santa Anita Derby (gr. I) and San Felipe Stakes (gr. II).
He is the first 3-year-old to win Horse of the Year honors since Curlin   in 2007 and is the first Kentucky Derby winner to be named Horse of the Year since Charismatic in 1999. Earlier in the evening, he was named champion 3-year-old male.
HASKIN: California Chrome is Champion 3YO Male
Rested briefly after a fourth-place finish in the Belmont Stakes (gr. I), California Chrome returned to prove himself at the end of the season. His gutsy third-place finish, beaten two necks in the Breeders' Cup Classic (gr. I) off only one race (a sixth in the grade II Pennsylvania Derby) in almost six months, plus his impressive victory in the grade I Hollywood Derby in his grass debut, gave him a complete résumé that stretched from the beginning of January to Nov. 29.
By winning the Hollywood Derby, the California-bred became the first Kentucky Derby winner to win a grade I stakes after the Breeders' Cup and the second Derby winner to win a grade I stakes on the grass that same year. The only other horse to accomplish that feat was Secretariat.
California Chrome, bred by owners Perry Martin and Steve Coburn out of the $8,000 claimer Love the Chase, was one of those rare horses who transcended the sport to put his name and the names of his connections on the lips of people all over the country and onto headlines of major newspapers and TV sports reports. Awarded racing's highest honor, the flashy chestnut carries on as racing's newest glamour star.
Voting (Only first-place votes from members of the consolidated voting entities: National Thoroughbred Racing Association, Daily Racing Form, and National Turf Writers and Broadcasters):
California Chrome, 143; Main Sequence, 53; Bayern, 36; Shared Belief, 12; Untapable, 11; Wise Dan, 6; Adelaide, 1; Take Charge Brandi, 1. Voter Abstentions, 2.
Additional reporting by Steve Haskin
Read more on BloodHorse.com