Col senno di poi e dopo la performance di qualche giono fa, ecco che ci accorgiamo che Sajjhaa, che aveva calcato le piste italiane, è da considerare la cavalla del mese di gennaio 2013. Qui di seguito i due risultati che motivano la nostra scelta. Poi a febbraio si rivede una campionessa incredibile, Black Caviar, che stupisce tutti ancora una volta. A marzo si aspetta Hurricane Fly e lui non delude, magnifico, semplicemente magnifico !!! Altro sapore italiano, altro prodotto dell'Allevamento italiano che sa vincere. Huricane Fly vince a 
CHELTENHAM le STAN JAMES CHAMPION HURDLE CHALLENGE TROPHY GRADE 1 (CLASS 1) (4YO+) ed entra nella storia.
MEYDAN: SAJJHAA CLAIMS GROUP 2 CAPE VERDI (FILLIES) TURF FOR GODOLPHIN IN DUBAI. THURSDAY, 24 JANUARY, 2013
Macau's Elderly Paradise Romps Home For Internationals.
Macau Derby winner, Elderly Paradise, struck a blow for the internationals at the third Dubai World Cup Carnival on Thursday in an evening that was otherwise dominated by the home team of Godolphin, whose Sajjhaa claimed the Group 2 Cape Verdi.
Christophe Soumillon opened his 2013 account with a smooth success on the Man Chau Tam-trained galloper in a 2000m handicap. Tam who is no stranger to UAE success having saddled Change The Grange to win twice in 2005. "He did that very nicely," said the handler. "He has got used to the track after his first start when he finished second and now everything depends on how he comes out of this race."
Meanwhile the Godolphin team were in dominant form claiming the featured Group 2 Cape Verdi with a strong-running Sajjhaa.
At a meeting sponsored by The Meydan Group, trainer Saeed bin Suroor and jockey, Silvestre De Sousa combined to land a double, before Mahmoud Al Zarooni and Mickael Barzalona won the last to complete a Godolphin treble.
Pride of place went to Sajjhaa, who ran home the convincing winner of the 1600m turf feature restricted to fillies and mares with De Sousa in the saddle for Bin Suroor. Drawn widest of all in eight, De Sousa was happy to travel wide before going to the front early in the straight and the pair ran on strongly to defeat Amanee and 2012 winner First City.
"She is a nice mare who never runs a bad race and we thought she would be hard to beat as she had been working very well and has thrived in the Dubai weather," said Bin Suroor. "We will be back in four weeks for the Balanchine Stakes."
Masteroftherolls had initiated their double in the 1800m turf handicap after which De Sousa said: "That was a decent effort in what appeared a competitive race. We have made a bright start to the Carnival and the horses remain in good form."
Mandaean was the third Godolphin winner, completing their clean sweep of the turf races when landing the 1600m handicap, the last race on the card, for Al Zarooni and Barzalona.
Local racing stalwart Satish Seemar and stable jockey Richard Mullen were also in double form with Reynaldothewizard leading close home in a 1200m conditions race on the all-weather. Ganas tried valiantly to lead all the way but had no answer to the late challenge of Mullen's mount with Balmont Mast denying Ganas second in the dying strides.
The winner was wearing blinkers for the first time and Mullen explained: "We have always thought he could win a good race on the big stage and finally he has. He stays 1400m well so the fast gallop has helped and he stayed on well.
"We put blinkers on to try and sharpen him up after a lacklustre return and it has worked."
Earlier Mullen had made virtually every yard on stable companion Bay Willow in a 2200m all-weather handicap which opened the card. It was a second consecutive victory for the 6 year old on whom Mullen employed similar tactics on their last outing over 2800m. The jockey said: "Nobody was keen to go on so I was happy to after his win from the front last time and I was happy to go for home from a long way out as stamina was certainly not an issue. It was a good win and he has been a revelation since employing these tactics."
Godolphin's Sajjhaa claims the Group 2 Cape Verdi under Silvestre de Sousa for trainer, Saeed bin Suroor (Image copyright Andrew Watkins/Dubai Racing Club, permission must be granted prior to use)
Meydan
JEBEL HATTA: Subito vittoria numero 201° in G1 per Godolphin grazie alla volante Sajjhaa (King's Best), la quale ha ottenuto la terza affermazione consecutiva in questo 2013 dopo Cape Verdi G2 e Balanchine G2. Sajjhaa, 4° nel Lydya Tesio G1 in Italia, ha trovato un varco tra City Style e Master Of Hounds, William Buick l'ha lanciata nello spazio e la femmina è esplosa in una progressione dirompente. BattutoThe Apache (Mogok) e gli altri cui di cui sopra. Male ancora Igugu (Galileo), forse non è più di questa categoria. Tornando alla vincitrice: la sei anni ha trovato forse una integrità fisica, utile per continuare la stagione e chissà, tentare anche nel Duty Free G1.
SABATO 16 FEBBRAIO 2013. BLACK CAVIAR RIENTRA E VINCE, SONO 23. DEMOLITI GLI AVVERSARI, RECORD A FLEMINGTON! BENTORNATA CAMPIONESSA

Black Caviar: e sono 23 consecutivamente! Bentornata alla sempiterna campionessa che con una prestazione monstre si è nuovamente lustrata al mondo. La femmina terribile, in sella Luke Nolen, dopo otto mesi di assenza dalle piste (l'ultima apparizione era datata Giugno 2012 con la vittoria nel Royal Ascot) ha vinto ancora le Lightning Stakes G1 di Flemington con i seguenti parziali: 800-600 10.37, 600-400 10.21, 400-200 10.17, 200-fin 11.05 con tempo finale inchiodato sui 55.42s in 1000 metri! Gli ultimi 600 in 31.43s. Il precedente record era datato 1988, di 55,50 sui 1000 metri di Flemington. 
La compagnia non era irreprensibile (i primi tre arrivati tutti di Moody e parecchie libbre sotto la "virago")e lei era un filo nervosa alla partenza, ma il risultato è stato il record della pista abbassato di 0.08 s e folla di 26.047 anime (lo scorso anno erano 22.000 circa) impazzite per lei. Si, è tornata!! The legend is living on!
HURRICANE FLY: WILL FACE A MAXIMUM OF EIGHT RIVALS ON TUESDAY, 12 MARCH 2013, AT CHELTENHAM IN THE STAN JAMES CHAMPION HURDLE CHALLENGE TROPHY GRADE 1 (CLASS 1) (4YO+)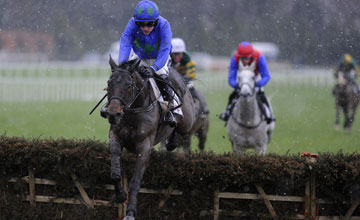 Hurricane Fly: will face a maximum of eight rivals in the Champion Hurdle
 PICTURE: Alan Crowhurst/Getty Images
Nine contenders left for Champion Hurdle prize
 BY DAVID BAXTER10:55AM 10 MAR 2013 
THE last three winners of the Stan James Champion Hurdle are set to do battle for the second year running, as a field of nine was declared on Sunday for Tuesday's Championship race.
CheltenhamTUESDAY, 12 MARCH 2013, STAN JAMES CHAMPION HURDLE CHALLENGE TROPHY GRADE 1 (CLASS 1) (4yo+)
£400,000 guaranteed For 4yo+ which are allotted a rating of 130 or more by the BHA Head of Handicapping following a review of the horses entered and after taking account of races run up to and including March 5th. (Horses which are not qualified for a rating in Great Britain, Ireland or France may also be entered. Such horses may be eligible providing the Handicapper is satisfied that the horse's racecourse performances up to and including March 5th would merit a minimum rating of 130. The decision of the BHA Head of Handicapping shall be final) Weights 4yo 11st 2lb; 5yo+ 11st 10lb Allowances fillies and mares 7lb Entries 34 pay £ 500Confirmed 10 pay £ 500 Penalty value 1st £227,800.00 2nd £85,480.00 3rd £42,800.00 4th £21,320.005th £10,720.00 6th £5,360.00
NO. 
FORM
HORSE

RPR

  
/41-3
/41-3
/41-3
/41-3
  
/41-3
/41-3
/41-3
/41-3
631-111
HURRICANE FLY

2
15/8
7/4
2
13/8
 
2
2
7/4
7/4
 
 
95F-111
ZARKANDAR

7/2
7/2
7/2
7/2
7/2
 
7/2
7/2
7/2
7/2
 
 
8213-31
ROCK ON RUBY

9/2
9/2
9/2
4
9/2
 
9/2
4
4
9/2
 
 
51F11-2
GRANDOUET

8
7
7
6
8
 
8
7
8
8
 
 
22114-3
BINOCULAR

9
8
8
8
7
 
8
9
8
9
 
 
3111-25
CINDERS AND ASHES

11
11
10
10
10
 
11
—
11
10
 
 
412-142
COUNTRYWIDE FLAME

16
14
14
14
16
 
14
14
14
14
 
 
71496/2
KHYBER KIM

50
40
40
50
50
 
40
—
40
50
 
 
131083
BALDER SUCCES

100
66
50
66
100
 
50
80
50
100
 
 
Last year's winner Rock On Ruby, who will be sporting blinkers for the first time, takes on the vintage of 2011 and ante-post favourite Hurricane Fly, while 2010 winner Binocular will be the mount of AP McCoy.
Nicky Henderson is responsible for a third of the final declarations, as stablemates Khyber Kim and Grandouet will join Binocular, while Paul Nicholls relies on last year's fifth Zarkandar.
Cinders And Ashes, Countrywide Flame and Balder Succes complete the field, while Cotton Mill, whose festival target is the Vincent O'Brien County Hurdle, was the only absentee.
fonte: RacingPost